Pope: It's Not Right to Equate Islam With Violence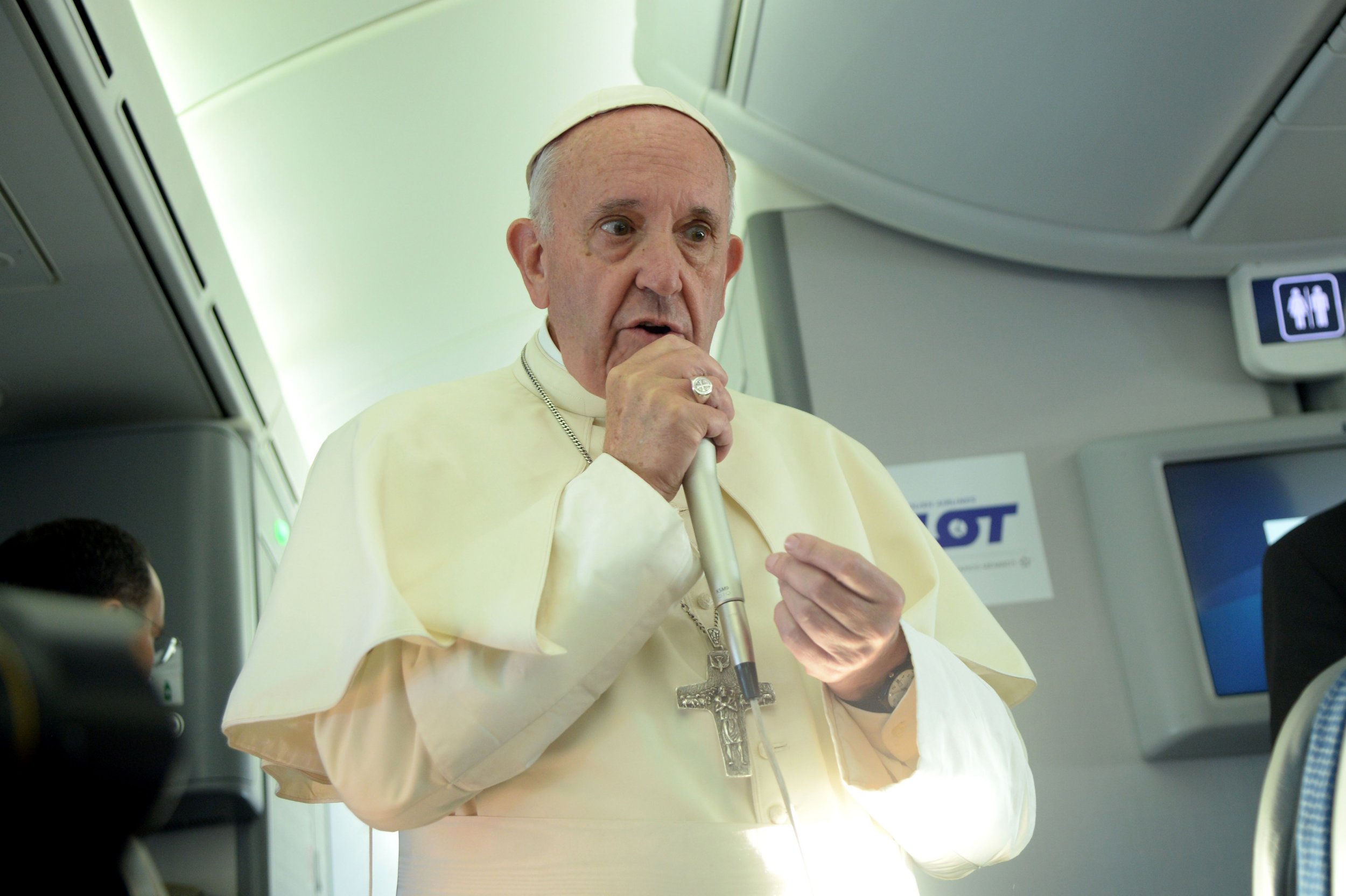 Pope Francis has said it is "not right and not true" to identify Islam with violence following the brutal murder of a Catholic priest by extremists in France, which was claimed by the Islamic State militant group (ISIS).
The 79-year-old Argentine pontiff was speaking on his return flight from Kraków, Poland, where he had led a gathering of millions of young people. Francis said that he saw stories of violence "every day" in the Italian press and that such acts were committed by members of his own religion. "They are baptized Catholics. There are violent Catholics. If I speak of Islamic violence, I also have to speak of Catholic violence," said the pope, according to the Catholic News Service.
The Catholic Church has been in mourning since the death of Father Jacques Hamel, 84, who was murdered at his church, the Église St Étienne, in Saint-Etienne-du-Rouvray, western France, on Tuesday. Two knife-wielding attackers entered the church during a morning service and slit Hamel's throat. The two attackers have been identified as Adel Kermiche, 19, and Abdel-Malik Nabil Petitjean, 19. Both were shot dead by police. The Vatican condemned the attack as barbaric and the murder placed churches in the U.K. on high alert. Muslims attended Catholic Mass on Sunday in churches across France and at some churches in Italy in a gesture of solidarity following Hamel's murder.
The pope said aboard his flight that it was wrong to identify a small fundamentalist sect with an entire religion. "One thing is true. I believe that in almost all religions, there is always a small fundamentalist group. We have them, too," said Francis. The pope added that people who chose to join extremist groups, such as ISIS, make such choices because they "have been left empty" of ideals, work and values.
Francis spoke at the conclusion of a five-day trip to Poland for World Youth Day, a festival for young Catholics and other Christians led by the pope. Some reports estimated that up to three million pilgrims attended the final Mass of the gathering in a huge field called the Campus Misericordiae near Kraków, according to the BBC.