Prince Harry's Chances of Attending Coronation Narrow Amid Family Dramas
Prince Harry and Meghan Markle have seen an increase in visibility this week, as they confirmed that they have received "email correspondence" from Buckingham Palace about attending the coronation of King Charles.
The couple also announced the christening of their daughter, Lilibet Diana Mountbatten-Windsor. She will be known by her "birth right" title, Princess Lilibet of Sussex.
Referring to the coronation email, a spokesperson for the couple said, per the BBC: "I can confirm The Duke has recently received email correspondence from His Majesty's office regarding the coronation. An immediate decision on whether The Duke and Duchess will attend will not be disclosed by us at this time."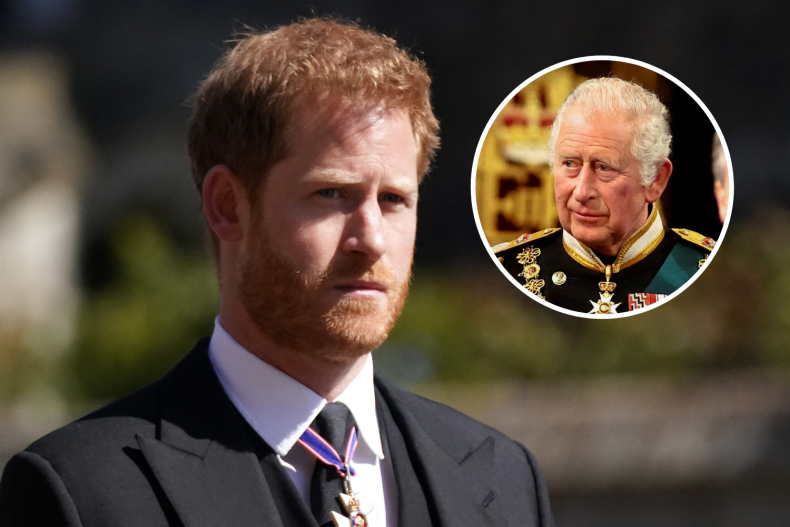 Considering this announcement, British bookmaker Ladbrokes is still favoring odds that the couple will be at the Westminster Abbey crowning ceremony in London on May 6. The company is offering 4/5 odds on Harry and Meghan's attendance, and 6/4 odds on their snubbing the event all-together.
In percentage terms, this sees the market predicting a 55.6 percent implied probability that the couple will go to the coronation, as opposed to a 40 percent chance they will not.
"The odds suggest that temperatures between the King and Harry are thawing somewhat, and the couple will be in attendance at the historic coronation," Jessica O'Reilly of Ladbrokes noted in a press release.
Despite the odds still favoring the couple's attendance, the margins have narrowed from those being offered last week.
On March 3, Ladbrokes was offering 4/6 odds on Harry and Meghan going to the ceremony, as opposed to 2/1 against.
The couple have faced a number of public setbacks and family dramas in recent months. Most notably, their net approval rating has nosedived in both the U.S. and U.K. since the release of their bombshell Netflix docuseries and Harry's memoir, Spare.
In both media projects, Harry and Meghan took aim at members of the royal family, as well as recounting their experiences with the British tabloid press. These, in part, motivated their move to California in 2020.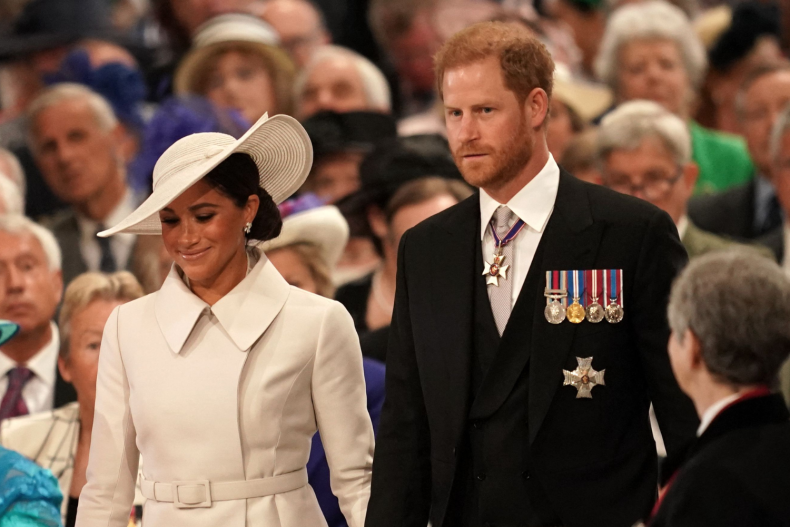 In March, the couple confirmed reports that they had been asked to "vacate" their Windsor home of Frogmore Cottage, their only base in Britain. This decision is expected to have been made with the approval of King Charles and Prince William. It hinted that the strained royal relationships laid bare by Harry in Spare are not being actively healed.
Harry and Meghan will vacate the property, which is located on the secure Windsor estate, Berkshire, by the summer, following Charles' May coronation.
For his part, Harry had adopted the same strategy as his spokesperson when asked whether or not he intends on going to the coronation. In January, he told ITV's Tom Bradby: "There's a lot that can happen between now and then. But, you know, the door is always open. The–the ball is in their court.
"There's a lot to be discussed, and I really hope that they are willing to sit down and talk about it," Harry said, referring to his family. "Because there's a lot that's happened in six years. And prior to that as well."
Newsweek approached representatives of Prince Harry and Meghan Markle via email for comment.
James Crawford-Smith is Newsweek's royal reporter based in London. You can find him on Twitter at @jrcrawfordsmith and read his stories on Newsweek's The Royals Facebook page.
Do you have a question about King Charles III, William and Kate, Meghan and Harry, or their family that you would like our experienced royal correspondents to answer? Email royals@newsweek.com. We'd love to hear from you.