Prince Harry Discusses 'Racism' Faced by Meghan in Resurfaced Viral Video
A video of Prince Harry discussing the "racism" faced by Meghan Markle after the couple's relationship became public and his "regret" at not speaking out sooner has gone viral online gaining over 12 million views in 24 hours.
In the resurfaced clip from the docuseries The Me You Can't See, Harry expresses his anger and frustration at the U.K. tabloid media as well as social media and his family's reaction to requests for help during the Sussexes' time as working royals from 2018 to 2019.
The video has been shared widely as both Harry and Meghan are in the U.K. following the death of Queen Elizabeth II at the age of 96 last Thursday.
The Sussexes had been in the country to attend pre-scheduled charity events when news of the queen's death broke. The couple made an unexpected joint appearance with Prince William and Kate Middleton, now the Prince and Princess of Wales, on Saturday to view floral tributes left to the late queen outside Windsor Castle.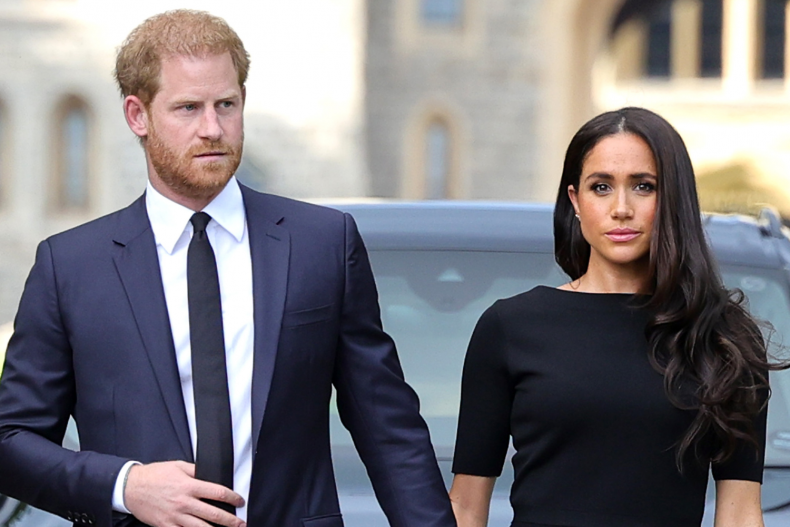 The appearance marked the first time the couples had been photographed together since Harry and Meghan's interview with Oprah Winfrey was broadcast in March 2021, during which Meghan claimed that Kate made her cry before her wedding and Harry described his relationship with William as "one of distance."
In the viral clip posted to Twitter on Monday by broadcaster and political correspondent Nadine Batchelor-Hunt, Harry discussed how Meghan's entree into the royal family made him aware of the closed mindset he had been living in when it came to race and the media's treatment of outsiders.
"I became aware that I'd been living in a bubble within this family, within this institution," he said, "and I was sort of almost trapped in a thought process or a mindset."
On the racist undertones of some press coverage of their relationship, the prince said:
"Within the first eight days of our relationship being made public was when [the media] said 'Harry's Girl (Almost) Straight Outta Compton' and that her exotic DNA will be thickening the royal blood."
He later went on to say that his biggest regret from this time was not taking more of a stand sooner regarding this coverage.
"My biggest regret is not making more of a stance earlier on in my relationship with my wife in calling out the racism when I did," he said.
A key comparison the prince draws in his interview shown in the viral video is between the press and media treatment of his mother Princess Diana in the 1980s and 1990s, and that which Meghan faced from 2016 to 2019.
This year marks the 25th anniversary of the death of Princess Diana in a 1997 Paris car crash.
"You get followed, photographed, chased, harassed. The clicking of cameras and flashes of cameras makes my blood boil, it makes me angry," he said.
"It takes me back to what happened to my mum and what I experienced when I was a kid but it went to a whole new depth [with Meghan] with not just traditional media but also social media platforms as well. I felt completely helpless."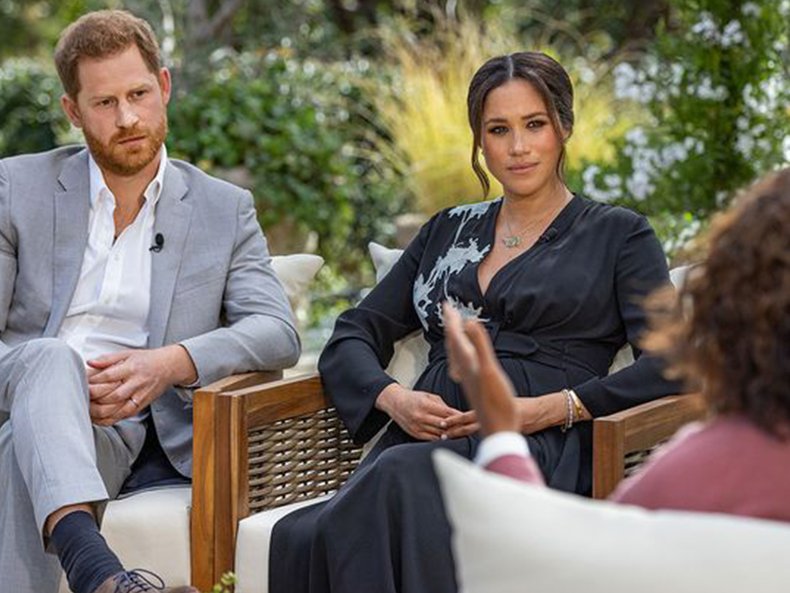 Within the same interview, Harry also revealed information about an evening discussed by Meghan during her interview with Oprah Winfrey—an evening where she explained to Harry she had considered taking her own life as a result of the pressures of royal life.
"It was incredibly triggering to potentially lose another woman in my life. The list is growing and it all comes back to the same people, the same business model, the same industry," he said.
"My father used to say to me when I was younger, he used to say to both William and I: 'Well, it was like that for me so it's going to be like that for you,'" he continued.
"That doesn't make sense. Just because you suffered that doesn't mean that your kids have to suffer. In fact, quite the opposite. If you suffered, do everything you can to make sure that whatever negative experiences you had, that you can make it right for your kids."
Later on, the prince expressed his belief that the similarities between the experiences of Diana and Meghan showed that there was a real potential that history would repeat itself and he would lose his wife.
"History was repeating itself," he said. "My mother was chased to her death while she was in a relationship with someone who wasn't white. And now look what's happened? You want to talk about history repeating itself? They're [the media] not going to stop until she dies."
Harry and Meghan stepped down from their roles as full-time working royals in 2020 and moved full-time to the United States where they worked to become financially independent and welcomed their second child Lilibet Diana Mountbatten-Windsor. The baby was named in honor of her great-grandmother, the late queen, and her grandmother, Princess Diana.
Do you have a question about Queen Elizabeth II, King Charles III or their family that you would like our experienced royal correspondents to answer? Email royals@newsweek.com.