Harry's 'Woke' 1st Amendment Jibe Was Like Attacking Queen—Meghan McCain
Meghan McCain has criticized Prince Harry and Meghan Markle for being "way too woke," going on to compare the royal calling the First Amendment "bonkers" to an American publicly attacking Queen Elizabeth II.
McCain's comments followed Harry's 2021 appearance on the Armchair Experts podcast with host Dax Shepard, during which he spoke about the press and paparazzi intrusion he has experienced in relation to U.S law. "I've got so much I want to say about the First Amendment as I sort of understand it, but it is bonkers," he said.
"I don't want to start going down the First Amendment route because that's a huge subject and one which I don't understand because I've only been here a short time. But, you can find a loophole in anything. You can capitalize or exploit what's not said rather than uphold what is said.
"I believe we live in an age now where you've got certain elements of the media redefining to us what privacy means. There's a massive conflict of interest."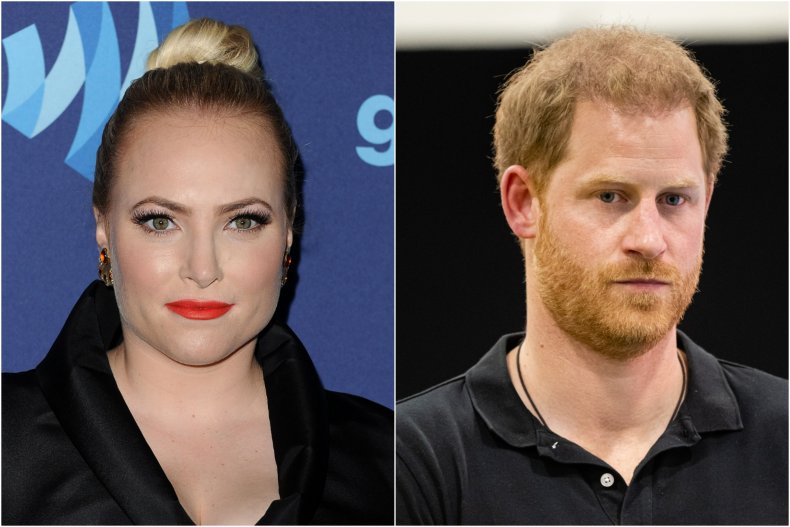 McCain appeared on Sky News Australia in conversation with broadcaster Piers Morgan, an outspoken critic of Harry and Meghan. The commentator had previously come out in defense of the couple after their landmark March 2021 interview with Oprah Winfrey.
"If we have two American women, Meghan Markle and Oprah Winfrey, who are single-handedly finishing what George Washington and our revolutionary counterparts did—I'm all for it," she told her The View co-hosts of the perceived damage the interview had on the monarchy after its broadcast.
Over a year later, Morgan asked McCain if she still held Harry and Meghan in the same regard, to which she responded: "I'm not a fan."
"I was a fan in the beginning because I thought they were interesting and sort of modernizing the royal family but they're way too woke for me," she explained.
The turning point for McCain came after the prince's comments about U.S politics. She continued: "Harry came after the Second Amendment in this country and I believe the First Amendment as well," she told Morgan, "which is like, huge."
The commentator then went on to compare Harry, as a British prince criticizing the American constitution, akin to she, as an American, disrespecting the Queen: "It's like, if I had attacked the Queen, it's the equivalent," she said before closing with the statement, "They're just too woke for me."
Harry has so far made no public statements on his feelings towards the Second Amendment. The prince grew up shooting recreationally for sport on his family estates, a practice he was reported to have stopped after meeting Meghan, an animal welfare supporter.
Meghan herself told Morgan in a 2015 interview—before she met Harry—that gun control was a "deeply controversial issue" and the "logical conclusion would be to have much stricter gun laws."
McCain, who described herself to Morgan in her interview on SkyNews Australia as "really American. I'm like hardcore fourth of July, love my guns American," has been a fierce defender of the Second Amendment in recent years.
On the wider monarchy McCain told Morgan that though the "monarchy is a foreign concept for most Americans," the Queen herself has grown in popularity, in part due to her depiction in Netflix's series The Crown.
"As cheesy as it may seem," she said, "The Crown, the show that was on Netflix, was a huge hit here and I think sort of gave a better understanding to Americans as to why [the Queen] is so beloved and why as the longest-serving monarch in your history, why she should be respected. And I think that it's made a lot of Americans very territorial of her."
The 96-year-old monarch celebrates her Platinum Jubilee marking 70 years on the throne this year with a special weekend of celebrations planned to take place in June.
Harry, Meghan and their two children have been confirmed to be attending some of the celebrations, though it was announced by Buckingham Palace last week that they would not be standing on the Buckingham Palace balcony with the Queen as they are no longer working royals.