William's Eco Prize More Successful at Awards Than Harry, Meghan Interview
Prince William's Earthshot Prize has been given a BAFTA for its 2021 eco-friendly awards ceremony, broadcast by the BBC, it was announced on Sunday.
This marks a second win for the eco-prize ceremony and makes it more successful in terms of awards than Prince Harry and Meghan Markle's landmark 2021 interview with Oprah Winfrey, which despite being nominated for a Primetime Emmy and Television Critics Association award, failed to secure a win.
The BAFTA win for William's awards ceremony follows its presentation of a Royal Television Society Award in March and comes after it was staged as one of the most sustainable live television events ever.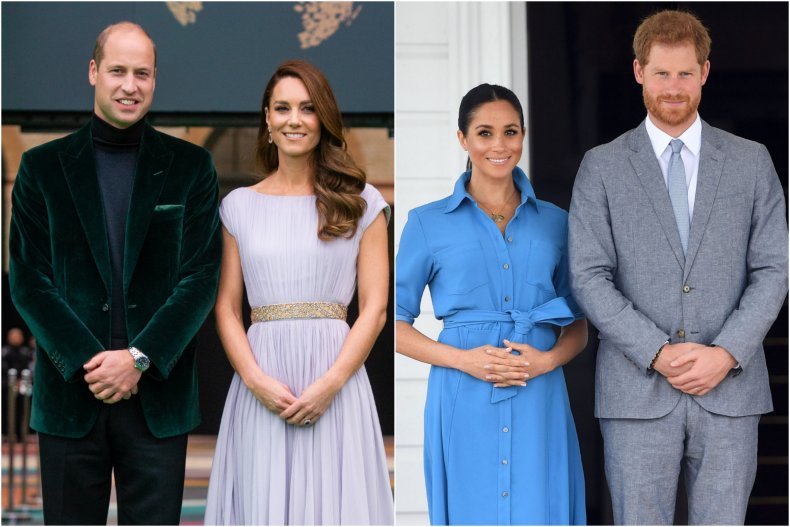 The BBC, which partnered with the Earthshot Prize to put on and broadcast the inaugural event, committed to reducing the carbon output projected for an undertaking of its size in order to honor the work that the prize set out to achieve—protecting and preserving the planet.
BBC Studios Productions executive producer Mark Sidaway explained in a statement after the event that among other technical efforts to reduce carbon output: "There was a commitment not to use single use plastics across the event; a strict zero waste to landfill policy; and all food for crew, guests and talent was either vegetarian or vegan and sourced from within 100 miles of the event."
"All told, The Earthshot Prize London 2021's carbon footprint came to less than 5 tonnes – an astounding 98% reduction on projections for an event of this kind...It was a joy to work with Prince William and the Royal Foundation to achieve this extraordinary goal and bring viewers such an important event with sustainability at its core."
In a rare Tweet released after it was announced during the live BAFTA Television Awards broadcast on Sunday that the Earthshot Prize ceremony had beaten the Brit Awards and Royal British Legion Festival of Remembrance for the win, William said:
"I am so proud of the whole team behind The @EarthshotPrize London 2021 for taking home a BAFTA tonight!
It's a joy to work with you all and this accolade sets the bar high for inspirational, sustainable live events right around the world. We can't wait for USA 2022! W"
The prince made an appearance at the awards ceremony earlier in the evening as BAFTA's royal patron via a video montage about "planet placement" within the television industry.
The video looked at how, through television, issues regarding climate change and wider environmental problems are being highlighted.
"Now more than ever, programme makers have a unique opportunity to ensure climate change and sustainability remain at the forefront of our collective consciousness," the prince said.
"By creating innovative, educational and emotive content for television, writers and producers are playing a unique role in ensuring the future of our planet is something that we all want to talk about.
"Over the past year, we've seen some fantastic examples of this across a wide variety of programmes and genres.
"I hope you will all continue to carry on your invaluable work, keeping environmental issues high up on the agenda of programming in the years ahead."
William's wins come in contrast to Harry and Meghan's 2021 interview with Oprah Winfrey, which—despite reaching an estimated global audience of over 50 million—failed to take home a single award.
Following its March broadcast, the special television event, hosted by Winfrey and broadcast through CBS, was nominated for a Primetime Emmy in the category of Outstanding Hosted Nonfiction Series or Special. The show unexpectedly lost out on the award to actor Stanley Tucci for the first season of his food travel show, Stanley Tucci: Searching For Italy.
The interview received one further nomination in the form of a Television Critics Association Award in the category of Outstanding Achievement in News and Information. Other nominees in the category included Allen v. Farrow and The Rachel Maddow Show. Harry and Meghan lost out on the award to the documentary film Framing Britney Spears.