How Will, Kate Became Surprise Red Carpet Asset After Sussexes' Calif. Move
Kate Middleton and Prince William have had a string of red carpet triumphs while Prince Harry and Meghan Markle have been missing from Hollywood's showbiz scene.
The Duke and Duchess of Sussex went into the TV industry within months of arriving in California, signing a multi-year Netflix deal in September 2020.
However, they have yet to do a single Hollywood red carpet and were also missing from major fashion events such as the Met Gala.
By contrast, Prince William and Kate Middleton have been regular fixtures on red carpets in Britain attending premieres and the BAFTAs.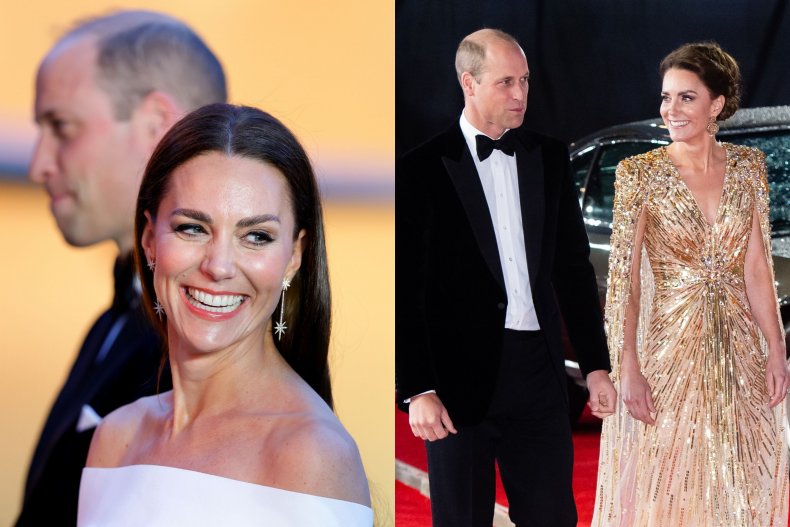 Kate Middleton and Prince William's Red Carpet Appearances
Kate and William's latest appearance on the red carpet came as Tom Cruise led them into the U.K. premiere of Top Gun: Maverick, in Leicester Square, on May 19.
The Hollywood star took the Duchess of Cambridge by the hand as she climbed a set of stairs in a moment that divided opinion online.
Kate stunned in a daring Roland Mouret dress with a neckline that wrapped around her shoulders.
And it came after they captured headlines at the world premiere of James Bond movie No Time to Die at the Royal Albert Hall, on September 28, 2021.
Kate wore a sequined, gold cape gown by Jenny Packham that lit up the red carpet and was the couple's biggest media moment of the month.
Red carpet appearances were few and far between during the height of the COVID-19 pandemic but they appeared at the BAFTAs on February 2, 2020.
Their visit to the Royal Albert Hall awards show, equivalent to the Oscars, came a month after Harry and Meghan announced they were quitting but before the couple arrived in America.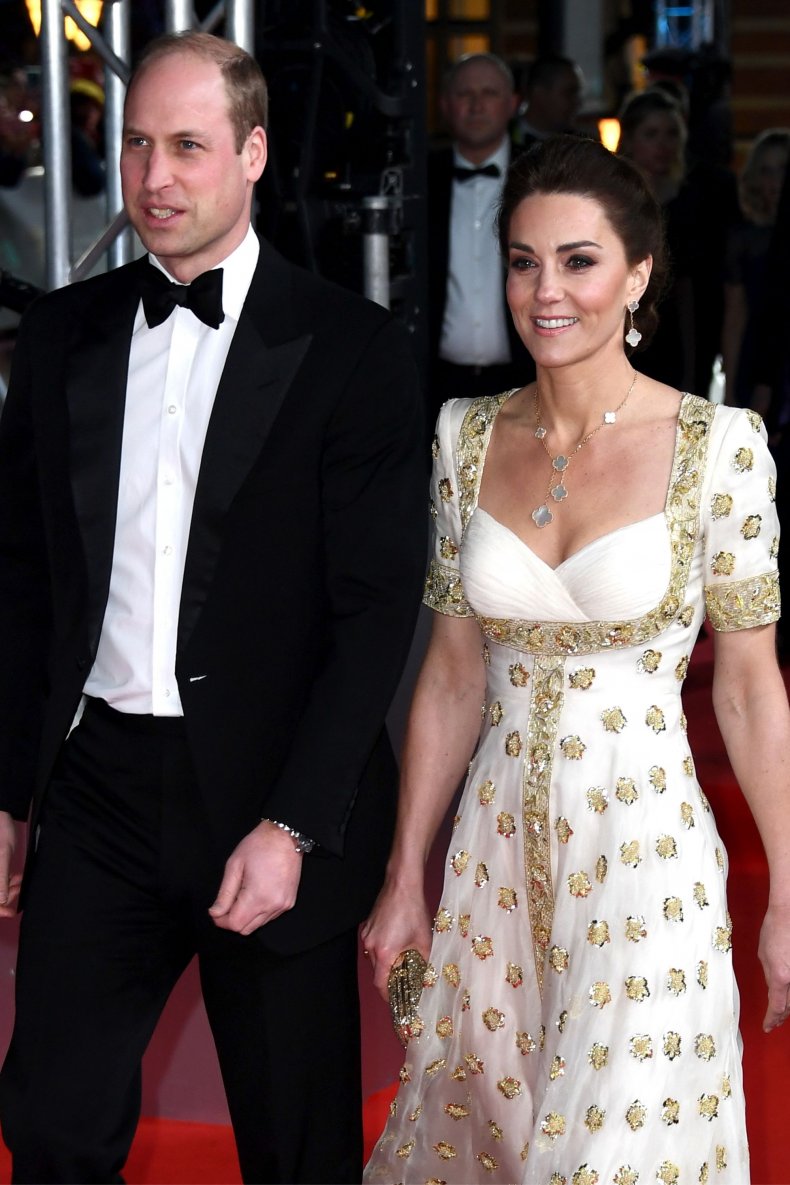 Meghan Markle and Prince Harry's Red Carpet Appearances
Meghan and Harry left Britain for a new life in California and entered the TV industry via Netflix.
They are also regularly compared to Hollywood celebrities, including the Kardashian family, in the media.
However, they have in reality not embraced the showbiz lifestyle and are without a single entertainment industry red carpet appearance to their name.
There was speculation they might appear at Barack Obama's 60th birthday party in August 2021, or at the wedding of David and Victoria Beckham's son Brooklyn Beckham to Nicola Peltz in April.
However, if they were at either event it certainly never became public knowledge.
This could all change when it comes time for Prince Harry to release his Netflix docu-series Heart of Invictus, which the streaming giant will no doubt be looking for him to promote.
Meghan is also due to launch her Archetypes podcast on Spotify this summer and may choose to be more visible as a means to publicize it.
Like William and Kate, they have been pictured on the charity red carpet, including at Intrepid Museum, in New York, in November 2021, though that event was not part of the Hollywood circuit.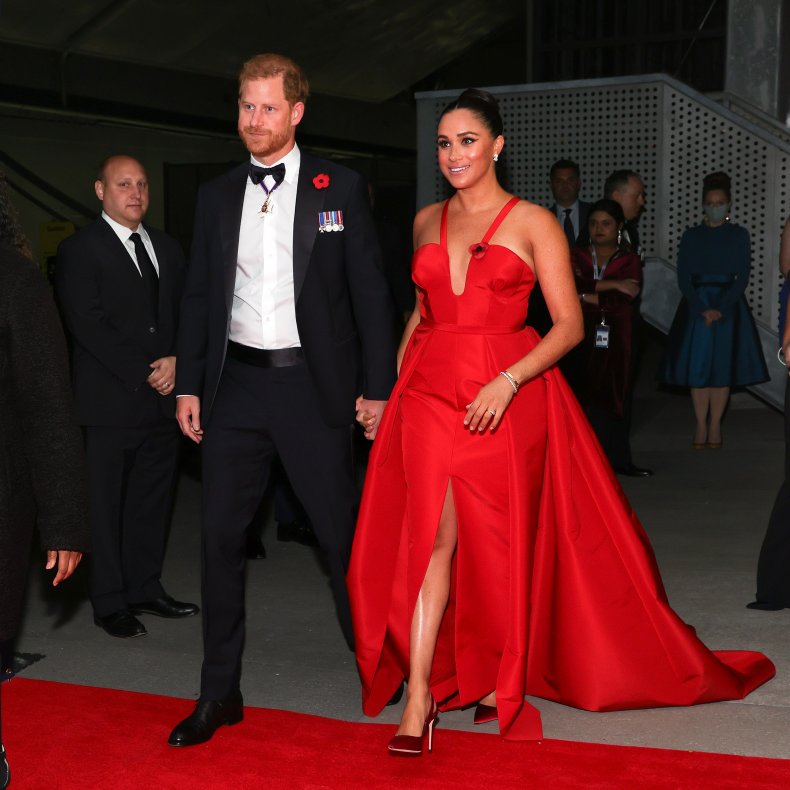 Possible Explanations for Meghan and Harry's Absence From Showbiz Circuit
Prince Harry has spoken in the past about how engaging with the media brought back memories of his mother Princess Diana.
He told his Apple TV mental health docu-series The Me You Can't See: "You get followed, photographed, chased, harassed. The clicking of cameras and the flashing of cameras makes my blood boil.
"It makes me angry. It takes me back to what happened to my mum and what I experienced when I was a kid."
He also told Oprah Winfrey in his March 2021 tell-all how it looked like he was "enjoying the life because there were photographs of me smiling while I was shaking hands and meeting people."
However, he added: "That's a part of the job. That's a part of the role. That's what's expected.
"No matter who you are in the family, no matter what's going on in your personal life, no matter what's just happened, if the bikes roll up and the car rolls up, you've got to get dressed, you got to get in there.
"You wipe your tears away, shake off whatever you're thinking about and you got to be on your A-game."
One possibility is that Harry and Meghan have simply had enough of the limelight and would rather limit their exposure to events that are meaningful to them.
For more royal news and commentary check out Newsweek's The Royal Report podcast: