What Putin and Erdogan Will Speak About at First Meeting Since Jet Downing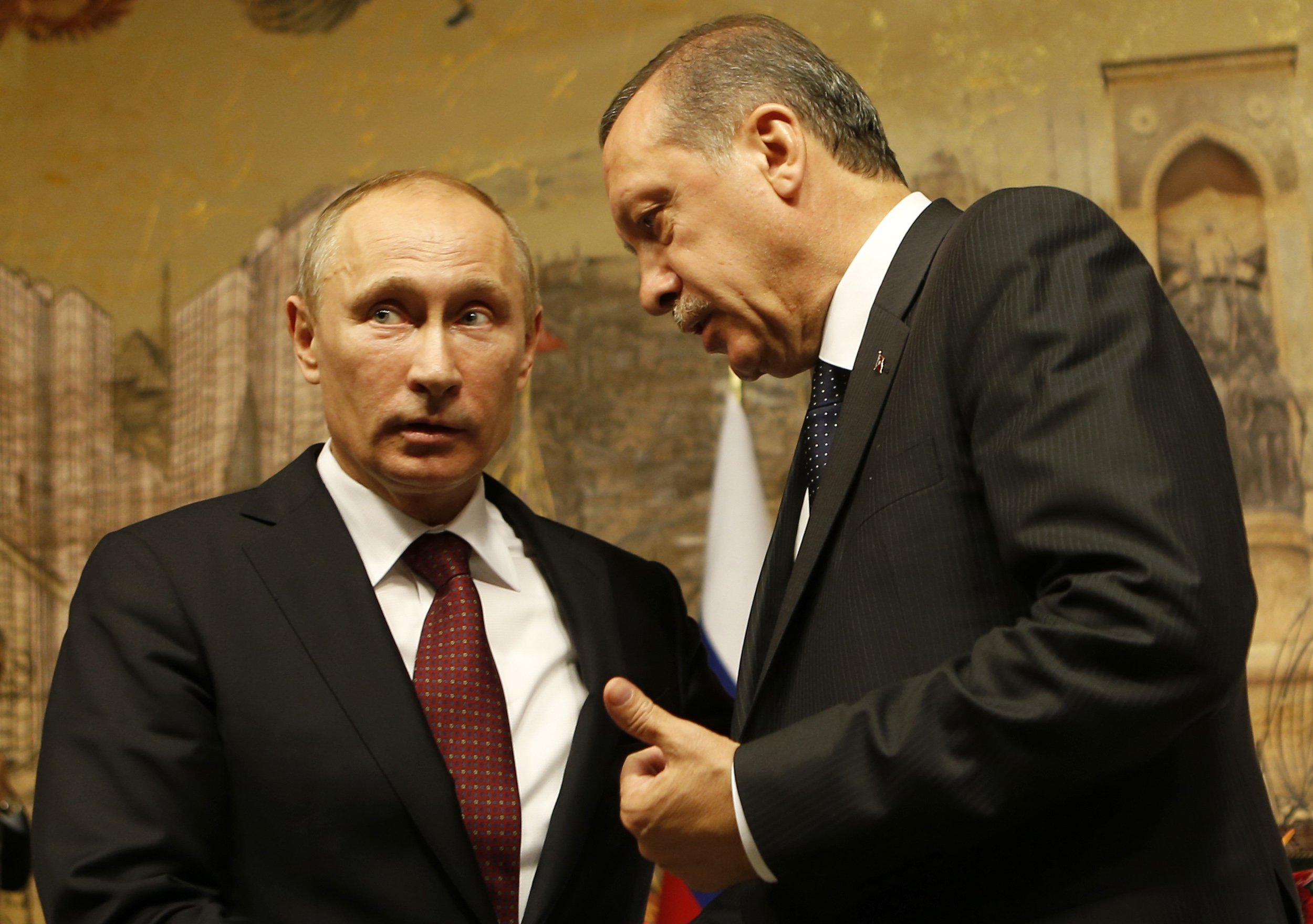 Turkish President Recep Tayyip Erdogan will visit his Russian counterpart Vladimir Putin next month, in their first meeting since a dramatic collapse of relations in November 2015 that saw them accuse one another of trading oil with jihadists. Erdogan apologized last month and the Kremlin announced Wednesday that the two will meet in Russia during the first half of August.
Much has happened since the last time they met. Most notably, Erdogan has survived a coup attempt, while Putin appears to have successfully restored Syrian President Bashar al-Assad's control over much of Syria.
Their meeting also comes as NATO is shoring up defenses near Russia. The two have a lot to talk about.
Erdogan will want more space in Syria
Putin declared "mission accomplished" in Syria in March after mounting a formidable defense of his ally Assad without coordinating it with the U.S. or its allies. By using Syrian bases, Russia had a kind of home field advantage that interfered with Turkish and other operations in the region.
"Putin wanted to demonstrate that the U.S. cannot meet its goals in Syria without Russia's help and to a certain extent they have proven that point," Reva Goujon, global analyst from private intelligence firm Stratfor, tells Newsweek. "Now Turkey has its imperatives in Syria, which is to combat Islamic State (ISIS) and the Kurdish expansion in northern Syria."
Turkey's intervention in Syria has been as much about combatting ISIS as it has been about fighting groups it believes are affiliated with the Kurdistan Worker's Party (PKK), which has organized numerous bombings in Turkey. According to Goujon, Putin will use that as a bargaining chip to get Erdogan to compromise elsewhere.
"Turkey has been very limited by Russia's activity in Syria, which has been a deliberate strategy by Russia," she says. "Russia wants to ensure Turkey won't participate in NATO's Black Sea activities, while Turkey will want boundaries in northern Syria. It will want to attain a sphere of influence there and Russia will leverage what it has shown it can do in Syria, for Turkey's subdued role in NATO plans to reinforce presence in its eastern flank, particularly in the Black Sea."
Turkey's coup spooked the Kremlin
More often than not, Russia condemns regime change and Putin was among the first to phone Erdogan to back "order" in Turkey after a group of Turkish soldiers tried to take control of the country last week. It was an unwelcome reminder to the Kremlin of how quickly authoritarian policies can lead to an open struggle for power.
"Putin is legitimately concerned about an uprising in Russia, not just within the security elites around him, but within economic elites," Goujon says. "Since the economic downturn in Russia, that power struggle has become more visible. Putin has been bringing in loyalists closer and his decision earlier this year to set up yet another security apparatus, the national guard, was the most obvious measure taken to protect himself."
However poorly planned the coup was, both leaders are bound to make an example of the plotters in a bid to discourage future attempts. The coup inspired many liberal Russians, including dissident Putin-critic Mikhail Khodorkovsky, to issue messages of hope that a coup was coming to Russia. Putin and Erdogan will highlight the civilian death toll of the coup attempt, which included several personal friends of Erdogan's.
"A lot of countries like Russia will use the Turkish coup attempt and the fact it was unsuccessful but killed innocent civilians as an example of why you shouldn't think about toppling the government," she says.
Erdogan will pick up security tips
Putin and Erdogan have large militaries but the coup showed that the Turkish leader's relationship with his generals is less amicable. The Turkish armed forces have risen up against the political establishment at least four times since the 1960s and many officials clearly still feel their rightful place in the power vertical is higher. The meeting will surely involve Putin sounding off about security in some advisory capacity.
"I think Erdogan is feeling very vulnerable at the moment and the threats he is facing within the military," Goujon says. "The plotters of the coup were a minority of the military but they included generals and admirals. This went high up the chain of command. It involved the army, navy, air force, the gendarmerie. These are factions fighting in Turkey's active conflicts at the moment. It will take a lot of time to repair that trust."
"Erdogan has always looked to Putin as someone he can learn from on the internal security front," Goujon says. "He will want to know how to insulate yourself with security factions that can be loyal to you and maintain balance. I expect Erdogan to be strategizing on how he can boost his own tactics based on what Putin does in Russia."
Russia's Turkish Stream pipeline back on
Putin stunned many when he announced the South Stream pipeline, planned to run across the Black Sea and through Eastern Europe, was dead in the water and a new Turkish Stream would now run through Turkey. Bulgaria, Serbia and Hungary said they received no notification and the latter two had even started construction on their segments. Putin made the announcement at a meeting with Erdogan.
Since November 2015, work was suspended and Turkey has even complained that Russia was not delivering enough gas through existing pipelines. Russia's gas giant Gazprom announced last month that it could promptly unfreeze South Stream, so it seems Moscow is looking to send a pipeline through the Black Sea by any means.
"Russia will be keen to revitalize the project," Goujon says. "Russia wants to increase Turkey's energy dependency because it will give Russia a lever over a NATO ally and an important partner for the West."
Some clarity on construction and financing of the pipeline would be very welcome for both sides during the meeting.
Erdogan wants to get Russian tourists back
Turkey's tourism industry is having a nightmarish year, after several deadly attacks by Kurdish and Islamist groups tearing apart civilian sites in its main cities. Russians are among the most frequent visitors. Three million Russians visited Turkey in the first nine months of 2014 alone. But according to a recent poll, the majority are not keen to visit Turkey soon and they were not able to until three weeks ago, after the Kremlin's ban on charter flights in 2015.
"Russian tourism has always been very critical to Turkey," Goujon says. "After several huge attacks tourism figures have dwindled and Turkey is in economic trouble."
"In the wake of the coup, Russia sent a warning out to evacuate Russian tourists," she adds. "I don't think it'll be so easy to shake that from Russians' minds, but for Erdogan it will be more about lifting the formal warning on travelling to Turkey."
Along the same vein, Erdogan will likely push for Putin to lift bans on Turkish food imports that also came in last November. Russian Prime Minister Dmitry Medvedev said earlier this month that despite the apology, there were no immediate plans to drop the sanctions.