Is Putin Bluffing on Ukraine War? Russian Media Coverage Offers Some Clues
Following weeks of intense mobilization and assertive posturing from the Kremlin as well as the U.S. and NATO, a tense, eerie calm has descended on the Russian-Ukrainian border. In response to the buildup of more than 100,000 Russian soldiers near the border, according to the Pentagon, the U.S. recently announced plans to deploy an additional 3,000 U.S. troops to Eastern Europe as a deterrent.
As the standoff continues, Ukraine and its allies are left guessing what Russian President Vladimir Putin's next move will be. From Ukraine now, to Syria in 2015, to Georgia in 2008, Russia has repeatedly made gains through military escalations that were accompanied by intense disinformation campaigns targeting both its rivals and its own citizens, sometimes with rather different messaging.
So does the Russians' rhetoric on the situation in Ukraine offer some insight into their real intentions toward the country? Newsweek turned to the Russian media—prime-time news and politics shows, state-owned online outlets and adjacent social media channels—to see if they offer some clues.
'Radioactive Ash'
"Russia is the only country in the world that is realistically capable of turning the United States into radioactive ash," Dmitry Kiselyov, the presenter of Russia's prime-time current affairs show, told his audience in 2014, with a nuclear mushroom cloud backdrop ominously behind him. The stark warning came at the apogee of Putin's operation in eastern Ukraine, which resulted in the annexation of Crimea and left a simmering conflict in the East.
In 2013, Kiselyov was appointed the head of a new state news agency, Rossiya Segodnya. It was tasked with producing Kremlin-friendly coverage of everything from geopolitics and current affairs to sports and culture, and to ramp up the propaganda to new heights while demonizing Moscow's rivals.
In the years since, this reformed media giant has spewed out regular doses of Ukraine bashing and anti-Western vitriol on prime-time politics and current affairs shows. They often include a token Ukrainian or European participant to act as a kind of "debate piñata" for the hosts and experts in the studio.
"All of Ukraine's military battalions need to be wiped out, completely, burned to the ground—the barracks, military towns, planes, everything. And our spetsnaz [special forces] need to take Kyiv," Vladimir Zhirinovsky, the head of the "systemic" opposition party, the Liberal Democrats, told Russian talk show host Olga Skabeeva in March 2016.
"They have people coming from all over—from France, Norway, Latvia, the Blacks—to hunt Russian speakers like in a safari. They sit on their porch with a gun, drinking tea and shooting at babushkas," Yulia Chicherina, a pop singer-turned-pro-Kremlin activist, said —without evidence—in a Tsargrad TV interview in November 2018.
While Russia was amassing troops and military vehicles at its western border in the second half of 2021, ostensibly for military exercises, the mobilization was largely ignored on state-TV channels. Instead, claims of imminent Ukrainian "provocations" and a seemingly inevitable "big war" began to intensify.
Skabeeva alleged in November 2021 that Ukrainian President Volodymyr Zelenskyy, "who promised to end the war, right now, is preparing to murder civilians."
"One proof of that is that Russophobe [Oleksii] Reznikov, who is about to become the defense minister. He will be responsible for reintegrating the Donbas through force, a Nazi who openly called that region [in eastern Ukraine] a 'cancerous growth,'" Skabeeva said, without providing any evidence for the "Nazi" claim. "But that unties our hands. What are we waiting for?"

Other political talk show hosts have echoed the baseless "Nazi" narratives while issuing ominous threats to "forcefully bring Ukraine to peace."
Disinformation Infrastructure in Place
Russia-linked social media channels were quick to pick up the acrimonious rhetoric and misleading claims, embedding them into the existing disinformation infrastructure. Organizations that track and expose information disorder (more commonly known as "fake news") have noted a significant uptick of pro-Kremlin narratives accompanying the latest military buildup.
The U.S. State Department put together a fact sheet of the most persistent propaganda lines pushed by Russian government officials and media outlets, including unfounded accusations that Ukraine is actually behind the escalation or that it is persecuting ethnic Russians. There is also the debunked claim that Russia was given guarantees of no NATO expansion to the East.
As was the case in past influence campaigns that originated in Russia, these talking points were sourced largely from government-issued statements, along with the social media pages of state news networks and their hosts. Often this type of content would be "laundered" through a web of Kremlin-friendly English-language publications and shill "news" websites, forming a part of Russia's disinformation ecosystem as described by the State Department, the Center for Strategic and International Studies and other organizations.
"Most of this activity is driven by Russian state-sponsored media like RT, Sputnik and official state representatives, including even the Russian president," Ishaana Aiyanna told Newsweek. She is a senior analyst at Logically, a U.K.-based data analytics agency that tracks misinformation and disinformation.
"The trends that we have been observing do align with these broader narratives identified by the U.S. State Department," she continued. "However, following recent events and as the crisis intensifies, our analysis shows that there are more specific narratives that are originating in Russia and being amplified by trolls and other coordinated methods."
The researchers highlight some of the more recent and prominent disinformation tropes: claims that Ukraine and the U.S. are fomenting the rise of neo-Nazism in western Ukraine; that there is a genocide of Russian-speaking populations in eastern Ukraine and they require Russia's help; and that a NATO invasion of Ukraine is imminent.
"There has definitely been an uptick in the volume of these narratives as and when Western media or Western commentators speak about the troop buildup," Aiyanna said.
A Shift in Tone
Yet beyond all the fearmongering and casual saber-rattling, which remains a constant feature of TV coverage in Russia, recent weeks have seen a subtle but tangible shift in tone on the mainstream state-owned media. The expressly anti-Ukrainian rhetoric and threats of invasion have given way to a more defensive posture, with a focus on negotiations and "national security" interests.
This echoes the official line in Russia's recent missive to the U.S. and NATO, in which the Kremlin made a series of demands its counterparts were unlikely to consider seriously, including a request to halt applications of new NATO members.
"Instead of answers to the peaceful initiatives of the Kremlin, [NATO and its allies] are burying us with accusations and new threats," Kiselyov lamented on his flagship Sunday news and politics program on January 23.
"We have no ongoing war preparations, we are not buying weaponry, we are not arming territory defense forces. It's all coming from the media plugging these crazy stories into your heads," Skabeeva's co-host, Yevgeny Popov, said in a January 26 segment titled "How the West Is Pushing Ukraine Towards War."
Ukraine is increasingly portrayed as both the prospective aggressor and the "clueless victim" of manipulation by the West, which, the hosts insist, will inevitably abandon it when the going gets tough. Presenters and guests are also accusing NATO and Ukraine's allies of generating "mass hysteria" around "supposed Russian aggression."
"But it is NATO that would be to blame if there is a war," one presenter on Zvezda, Russia's state-owned military TV channel, insisted on January 17.
"Ukraine just doesn't get that, like Iraq and Libya, they are simply disposable, and they would be the first victim of a war between Russia and the West if, God forbid, it does happen," the presenter, Olga Belova, said in the Zvezda segment. It was titled "The Standoff Between Russia and the West. The Fearmongering About 'Russian Aggression' in Ukraine."
Unsubstantiated accusations that Ukraine is ready to launch an offensive still feature on more hawkish, but less watched, TV stations, such as Telekanal360, owned by Russian state broadcaster VGTRK. Some of the coverage has been critical of the reports that the U.K. and the U.S. are evacuating embassy staff, and there is speculation that this indicates plans for a confrontation. Biden's decision to send more troops into the region has also drawn the TV pundits' ire. But the rhetoric is more cautious and reactive on the mainstream channels.
"If they [Ukraine's allies] give Kyiv the order to attack, they know they'll be making a big mistake," one of the pundits yelled at the camera on NTV's news and current affairs show, in a January 24 segment titled "Nowhere to Retreat."
"They have ignored or rejected our proposals, instead cherry-picking some important but secondary issues to cooperate on. And now Biden ordered to increase the U.S. contingent in the region, which is also a sort of response to our security demands," Dmitry Novikov, the deputy leader of Russia's Communist Party, told the Rossiya 24 news anchor on February 2.
And on February 3, flagship state broadcaster Channel One did not feature a single mention of Ukraine on its morning news program.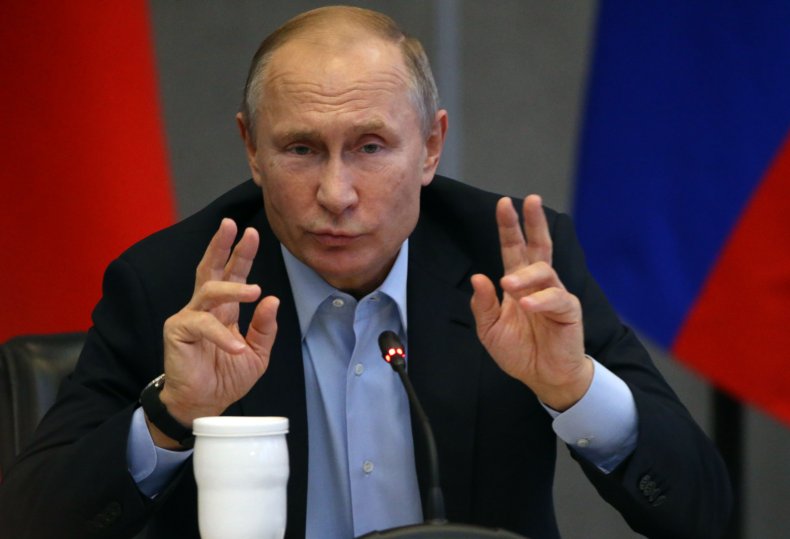 New Main Target Is NATO, Not Ukraine
This softening of the Russian media's tone toward Ukraine is reflected in the numbers. Research by Semantic Visions, a data analytics company based in the Czech Republic, indicates that the overall trend of rising negative sentiment in domestic Russian media discourse is driven by hostile rhetoric about NATO and the United States rather than Ukraine. The primary purpose is to force the West to compromise.
The company published a sentiment analysis report on Russia's coverage of Ukraine on January 5, and on January 27, after a period of intense negotiations and back-and-forth between Russia and the West, it carried out a follow-up study to capture how hostile rhetoric toward Ukraine is evolving.
Semantic Visions' latest findings, which it has shared with Newsweek, confirmed its earlier conclusions that Russia's domestic media are "not engaging in active warmongering about Ukraine—which, according to precedent, would be expected ahead of a planned large-scale invasion—but [are] instead focused on disinformation about NATO and its alleged subversive activities in Ukraine."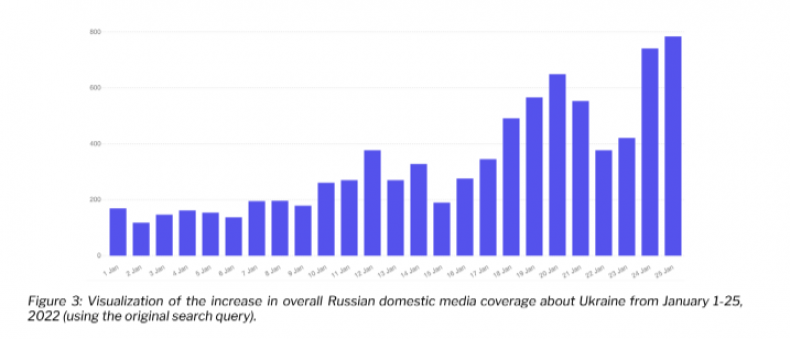 As the graph above shows, based on an analysis of more than 76,000 articles across more than 24,000 .ru domains (which include state media channels and websites), the overall volume of coverage focused on Ukraine ramped up significantly in January.
But the graphs below indicate that removing "NATO" and "United States" from the search queries shows that the anti-Ukraine rhetoric is more subdued, compared with previous peaks. Meanwhile, the anti-NATO and anti-American sentiment is reaching a fever pitch.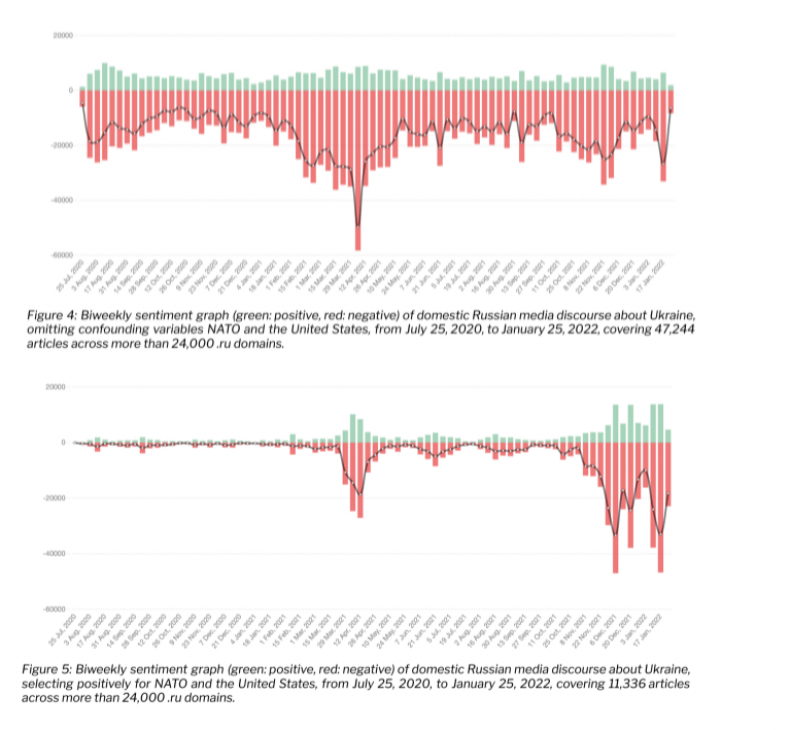 The report highlights the fact that the military buildup and accompanying aggressive propaganda may already be bearing fruit because Western leaders have come to Putin's negotiating table in recent weeks.
"The Kremlin appears to have learned its lesson from spring 2021, when its troop deployments to the Ukrainian border were broadly dismissed by experts as lacking the 'elements necessary to mount and sustain combat operations.' This time around, Russia would seem to understand that to maintain the negotiating advantage and pressure on NATO and Western leaders, it must present a more credible threat," Semantic Visions' head of research and analysis, Monika Richter, notes in the report.
Russians Tired of Warmongering
More worrisome, from the Kremlin's perspective, is that the hate-mongering tactics seem to be becoming less effective at home. Russians appear to be jaded and exhausted by the incessant focus on Ukraine in the past eight years and are more preoccupied with domestic issues, such as the economy.
The trend is reflected in the public polls. Ukraine is seen as the main culprit in the recent tensions by just 16 percent of the Russian population (in contrast to 50 percent blaming NATO), according to a mid-December poll by Levada, one of the country's few remaining independent polling centers.

In his analysis of the latest polls, Denis Volkov, director of the Levada Center in Moscow, notes an unusual uniformity of opinions about the conflict across different age groups. He calls it a sign of the public's waning interest in the Ukraine crisis, which is being fanned mostly by the media.
"Pollsters are encountering more fatigue among the populace when it comes to Ukraine, the stand-off with the West and foreign policy in general. That is why people have no desire to delve into the details, seek alternative viewpoints or fact check the comments from officials or talk show hosts," Volkov wrote on January 18.
Levada's polling shows that expectations that a war may be inevitable have risen to 38 percent from 28 percent in 2015. But at least 53 percent of the population still thinks war is either unlikely or completely out of the question. A separate Levada poll shows that 56 percent of respondents said they fear another world war, which is down from 62 percent in March 2021.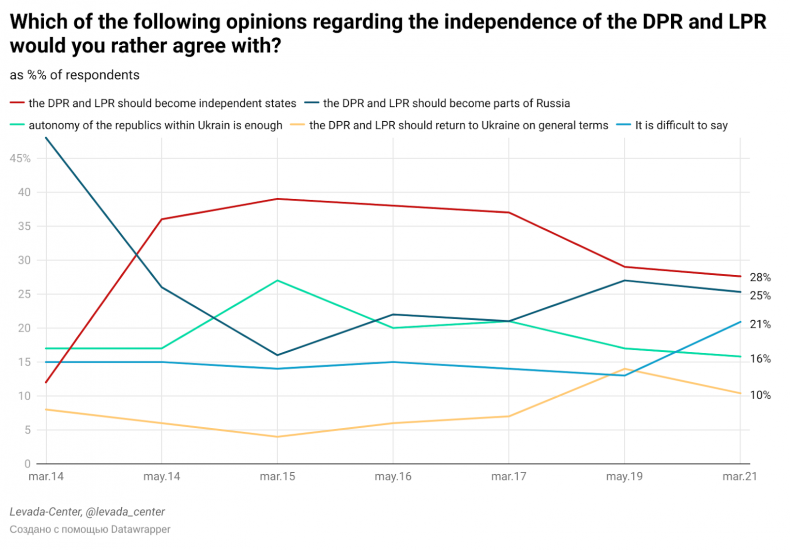 Public attitudes toward Ukraine itself were split down the middle as of December 2021, according to Levada, and there was little consensus over the desired fate of the eastern Ukraine regions currently controlled by pro-Russian rebels. Only 18 percent of Russians supported the idea of unification of Russia and Ukraine, while 51 percent supported visa-free travel between the two nations and 24 percent preferred the status quo.
And while it's a less reliable indicator than polls, Google Trends appears to show a similar dynamic when analyzing search queries for basic keywords, such as "war" or "Ukraine," over the past decade. Searches for the former are at a low, and searches for the latter, having spiked during the previous escalation in spring 2021, have also ebbed.
That's another significant point of contrast with 2014 and the Crimea invasion, when both terms had peaked. While this trend may not say much about the support, or lack thereof, for war, it does help gauge the level of interest or public focus on the topic.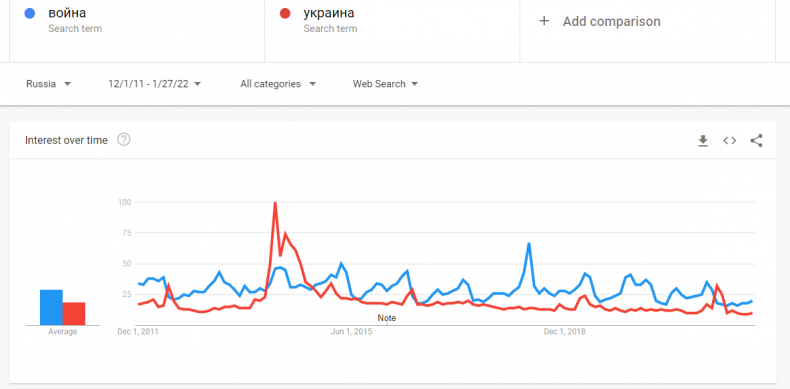 We Have Been Here Before
The shifting tone of the Russian media's coverage of developments along the Ukraine border—along with direct and indirect assessments of public opinion about a possible war—seems to lend credence to the theory that the troop buildup is a big bluff.
"While no one can predict with 100 percent accuracy what Putin might do—perhaps he doesn't yet know himself—the increased negative sentiment toward Western actors suggests that rather than preparing the Russian domestic audience for a large-scale invasion of Ukraine, Putin is using the buildup to win concessions from the West," Semantic Visions CEO Frantisek Vrabel told Newsweek.
Other experts are also convinced that is the case. "Putin is bluffing. He's playing poker," the exiled Putin critic Garry Kasparov said in a recent interview. Historian and military strategist Edward Luttwak tweeted that Russia cannot afford to start a war with Europe's largest country.
But there are also concerning aspects about the current standoff that distinguish it from past escalations.
For one, the economic cost of this gamble is already being felt by Russia. Trading at 77.6 per U.S. dollar, the ruble plunged to a 14-month low by January 26. It has cut some losses in February after the Central Bank intervened by stopping foreign exchange purchases. But the Russian currency remains within reach of the record lows seen after the Crimea annexation and the resulting international sanctions in 2014 and 2016.
Similarly, local currency bonds are performing poorly, with yields reaching 9.98 percent on January 25, the highest since March 2016. And Russian stocks, which barely moved in the aftermath of the Crimea invasion, are getting decimated by the headline risk and threats of military escalation, dropping to 3,240 points from an October peak of 4,233 points, about a quarter of their value.
It's hard to estimate the costs of mobilizing hundreds of thousands of troops and military equipment, conducting large-scale military exercises—all while coping with a pandemic that refuses to subside. But it's safe to say that it hasn't come cheap. Even before the latest deployments occurred, Russia's military budget in 2020 was among the fourth largest in the world by amount and the highest as a share of gross domestic product.
And compared with the 2008 invasion of Georgia or the 2014 Crimea annexation, Russia's latest approach to information warfare is more holistic and diversified, spanning different media, online platforms and Russia-friendly outlets. Disinformation campaigns emanating from Russia and targeting Ukrainian or European social media users are ongoing, despite social media platforms taking steps to counter the threat.
"Larger platforms are certainly now recognizing the seriousness of the problem and taking positive steps," Aiyanna said. "But there is a lot of work still to be done."
The Logically analyst continued, "One of the major problems is that more stringent content moderation policies on major social media platforms can end up driving conversations underground and becoming even more extreme in other platforms and spaces that aren't subject to the same kind of moderation. Meanwhile, elements of certain platforms, such as closed groups, can make it very difficult to tackle repeat offenders."

Among such hard-to-monitor platforms is Telegram, a popular messaging app that has been embraced by many Russians since the state cracked down on—or increased control over—other social media platforms. The lack of transparency, both in terms of encryption and ownership of individual channels, makes platforms like Telegram prone to manipulation, providing yet another channel for propaganda to reach its target audiences.
The toned-down state media and online coverage of recent events inside Russia, along with a resolute and (mostly) unified response from the U.S. and NATO, could raise hopes that the crisis will fizzle out.
But the Kremlin still maintains a firm grasp on a vast network of information pathways it could tap into if the need to reescalate arises. Just this week, reports said U.S. officials have acquired evidence that Russia was planning to stage a video of a supposed attack by Ukraine, to use as a pretext for an invasion. Such capabilities remain in Moscow's hands even as the search for a diplomatic resolution—so far unsuccessful—continues.