Putin Pulling Paratroopers From Syria to Replenish Ranks: Ukraine
Russian President Vladimir Putin is pulling paratroopers from Syria to replenish troops in Ukraine, Kyiv officials said Tuesday.
Putin launched the Ukraine invasion on February 24, 2022, hoping his large military would bring him to quick victory. However, Ukraine responded with a stronger-than-expected defense, preventing Moscow from making any substantial victories after seven months of fighting. In fact, Ukrainian troops have now launched counteroffensives to retake key areas formerly occupied by Russia.
Moscow has dealt with myriad issues surrounding their troops throughout the conflict, as reports have emerged that many soldiers lack motivation and strong leadership—establishing a sharp comparison with the spirited defense efforts from Ukraine.
These challenges have forced Russia to turn to creative ways to recruit and retain soldiers to continue fighting in Ukraine.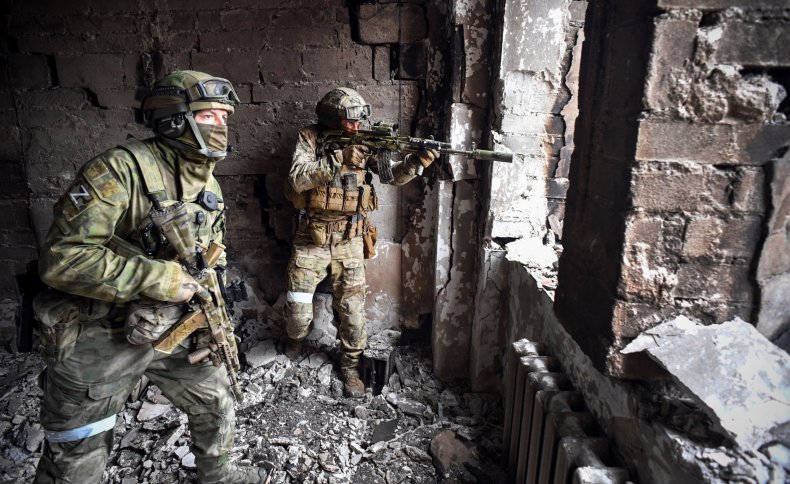 The General Staff of the Armed Forces of Ukraine said on Tuesday that amid these personnel shortages, Russia is now transferring an important regiment of paratroopers from Syria to Ukraine.
"Due to the unsuccessful conduct of hidden mobilization measures, the military-political leadership of the Russian Federation has decided to withdraw units of the 217th Paratroop Regiment from the territory of the Syrian Arab Republic and beyond Preparations to roll over to Ukraine," the general staff wrote in a daily operational update.
The 217th Paratroop Regiment, founded in the 1940s, is an experienced group of soldiers who were previously sent to Belarus in January of 2022, a month before Putin ordered the Ukraine "special military operation."
Russia has had a military presence in Syria the Middle Eastern country's civil war, as Syrian President Bashar al-Assad and Putin are key allies. Even as many other world leaders have condemned the Russian "special military operation" in Ukraine, Assad has been one of his supporters. Syria's war is ongoing after more than a decade of fighting.
Ukraine's report comes at a pivotal point for the Ukraine conflict, as Russian-installed leaders in occupied Ukrainian territories such as Donetsk and Luhansk prepare to hold referendums to vote on Russian annexation this week, potentially setting the stage for a larger mobilization to boost the size of the Russian military.
Last week, Syria was one of seven nations to vote against allowing Ukrainian President Volodymyr Zelensky from giving a virtual speech before the United Nations General Assembly, according to the Associated Press.
In an effort to deal with troop shortages, Putin in August ordered the Russian military to add 137,000 new soldiers. However, the decree will largely rely on volunteers and will not take place until January 1. Russia has also recruited sick and injured soldiers from hospitals to replace losses, Ukraine said.
Ukraine has also said Russia has suffered a high number of losses amid the conflict. Ukraine estimated that about 54,810 Russian soldiers have been killed, according to their defense ministry. Other estimates place the number lower, and Russia has not provided an update since March, when they said they suffered 1,351 deaths.
Newsweek reached out to the Russian Ministry of Defense for comment.