Ukraine Activists Bombard Google Reviews in Russia, Post Images of Dead Soldiers
Ukrainians and their supporters online have bombarded the Google reviews for Russian restaurants, attractions, and landmarks with anti-war slogans and criticism of the Kremlin over Russia's escalating war on Ukraine.
As the deadly invasion rages on, internet spaces became digital battlegrounds, with Russian state disinformation reemerging as a prominent issue.
On Monday, pro-Ukraine internet users kicked off a campaign of leaving messages directly addressing the Russian people on Google review pages of places and establishments in Russia, particularly in the capital Moscow.
The effort involved review-bombing, though a number of users left four or five stars. Their comments included calls for an uprising against President Vladimir Putin, as well as the transmission of information they said had been suppressed by Russian state censorship, including Ukrainian claims of the invading force's casualty numbers.
Many of these posts included photos meant to depict a war-ravaged Ukraine, in addition to pictures of dead bodies—some of which were said to be Russian soldiers.
Dumpling café Lepim I Varim was among the top-rated restaurants in Moscow to be targeted.
"Delicious food! I was tempted to try the beef stroganoff, but really wanted a taste of Russia," read a five-star review. "Russian people, your fascist dictator is lying to you. He has invaded Ukraine unprovoked and is killing unarmed citizens. He is bombing residential areas.
"Stand up to your dictator! Stand up for your neighbors!"
"The Russians came to my city and started bombing civilians, for this, 1 star!" wrote a reviewer for #SibirSibir, a restaurant in the AZIMUT hotel. "Please read international news, you are not saving us but killing us."
Amid reviews for restaurant Lyubov' Pirogova—which specializes in savory and sweet pies—someone wrote: "Come to Ukraine for your meat, which is lying on our roads."
"Putin spoiled our appetite," said one review on Cafe Pushkin. "There is a total war going on in Ukraine. There are many dead. Your government is lying to you."
"Many Russian soldiers die in attacks on cities. Everyone can see and hear it, on the radio, on TV, on the internet, but not in Russia!"
"PEOPLE OF RUSSIA: If you cannot access international news - you are committing war crimes in Ukraine," another user wrote for Italian restaurant Mushrooms. "Civilians are being bombed. The Ukrainian people are free and do NOT WANT YOU THERE. Please, speak out against your government - ask them to withdraw!"
On the reviews page for Saint Basil's Cathedral, a historic icon of Moscow's landscape, someone wrote: "Here is a great place to put candles for the rest of your sons, husbands, brothers who died in Ukraine because you are silent!"
For the Museum of Cosmonautics, dedicated to Soviet space exploration, a reviewer told Russians they "probably do not have the opportunity to have up-to-date information about the war in Ukraine."
"There is no liberation by your troops in Ukraine," they said. "This is aggression, the invasion of uninvited troops into foreign territory."
"You have been drawn into the war. The whole world is against you. [...] Let [Putin] know that you disagree with him. Don't let your sons, brothers, men die for this. The world will never forgive you."
Several social media giants, including Facebook and Twitter, have taken measures against disinformation coming out of Russia, which saw the companies suspending advertisements and banning the monetization of content.
Reddit was the latest platform to take action, having quarantined the subreddits r/Russia and r/RussiaPolitics.
Moscow announced it would restrict access to Facebook after parent company Meta refused Russian authorities' order to stop fact-checking and labeling the Facebook content of four state-owned media outlets.
Meta also rejected Ukraine's request to block Russians from using Facebook.
Western countries slapped Russia with a number of unprecedentedly tough sanctions in response to its invasion of Ukraine. This led to the ruble tumbling to a record low against the dollar on Monday.
Penalties included banning a number of Russian banks from leading financial communications network SWIFT. A total of 680 people and 53 entities were also subject to an asset freeze in EU member states and a travel ban.
U.S. Senator Chris Murphy, who sits on the Senate Foreign Relations Committee, recently announced Washington and its allies are looking to escalate economic sanctions by seizing the assets of Putin and oligarchs in his inner circle.
Follow our live blog for updates on the Russia-Ukraine conflict.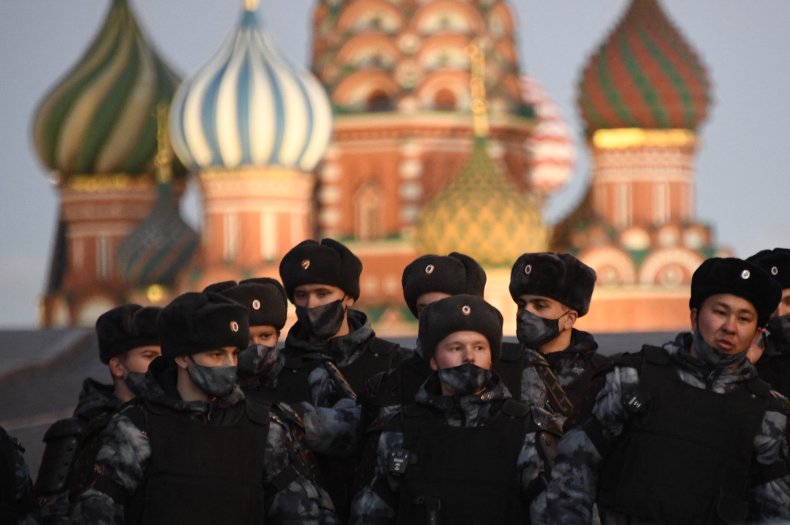 3/2/22, 4am ET: The headline on this article was updated.