Queen Elizabeth II Turns 95 Without Husband As Birthday Marked by Mourning Prince Philip
Queen Elizabeth II marks her 95th birthday today—just 12 days after the death of Prince Philip, her husband of 73 years.
The world mourned on Saturday as the Duke of Edinburgh's coffin was carried into St. George's Chapel for his final journey.
However, while Elizabeth had her family by her side then, she begins a new era of her reign in isolation amid COVID restrictions.
The world's longest-reigning monarch today marks 95 years of her life without the man she called her "strength and stay."
The Queen will spend the day at Windsor Castle, where she has been living during the pandemic.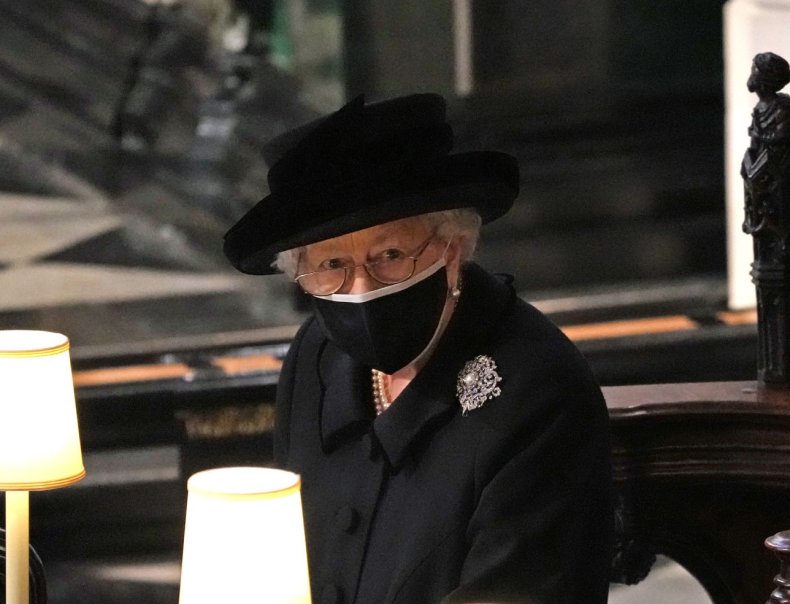 Socializing indoors in Britain is still not allowed but friends and family can gather in groups of six outdoors.
Prince Charles will not be with her as he has already traveled to Wales, where he will process the aftermath of his father's death surrounded by the breathtaking countryside of Carmarthenshire.
An insider told Newsweek the Prince of Wales always travels to the rural idyll, on the edge of the Brecon Beacons, and has not made the trip purely to grieve.
However, the future king will have much to think about as the family continue to process the fallout from his son Prince Harry and daughter-in-law Meghan Markle's Oprah Winfrey interview.
Harry and Meghan accused an unnamed royal of expressing concern about Archie's skin color before he was born and whether he might be "too dark."
The Duchess of Sussex also claimed Kate Middleton made her cry during an argument about bridesmaid's flower girl dresses.
Both Elizabeth and her heir will, however, have some good news to mull over after Prince Harry spoke face-to-face to Prince William and Kate Middleton for the first time in more than year.
The trio were seen talking outside the chapel on Saturday after saying their final goodbyes to Prince Philip.
U.K. newspapers have also suggested there were talks between the brothers and Prince Charles afterward, though the palace has not confirmed those reports.
Closer to home, the Queen's residence at Windsor Castle is a stone's throw from Royal Lodge, where her son Prince Andrew lives.
And there has still been no official confirmation about whether Prince Harry has returned to his Montecito home and to wife Meghan, who is pregnant with a second child.
However, U.K. newspapers have published pictures of what they say is the prince's car arriving at LAX airport to pick him and take him back to Santa Barbara county.
Had he stayed in Britain for his grandmother's birthday, he would also have been close by at Frogmore Cottage, in Windsor Great Park, walking distance from the castle.
The proximity would have made it easier for the Duke of Sussex and his grandmother to talk through the bombshell claims the couple made to Oprah Winfrey.
The Queen has been praised for her response to the CBS prime time special, which saw her move to defuse the royal crisis with a statement expressing sympathy for Harry and Meghan but adding: "Some recollections may vary."
Alastair Campbell, former Prime Minister Tony Blair's spokesman, told True Royalty TV: "That 300-word statement was pitch-perfect, for what she was trying to do. 'Recollections may vary' was brilliant."
His commendation forms part of Elizabeth at 95: The Invincible Queen, a new documentary charting her legacy as a monarch.
Nick Bullen, editor in chief of the streaming service, said: "Millions of people around the world will be raising a glass today to a much loved 95-year-old lady who is suffering the tremendous loss of her husband."