Rashida Tlaib Accuses Israeli PM Netanyahu of 'War Crimes,' Calls for Accountability
U.S. Representative Rashida Tlaib called for Israel's Prime Minister Benjamin Netanyahu to be "held accountable for war crimes" amid the escalated conflict between Israelis and Palestinians that has left dozens of Palestinians dead—including 16 children.
Israeli security forces cracked down on Palestinians praying and demonstrating at the Al-Aqsa mosque in Jerusalem last week during the Islamic holy month of Ramadan. The Palestinians were protesting against the pending evictions of Arab families in East Jerusalem to make way for Jewish settlers. The conflict has escalated over the past week, as Islamic militants have fired hundreds of rockets at Israeli targets and Israel's military has responded with strikes targeting Gaza.
"This is a person that definitely needs to be held accountable for war crimes," Tlaib, the first Palestinian-American woman to be elected to Congress, said of Netanyahu on Thursday during an interview with MEANS TV.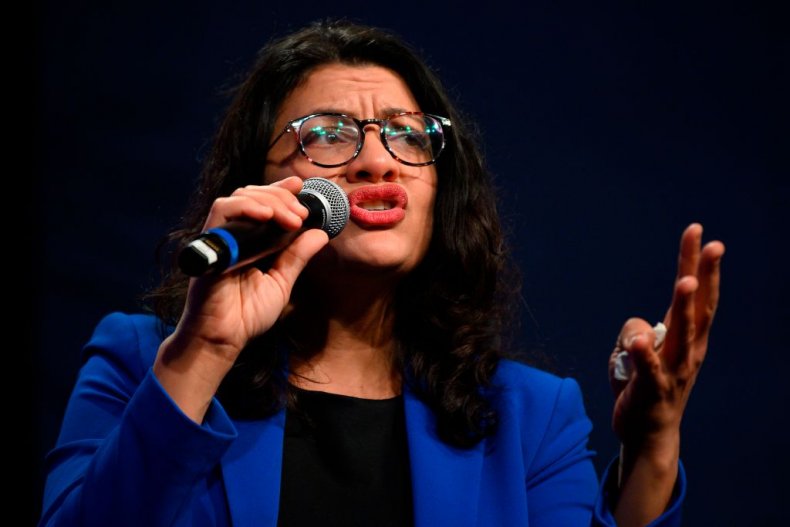 "People need to understand that I'm not asking you to stand against, you know, the various people there," the Michigan Democrat said. "But the leader there [in Israel] is promoting this kind of violence, that is leading the continuation of killing of children and just the continuation of just the pain and the harm and the oppression and the violence towards Palestinians."
Tlaib added, "That is something that has continued to be enabled and supported by this prime minister."
Newsweek reached out to Netanyahu's press office for comment but did not hear back before publication
The Associated Press reported on Thursday that at least 69 Palestinians—including six women and 16 children—have been killed by Israeli strikes in Gaza over the past few days. Meanwhile, seven Israelis have been killed—including one child—in rocket and missile attacks fired by Hamas and Islamic Jihad.
President Joe Biden has said Israel has "a right to defend itself" while urging the Palestinians and the Israelis to de-escalate the conflict. But a number of leading progressive Democrats have urged the U.S. government to take a tougher stance against Israel's handling of the situation. On Saturday, Senator Bernie Sanders of Vermont called on the U.S. government to "speak out strongly against the violence by government-allied Israeli extremists in East Jerusalem and the West Bank."
Representative Alexandria Ocasio-Cortez, a New York Democrat, slammed Biden's response to the situation.
"Blanket statements like these w/ little context or acknowledgement of what precipitated this cycle of violence - namely, the expulsions of Palestinians and attacks on Al Aqsa - dehumanize Palestinians & imply the US will look the other way at human rights violations. It's wrong," Ocasio-Cortez tweeted on Wednesday in response to Biden's remarks.
Before the escalation in conflict, Netanyahu was already facing political difficulties at home. The Israeli prime minister, who has held power for 12 years, has been unable to form a viable government despite four parliamentary elections in two years.
Netanyahu also has been formally charged with corruption, but he maintains a level of legal immunity while he remains the head of government. He has vehemently denied the charges.