Rashida Tlaib Leads Progressive Charge for Stimulus Checks After Pelosi Endorses Plan Without Payments
Rep. Rashida Tlaib (D-MI) continues to be vocal among progressive Democrats pushing for direct stimulus checks to be distributed, highlighting their inclusion in proposals previously passed by the House of Representatives.
Tlaib spoke of further economic impact payments being "critical" in comments after the latest bipartisan proposal excluded them.
This has received support from House Speaker Nancy Pelosi (D-CA) and Senate Minority Leader Chuck Schumer (D-NY) as a basis for negotiations, who offered support in "the spirit of compromise," as well as Joe Biden.
A spokesperson for Schumer said he and Pelosi believe this should be used as a starting point for further talks with Senate Majority Leader Mitch McConnell (R-KY).
In a recent tweet, Tlaib said: "The next COVID-19 relief bill must include direct payments to people."
Her latest comments came alongside a report which showed a disparity in wage growth between the top 1 percent and bottom 90 percent of earners.
Tlaib shared a message from Democratic congressman-elect Jamaal Bowman, who will represent New York's 16th District, showing figures from the Economic Policy Institute on this point and said: "Stop looting us."
The congresswoman wrote: "Someone better be getting those stimulus checks ready to send. The people need it now."
The report showed that between 1979 and 2019, wages for the top one percent grew by 160.3 percent. And for the top 0.1 percent of earners, by 345.2 percent.
Meanwhile, the research showed wage growth in the same period for the bottom 90 percent of earners was 26 percent.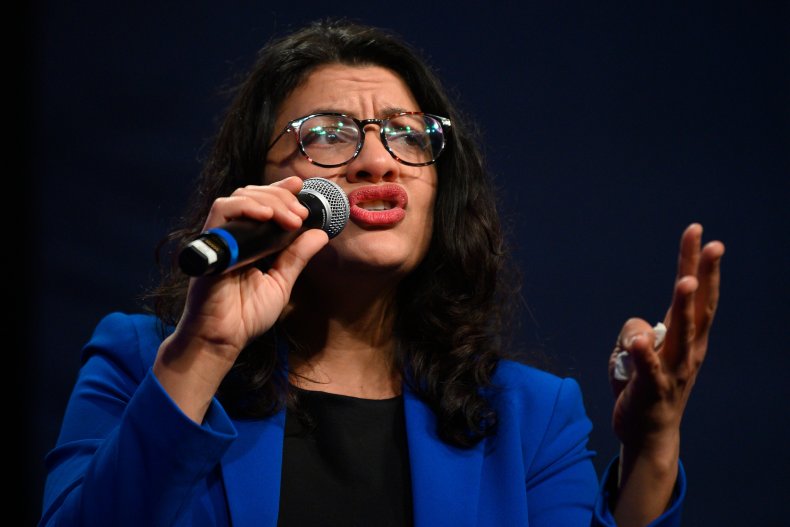 Tlaib and other Democratic representatives have highlighted such payments by referring to the HEROES Act—which first passed the House in May before an updated version passed in October. Each version included direct payments.
Rep. Pramila Jayapal (D-WA) called for this legislation to be voted on by the Senate without delay, with it having met pushback from GOP lawmakers in the upper chamber so far.
"It has now been TWO months since the House passed a relief package that would distribute stimulus checks, reinstate the $600/week of expanded unemployment, send grants to businesses, and renew eviction moratoriums," she tweeted. "The Senate should vote on it TODAY. No more delays."
Rep. Marcia Fudge (D-OH) also backed the HEROES Act being voted on, referencing stimulus checks in this call.
"The House has passed legislation to extend unemployment aid, provide another round of stimulus checks, and support small businesses. Twice," she wrote on Twitter.
"It's time for the Senate to pass the HEROES Act and help struggling families during this crisis. Do the right thing."
Referencing 200 days having passed since the HEROES Act was first passed by the House, on May 15, Rep. Bill Pascrell Jr. (D-NJ) wrote on Twitter on Wednesday: "Today marks 200 days [since] McConnell Republicans have refused pass new stimulus checks for Americans.
"200 days of McConnell Republicans watching Americans suffer and doing nothing about it except approving some more rightwing judges."
Newsweek has contacted the lawmakers above for further comment in regard to stimulus checks.
A bipartisan bill outlining $908 billion in support, not including stimulus checks, has gained support from Democrat figureheads, though Senate Majority Leader Mitch McConnell (R-KY) indicated he thought it was a waste of time when asked about the proposal.
The debate over further stimulus comes with confirmed COVID-19 cases in the U.S. throughout the pandemic having surpassed 13 million.
The graphic below, from Statista, shows the number of people hospitalized due to the virus as of December 2, compared to other peaks in this figure.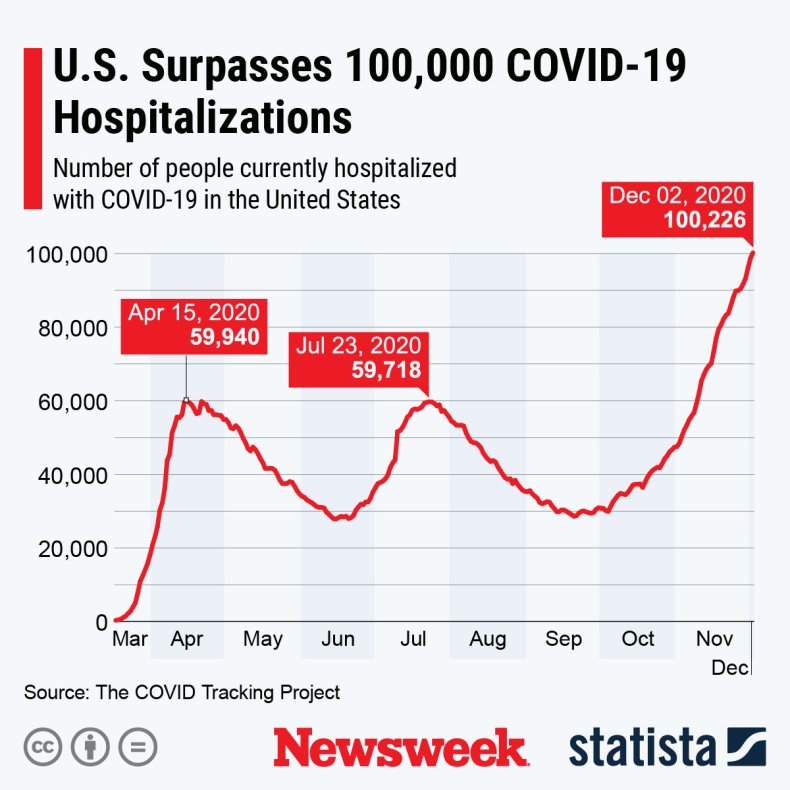 Update 12/3/20, 8:50 a.m. ET: This article and its headline were updated to reflect the context of Pelosi, Schumer and Biden endorsing a bipartisan stimulus deal which did not include direct payments. This article was updated to add comment from Schumer's spokesperson.