Republican Blasts State's Abortion Ban, Joins Dems to Protect Birth Control
Republican Representative Nancy Mace backed a bill Thursday that would codify protections for contraception access in the U.S. into federal law, and took a stand against a proposed strict abortion ban in her state that includes almost no exceptions.
The House voted Thursday to pass the Right to Contraception Act in a 228-195 vote. Mace was one of eight Republicans who joined Democrats in voting for the measure.
Although a full breakdown of the vote tally was not immediately available on Congress' website, CNN's Manu Raju identified the other seven as Liz Cheney, Fred Upton, Anthony Gonzalez, John Katko, Brian Fitzpatrick, Maria Salazar and Adam Kinzinger.
Two other Republican representatives, Bob Gibbs and Mike Kelly, voted "present," meaning that they did not vote for or against the legislation.
Bloomberg government reporter Emily Wilkins shared a photo of Mace ahead of the vote on Twitter on Thursday, showing that the South Carolina lawmaker had a message on her blazer that read: "My state is banning EXCEPTIONS. Protect CONTRACEPTION."
The South Carolina proposal would ban almost all abortions except for when the mother's life is at risk, the Associated Press reported.
Mace's opposition to the bill centers on no exceptions for rape and incest, she told Newsweek. The state's current restrictions on abortion, which ban the procedure once a fetal heartbeat can be detected, include exceptions for rape, incest and to protect the life of the mother.
"The reason the state of South Carolina has those exceptions in its Fetal Heartbeat bill is because I put them in there as a state lawmaker," Mace said. "And now the state of South Carolina is talking about banning all of those measures and having a very extremely, narrowly focused exception for life of the mother, for example, maybe ectopic pregnancies and one or two other issues. When you're banning abortion, you can't ban abortion and then not protect women's access to contraceptives. Those two things are not mutually exclusive."
Mace said that a lack of access to health care, prenatal care, mental health, birth control and contraceptives are all factors that could be contributing to women deciding to receive abortions. She also noted that certain types of contraception, medication and devices can be used not only to prevent pregnancy, but also for medical care in general.
"I know that firsthand, as do millions of women across the country, but when we're talking about this issue, there's got to be an above-all approach," she said.
When asked why some Republicans were against the Right to Contraception Act, Mace told Newsweek that based on information that has been circulating, some have concerns over its provisions on emergency contraception like the Plan B pill.
"But if you're talking about Plan B, again, that's within a two- to four-day window of a woman who's been raped, for example," Mace said. "That's well before there's a heartbeat."
Mace said that she felt "very comfortable" with the bill's language, that it was about preventing pregnancy and protecting medication and devices designed to prevent pregnancy. She added that it is "so important that we ensure women have access to contraceptives, particularly in places like the state of South Carolina, where they're trying to ban it all and not have any exceptions."
House Speaker Nancy Pelosi announced Wednesday that the House would vote on the Right to Contraception Act, or H.R. 8373. Representative Kathy Manning, the bill's sponsor, explained in a press release issued last week that the legislation would safeguard "a range of contraceptive methods, devices, and medications used to prevent pregnancy, including but not limited to oral contraceptives, emergency contraceptives, and intrauterine devices."
The Right to Contraception Act is one of several pieces of legislation Democratic members of Congress have been pushing ever since the U.S. Supreme Court's controversial ruling last month that overturned Roe v. Wade. Justice Clarence Thomas issued a concurring opinion at the time suggesting that in addition to Roe, the court should also reconsider all of the "substantive due process precedents, including Griswold, Lawrence, and Obergefell."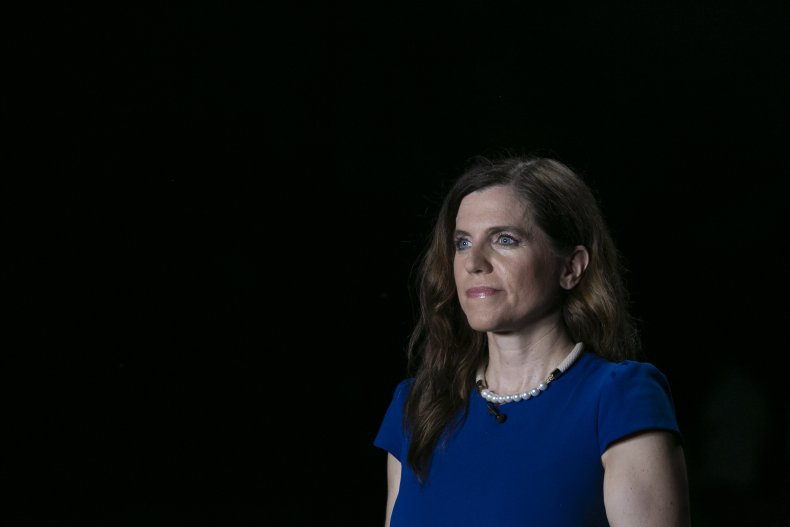 In 1965, the Supreme Court ruled in Griswold v. Connecticut that married couples have a right to buy and use contraception without government restriction. The Court's 2003 decision in Lawrence v. Texas found that criminal penalties for sodomy or private sexual acts between consenting adults are unconstitutional. Obergefell v. Hodges, which was decided in 2015, legalized same-sex marriage nationwide.
Thomas wrote in his concurring opinion that each of those precedents were "demonstrably erroneous."
Manning's press release framed the Right to Contraception Act as a response to Thomas' opinion.
"Americans' reproductive freedom, including the longstanding right to contraception, is at risk under this extreme Supreme Court and Republican state legislatures across the country. We have already seen state governments attempt to restrict contraceptive methods and obstruct people's private health care choices," Manning said in a statement.
"Contraception is key to achieving gender equality, improving health outcomes for women and their families, bolstering educational and economic opportunity for all, and ensuring people are in control of their own bodies and futures. I'm introducing the Right to Contraception Act to safeguard Americans' right to make critical decisions about their own health and family planning, free from political interference."
The House passed the Respect for Marriage Act on Tuesday to codify protections for same-sex marriage into federal law, with 47 Republicans joining Democrats in voting to advance the bill. The contraception and same-sex marriage legislation are now in the hands of the Senate, where it is unclear if both will be able to obtain the 60 votes needed to bypass a potential GOP filibuster.
Update 7/21/2022, 1:25 p.m. ET: This story was updated with additional comments from Mace.