Robert Mueller Laid Road Map for Potential Indictment Against Trump When He Leaves Office: Ex-Watergate Prosecutor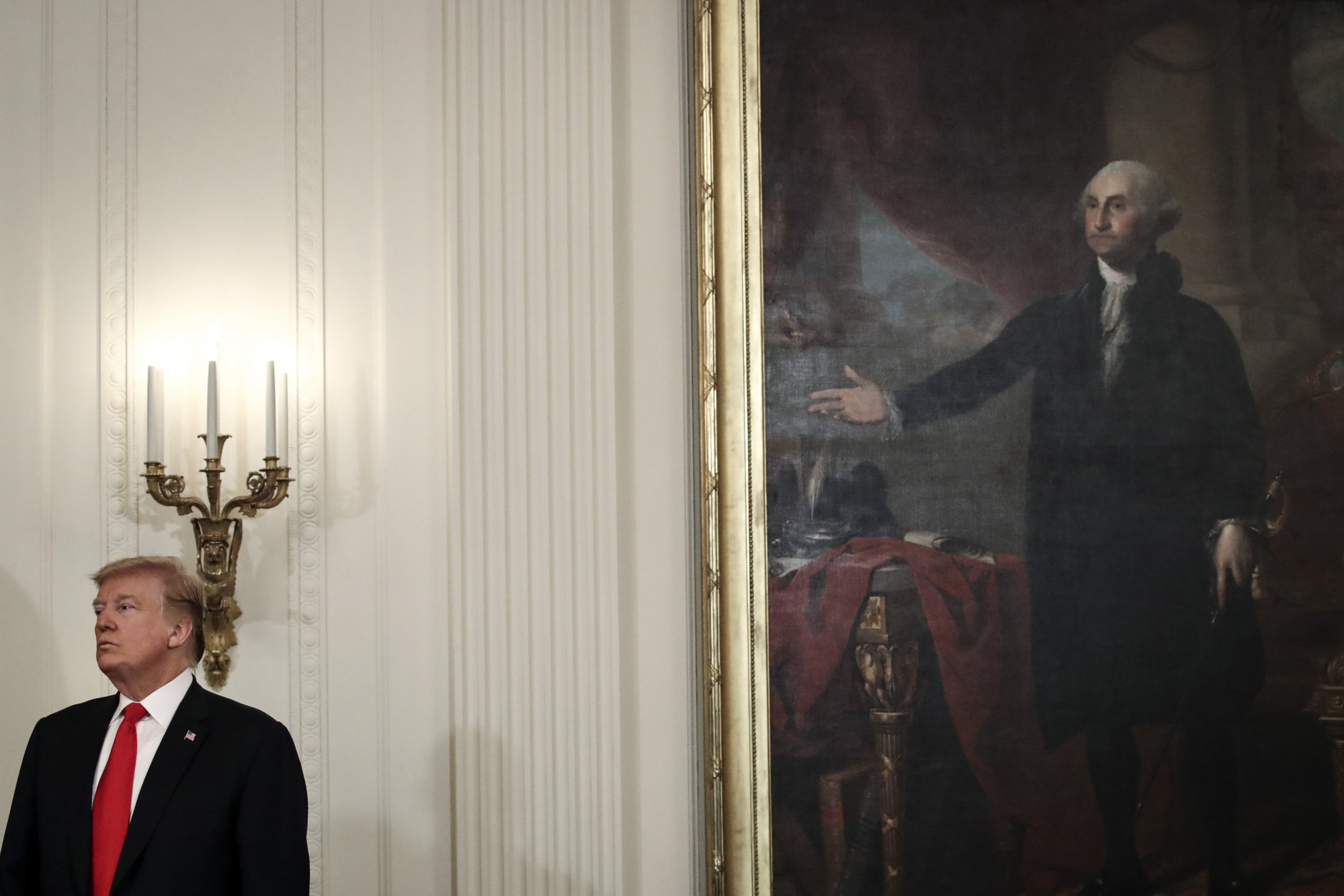 The long-awaited report from Robert Mueller on Thursday stated that, despite numerous failed attempts by Trump to thwart the investigation into Russian election interference, the special counsel would not conclude whether the president committed obstruction of justice.
But Mueller did lay out an extensive 448-page report that portrayed Trump as someone who repeatedly tried to shut down the special counsel's probe and made false statements to the public. And a former Watergate prosecutor says that such a report could serve as a road map for future obstruction of justice charges to be brought when the president once again becomes a private citizen.
"They're doing the next best thing they can: Put the case together and leave it to a time when it can be brought," Nick Akerman, a former assistant special Watergate prosecutor, told Newsweek.
Mueller and his team of attorneys wrote in their report that they were "unable to reach" a conclusion on whether Trump committed obstruction, making clear that their decision does not mean "no criminal conduct occurred."
"While the [Justice Department Office of Legal Counsel] opinion concludes that a sitting president may not be prosecuted, it recognizes that a...president does not have immunity after he leaves office," the report says. Given those considerations, the facts at hand and "the strong public interest in safeguarding the integrity of the criminal justice system, we conducted a thorough factual investigation in order to preserve the evidence when memories were fresh and documentary materials available."
What Mueller's team essentially did, said Akerman, is tee up a potential legal case for future prosecutors, such as an attorney general or U.S. district attorney, to bring obstruction charges against Trump once he leaves office.
"There it is, and if the [Justice] Department wants to indict him, go ahead," Akerman said.
As part of their congressional probes into the matter, House Democrats are demanding Barr provide certain lawmakers with the full report. Judiciary Committee Chairman Jerrold Nadler issued a subpoena to the DOJ Friday morning for the entire unredacted Mueller report and all underlying evidence, likely establishing the beginning of a court battle between Congress and the top law enforcement official in the country.
Mueller investigated more than 10 instances of potential obstruction, including Trump asking former FBI Director James Comey to cease investigating his former national security adviser Michael Flynn, the firing of Comey and Trump's efforts to remove Mueller as special counsel.
In June 2017, Trump directed former White House counsel Don McGahn to have then-acting Attorney General Rod Rosenstein "say that the Special Counsel had conflicts of interest and must be removed," according to the report.
"McGahn recalled feeling trapped because he did not plan to follow the President's directive but did not know what he would say the next time the President called," the report stated. "McGahn did not carry out the direction, however, deciding that he would resign rather than trigger what he regarded as a potential Saturday Night Massacre."
The Saturday Night Massacre referred to Saturday, October 20, 1973, when President Richard Nixon lost his attorney general and then-deputy attorney general when they refused to fire Watergate investigator Archibald Cox.
Mueller determined that "[t]he President's efforts to influence the investigation were mostly unsuccessful, but that is largely because the persons who surrounded the President declined to carry out orders or accede to his requests."
During a press conference prior to the report's release, Attorney General William Barr concluded that by Trump providing "unfettered access" to documents, waiving his executive privilege and allowing aides to testify, the president "fully cooperated with the Special Counsel's investigation" and his actions did not rise to the level of obstruction. Mueller's report, in addition to outlining the failed attempts to thwart the investigation, said Trump's written answers to the special counsel's written questions were, in fact, "inadequate."
"There is substantial evidence to show that the president was frustrated and angered by a sincere belief that the investigation was undermining his presidency, propelled by his political opponents, and fueled by illegal leaks," Barr told reporters.
Akerman viewed the attorney general's reasoning on the obstruction charges as flawed. Just because the president's attempts to end the probe were not successful, the former Watergate prosecutor said, does not mean his actions could not be criminally prosecuted for obstruction.
"To be guilty of obstruction of justice, you don't actually have to do it. It really only requires an endeavor, even an attempt," he said. "Any kind of action, even instructing someone to do something, that would be an endeavor to obstruct justice, such as telling Comey to drop the Flynn investigation, telling McGahn to have Mueller fired—all of those things are conditions of a crime. When you put them together, it's pretty clear."
Barr was lambasted by Democrats for his four-page summary of Mueller's conclusions and his press conference, during which he made misleading characterizations of the report's findings. Akerman, who's now a partner at the Dorsey & Whitney law firm, described the difference between Barr's remarks and the report as "night and day," labeling Barr's actions as trying to "sugarcoat everything for Trump" and "act as Trump's lawyer."
In relation to the issue of obstruction, Akerman said the Mueller report highlighted a major flaw in America's criminal justice system.
"Our federal laws have not kept up with 21st Century technology," he said.
Akerman argued that Mueller's report made it clear that they could not charge anyone from the Trump campaign for being involved with the stolen documents from Hillary Clinton and the Democratic National Committee that were obtained and distributed by WikiLeaks.
"There's some real big gaps in our criminal law that this report really underscores," said the former Watergate prosecutor.