U.S. Capitol Police arrested 181 protesters Thursday whose demonstration for abortion rights blocked off a major Washington, D.C., intersection near the Supreme Court.
Early Thursday afternoon, the law enforcement agency issued a traffic advisory that demonstrators were blocking the D.C. intersection of First Street and Constitution Avenue, which maps show is located about a block from the Supreme Court building. Capitol Police cautioned people to avoid the area and said that they were warning the protesters to leave the intersection.
Minutes later, Capitol Police posted another tweet saying that they had already issued their "third and final warning" to the demonstrators and had begun arresting people who continued to block the intersection. Subsequent tweets from the agency over the next couple hours announced that the intersection had been reopened, and that 181 demonstrators had been arrested for "crowding, obstructing or incommoding."
Since the Supreme Court issued a controversial opinion last week that overturned Roe v. Wade nearly 50 years after the landmark decision, protests led by abortion rights advocates have broken out across the country. A group of abortion rights protesters reportedly marched onto Los Angeles' Freeway 110 last week and blocked a lane of traffic, while an earlier protest in D.C. shut down the Frederick Douglass Memorial Bridge south of the U.S. Capitol.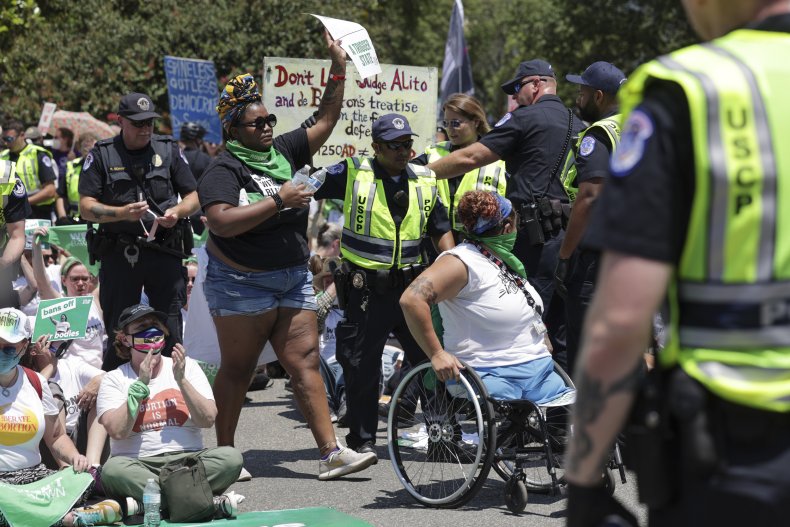 The protest on Thursday was organized by the Planned Parenthood Action Fund and Center for Popular Democracy Action, according to an advisory shared with Newsweek. The demonstration was meant to be "a call to lawmakers at every level—whether you work in the Capitol building, or the White House, or a Governor's Mansion, a state legislature or a city hall—all lawmakers must do everything they can to protect and expand abortion access," the advisory said.
A video posted on Twitter by the Planned Parenthood Action fund showed a large group, though the full scale of the protest was not immediately evident, carrying a long banner that read: "We Won't Back Down."
"Today is a day for bold, decisive action," the video's caption read. "In a moment of peaceful, non-violent civil disobedience, we're calling on lawmakers at every level to protect and expand abortion access. This movement keeps growing, and #WeWontBackDown."
Another photo shared by the Planned Parenthood Action Fund showed protesters, many wearing white and green, sitting on the ground in the sun.
Congresswoman Judy Chu tweeted Thursday that she was "proud" to have joined the demonstration. CBS reported that the Democratic California representative was among those who were arrested.
A release shared with Newsweek by the Planned Parenthood Action Fund after the protest said that before the demonstrators blocked the intersection, the group marched past the Supreme Court and chanted in support of safeguarding abortion access.
"Our nation is in the middle of a national health crisis," Planned Parenthood Action Fund President Alexis McGill Johnson said in a statement. "Peaceful, nonviolent protest is a vital part of our democracy. Movements before us used civil disobedience in their efforts to enshrine our rights and freedoms into the constitution. Civil disobedience is a form of dissent—and as our constitutional right to abortion has been taken away, this is one of the ways we make it clear that we will not back down."
Newsweek reached out to the Center for Popular Democracy Action for comment.
Updated 7/1/22, 10:15 a.m. ET: This story was updated with a statement from the Planned Parenthood Action Fund.