Roger Stone Rips 'Despicable' Trump Ally Jason Miller, Accuses Him of 'Lying'
Right-wing political consultant Roger Stone attacked fellow Trump ally Jason Miller, accusing him of being a consistent liar and "despicable piece of s**t."
Miller served as the chief spokesman for former President Donald Trump's 2016 campaign and then as a senior adviser to his 2020 re-election campaign. Since last June, Miller has been the CEO of social media platform Gettr, which generally attracts a more right-wing user base. Stone, a long-time Trump associate, received a formal pardon from the former president in December 2020, shortly before the end of his White House term.
In a Saturday post on Gab, another right-wing social media site, Stone launched a blistering attack against Miller, despite both men being close Trump allies.
"You can always tell when Jason Miller of Gettr is lying—his lips are moving. in the 40 years I have been in American politics I have never met a bigger more despicable piece of shit. I got him his job with Donald Trump in 2016," Stone wrote.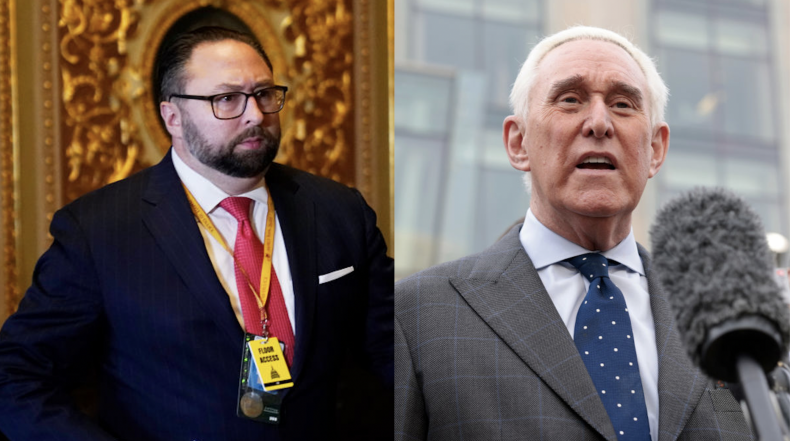 The right-wing political operative shared an article published by Mother Jones on Friday that outlined a controversy at Gettr involving prominent podcaster Joe Rogan. Earlier this month, Rogan announced that he would be joining Gettr, which Miller and the social media site quickly used to promote the platform. However, Rogan then criticized Gettr for inflating his follower count and even suggested that he was interested in getting rid of his account.
"You have like 9 million followers on Gettr," comedian and podcast host Tim Dillon told Rogan on January 10.
"It's not real, though," Rogan replied. "Gettr doesn't even have 9 million people... This is where the f*ckery is. They take all my Twitter followers...and then they port those over," he said.
Miller unsuccessfully attempted to get Trump to join Gettr, but the former president plans to start his own social media platform, called Truth Social. The main landing page for Truth Social was launched in October 2021, but it only allows those interested in being members to join a waiting list at this time.
Miller said recently that the former president may still join Gettr. "If his platform takes longer to develop, I would not completely rule out him joining Gettr," Miller told The New Yorker this month. "And, even when he launches his, I wouldn't rule out that he also creates a Gettr account."
Stone was sentenced to 40 months in prison in 2020 for his role in the investigation into Russian interference in the 2016 presidential election. However, Trump issued his long-time associate a full pardon before he was ordered to report to prison. "Pardoning him will help to right the injustices he faced at the hands of the [special counsel Robert] Mueller investigation," a Trump White House statement said at the time.
Since then, Stone has continued to express support and gratitude for Trump. He has also participated in events and rallies around the country promoting the conspiracy theory that the 2020 election was "rigged" or "stolen" in favor of President Joe Biden.
The Trump ally participated in a December deposition before the House select committee investigating the January 6, 2021 pro-Trump attack against the U.S. Capitol. He told reporters afterward that he used the Fifth Amendment to respond to every question.
"I did invoke my Fifth Amendment rights to every question not because I have done anything wrong but because I am fully aware of the House Democrats' long history of fabricating perjury charges on the basis of comments that are innocuous, immaterial or irrelevant," Stone said.
Newsweek attempted to contact Miller for comment but did not immediately receive a response.