Roger Stone Wants Michael Flynn to Run for President in 2024 if Trump Doesn't
Roger Stone would like retired General Michael Flynn to run for president in 2024 if former President Donald Trump chooses not to run again.
Flynn, who briefly served as Trump's national security adviser in early 2017, was pardoned by Trump in December after the former military officer twice pleaded guilty to lying to investigators about his conversations with Russia's ambassador. Stone, who was convicted on charges of lying to Congress, was also pardoned by Trump in December.
Both Flynn and Stone have since been key allies of the former president, promoting his baseless conspiracy theory that the 2020 election was "rigged" or "stolen" by the Democrats and President Joe Biden.
In a Saturday morning interview with right-wing news channel Newsmax, Stone suggested that Flynn should be the leading contender for the 2024 presidential nomination if Trump chooses not to challenge Biden. Although Stone said that Flynn currently is not seeking any office, he said the former general would be an ideal candidate for Trump loyalists.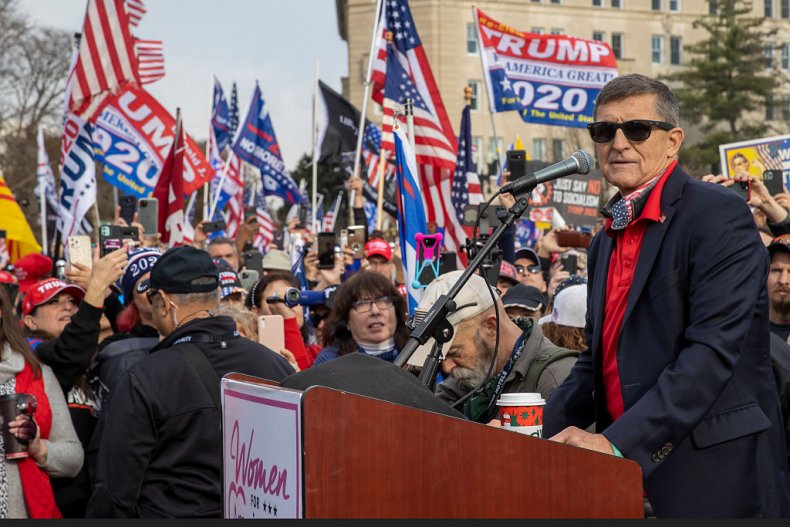 "Right now Flynn assures me he's not a candidate for anything. He's not interested in running for public office. But he's interested in helping save this country," Stone said.
He went on to say that Trump would "100 percent" be his first choice for president in 2024, but suggested Flynn would be the best alternative.
"General Flynn, much like General Eisenhower—a non-politician—but a man, I think, of great destiny, great principle—should be drafted by the American people, should be drafted by those Trump supporters," Stone said. "Only if the president chooses not to run," he added.
Former President Dwight D. Eisenhower served as the 1st Supreme Allied Commander Europe from 1951 to 1952, before being elected president. The military general served in the White House from 1953 to 1961.
Stone also attacked Republican lawmakers for not fighting hard enough in support of Trump and for distancing themselves from Representative Matt Gaetz, a Florida Republican who is being investigated for alleged sex trafficking.
"Those are the same gutless, white wine swilling, feckless Republicans who weren't there for Donald Trump when he was in an epic fight in 2020," Stone said. "You know, the Republican Party does need a clean out," he added.
Stone, Flynn and Trump have repeatedly claimed that the 2020 election was rife with fraud. But there is no evidence to substantiate this extraordinary allegation. Dozens of election lawsuits filed by Trump and his supporters in state and federal courts have failed. Even judges appointed by Trump and other Republicans have dismissed or rejected the often bizarre claims. Meanwhile, numerous audits and recounts in key battleground states—including in states where elections were overseen by Republicans who supported Trump—have reaffirmed Biden's victory in the election.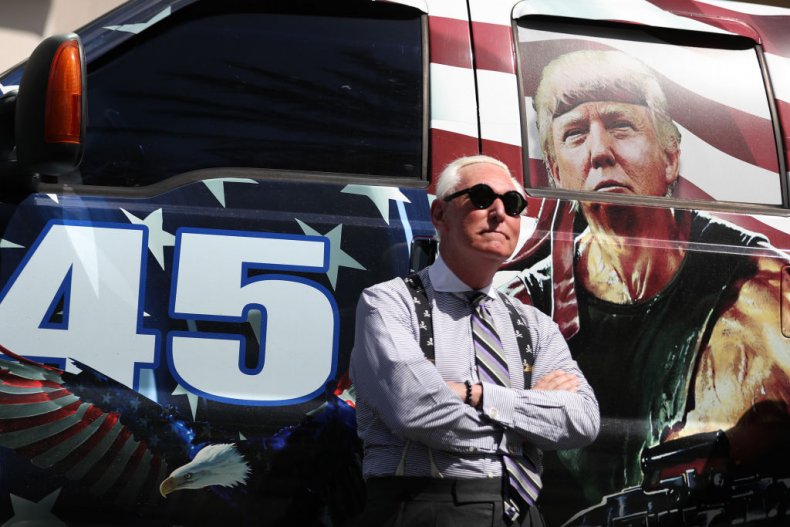 Former U.S. Attorney General William Barr, who was widely viewed as one of Trump's most loyal Cabinet members, said in December that there was "no evidence" of voter fraud that would change the results of the election.
Additionally, the Cybersecurity and Infrastructure Security Agency at the Department of Homeland Security, which was led by a Trump appointee at the time, said in mid-November that there was "no evidence that any voting system deleted or lost votes, changed votes, or was in any way compromised."
But Trump and his loyalist supporters—like Flynn and Stone—continue to promote baseless conspiracy theories. Polling has shown that the majority of GOP voters are receptive to those claims, believing that Biden was not legitimately elected.
Newsweek reached out to Stone and Trump for comment.