Florida Governor Ron DeSantis said he welcomes "support from African Americans" when asked about Tesla CEO Elon Musk's recent remarks backing a potential 2024 White House run from DeSantis.
"I'm focused on 2022, but with Elon Musk, what I would say is, you know, I welcome support from African Americans. What can I say?" DeSantis told reporters on Wednesday.
The governor, who is running for reelection in this year's midterms, has not confirmed if he may make a presidential bid as the GOP nominee in 2024.
On Wednesday, Musk, who is white but originally hails from South Africa, said that while he hadn't decided if he'd vote Republican in the next presidential election, he was leaning toward supporting the Florida governor.
Musk was born in Pretoria, South Africa, to a white South African father and a Canadian mother. After moving to the U.S., Musk became a naturalized American citizen.
DeSantis is not the first conservative to refer to Musk as an "African American." A number of Black Republicans used the label after it was announced that the billionaire was planning to purchase Twitter in April.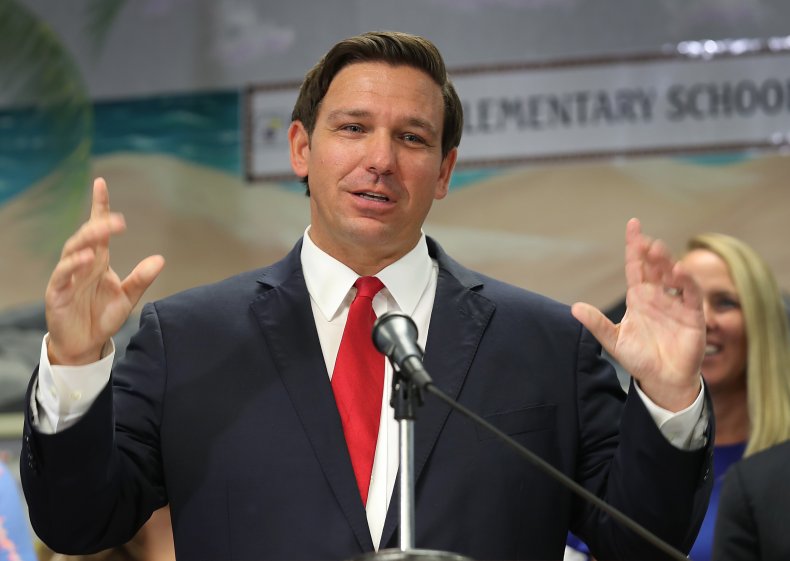 "Elon Musk is the first African American to own a large social media platform," Black conservative comedian Terrence K. Williams tweeted. "He is one of my favorite African Americans and it's sad to see so many people on the left attacking him during this Historic moment."
"The libs are melting down, now that an African-American owns Twitter," echoed GOP congressional candidate Billy Prempeh, who won his New Jersey primary earlier this month.
"They Used to love him for his green energy advancements, but allow free speech on the Twitter safe space? ohhh no! We can't have that!" Prempeh tweeted. "Somehow he's a white supremacist now. Ya'll are the true racists."
DeSantis would also not be the first white Republican to use the term when describing the entrepreneur. Arizona GOP Senate candidate Blake Masters called Musk "our country's richest African American" in a December appearance on Tucker Carlson Tonight.
Newsweek could not find any record of Musk identifying himself as African American and has reached out to him for comment.
DeSantis has recently faced criticism from Black lawmakers in Florida who have argued that the new congressional maps drawn by the governor himself—in an unprecedented move granted by state Republicans—rob Black voters of their ability to elect candidates in North and Central Florida.
In April, members of the state House Black caucus staged a sit-in, chanting that Black voters were under attack by DeSantis' redistricting, while a brief filed by civil rights groups in May argued that his plan was adopted "for the purpose of disadvantaging Black voters."
His map eliminates Congressional District 5, a Jacksonville-to-Tallahassee district that includes Gadsden County—Florida's only majority Black county. The district is currently held by Representative Al Lawson, a Black Democrat.
Earlier this month, the Florida Supreme Court refused to block DeSantis' plan, even though it was struck down by a lower court for "the diminishment of African American votes."
Under the new redistricting, it is likely that Republicans will hold 20 of Florida's 28 congressional districts after November's midterms, the Tallahassee Democrat reported.