Ron DeSantis Took $100,000 From Disney Before 'Don't Say Gay' War
Disney donated at least $100,000 to a political action committee (PAC) linked to Florida Governor Ron DeSantis before his ongoing public fight with the entertainment company over the state's controversial "Don't Say Gay" legislation.
Records in the Florida Department of State's campaign finance database showed that Disney Worldwide Services, Inc. made four contributions to the Friends of Ron DeSantis PAC from May 2019 to March 2021 for a total of $106,809.38. Those same four donations were shown in contribution records on the PAC's website.
DeSantis and Disney have been in conflict ever since the company publicly voiced opposition to legislation formally entitled "Parental Rights in Education" but often referred to as "Don't Say Gay" by critics because of its restrictions on "classroom discussion about sexual orientation or gender identity in certain grade levels." Disney initially came under fire for refusing to directly condemn the law when it was still a bill but later shifted its position, drawing outrage from DeSantis and other Republican figures.
DeSantis saw a win in his battle against Disney this week when the Republican-controlled Florida state Senate voted to strip the company of its special governing status that allows it to appoint the government responsible for regulating property in the district where it operates, a move that could potentially cost residents of two Florida counties $1 billion. The Florida governor first suggested that Disney should lose its self-governing rights shortly after he signed the controversial legislation into law.
"Disney has alienated a lot of people now," DeSantis said at a news conference in West Palm Beach at the end of March. "And so the political influence they're used to wielding, I think has dissipated. And so the question is, why would you want to have special privileges in the law at all? And I don't think that we should."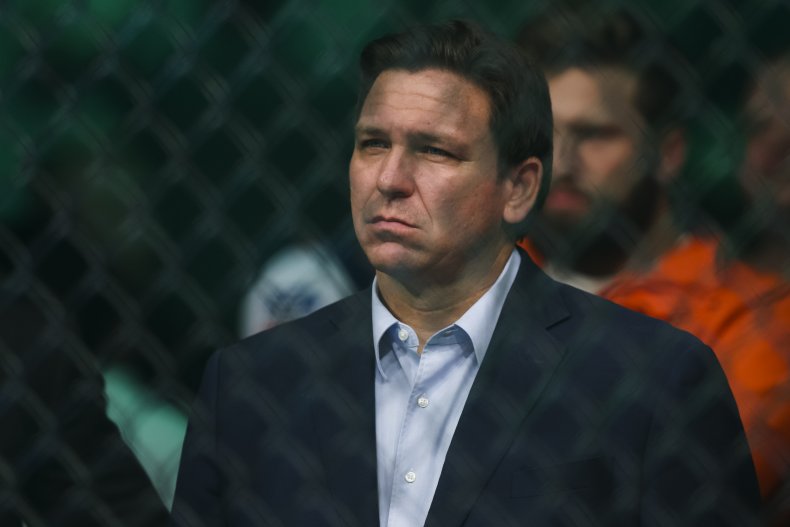 While the contribution records showed that Disney has donated to DeSantis in recent years, they also showed that the company has not made any contributions this year, when the "Don't Say Gay" legislation gained national attention. But other contribution records showed that Disney has made contributions to other Florida politicians and lawmakers, including some who helped pass "Don't Say Gay," adding to the public outrage over Disney's initial stance on the law.
Disney CEO Bob Chapek announced in March that the company would be pausing all political donations in Florida while it works to create "a new framework for our political giving that will ensure our advocacy better reflects our values."
"I truly believe we are an infinitely better and stronger company because of our LGBTQ+ community. I missed the mark in this case but am an ally you can count on—and I will be an outspoken champion for the protections, visibility, and opportunity you deserve," Chapek said in a March 11 letter to employees.
After DeSantis signed the bill into law, Disney released another statement saying that it "should never have passed and should never have been signed into law." The company also stressed that its goal is now for the law to either be repealed or struck down in court.
Newsweek reached out to Disney and DeSantis' office for comment.