Rudy Giuliani clarified his bombshell revelation that President Donald Trump had repaid his attorney Michael Cohen for the $130,000 hush payment to porn star Stormy Daniels, real name Stephanie Clifford, to keep her quiet about an alleged affair before the 2016 election.
His comments appeared to contradict Trump's assertion that he knew nothing of the payment made on his behalf by Cohen, who is currently under investigation by federal prosecutors. When asked by a reporter aboard Air Force One in April if knew about Cohen's payment at the time, Trump said: "No."
Giuliani, the former New York mayor who now serves on Trump's legal team, told Fox News host Sean Hannity Wednesday night that there was no campaign finance violation because the original payment was made by the law firm and the reimbursement from Trump's personal money.
"The only possible violation there would be, was it a campaign finance violation," Giuliani said. "That was money that was paid by [Trump's] lawyer, the way I would do, out of his law firm funds...and the president reimbursed that over a period of several months."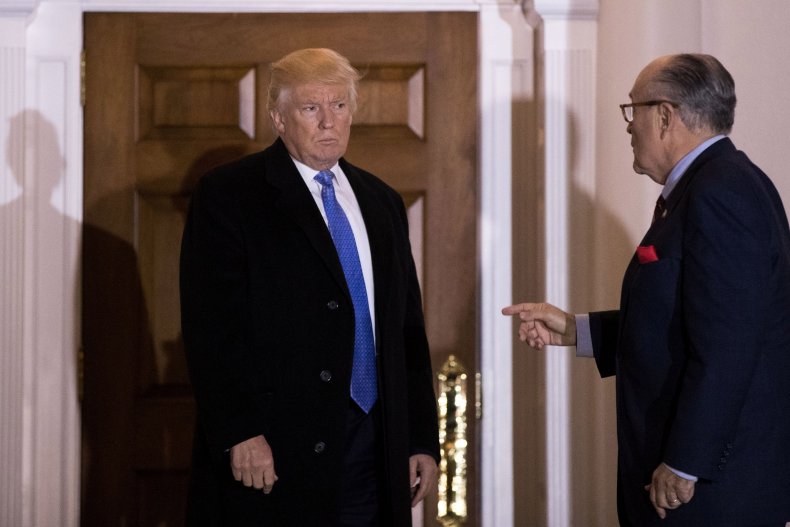 However, Giuliani later clarified to Fox News Chief White House Correspondent John Roberts that Trump did not know what the reimbursement was for, and Cohen had told the president they were simply "expenses," preserving the president's claim of ignorance.
Giuliani also told The Washington Post that Trump had authorized his comments about the repayment. "He was well aware that at some point, when I saw the opportunity, I was going to get this over with," Giuliani said.
Cohen reportedly complained about not being reimbursed for the Stormy Daniels payment after Trump won the 2016 presidential election, though he denied this.
He confirmed that neither the Trump Organization nor the Trump campaign reimbursed him, but did not rule out that the president had repaid the money through personal funds, reported the Wall Street Journal.
Stephanie Clifford is challenging the non-disclosure agreement she signed to receive the payment. Her lawyer Michael Avenatti argues it is null and void because Trump didn't sign it. She is also suing Cohen for defamation, claiming he implied she is a liar. Trump denies the affair she alleges took place in 2006.
Avenatti seized on Giuliani's comments to accuse Trump and Cohen of lying.
"We predicted months ago that it would be proven that the American people had been lied to as to the $130k payment and what Mr. Trump knew, when he knew it and what he did in connection with it," Avenatti wrote on Twitter.
"Every American, regardless of their politics, should be outraged by what we have now learned. Mr. Trump stood on AF1 and blatantly lied.
"This followed the lies told by others close to him, including Mr. Cohen. This should never be acceptable in our America. We will not rest until justice is served."