Rudy Giuliani Features MyPillow Ads as Mike Lindell Says Donald Trump Will Be President in August
Rudy Giuliani, an attorney for Republican former President Donald Trump, is running advertisements for MyPillow on his YouTube show. Meanwhile, MyPillow CEO Mike Lindell has publicly said that Trump will return to the White House in August despite losing the 2020 election.
"I'm been sleeping on MyPillows for some time. I love them. They're simply the very best pillows ever made," Giuliani said in the most recent episode of his YouTube show, Rudy Giuliani's Common Sense. The 53-minute episode asked whether UFOs are real, in reference to a forthcoming Pentagon report on UFOs.
Giuliani continued the ad by stating that he "just found out" that MyPillow also offers other non-pillow products. When mentioning their slippers, he brandished a pair at the camera.
Giuliani's YouTube channel mostly discusses political events through a right-wing lens. It has over 564,000 subscribers and releases two new videos a week.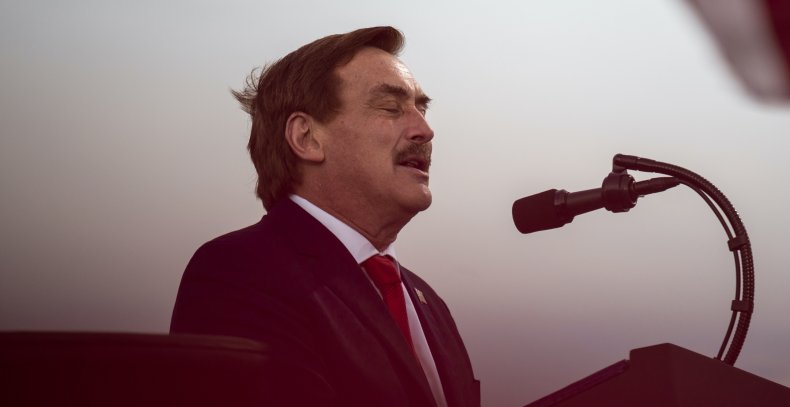 The inclusion of MyPillow on Giuliani's show follows the company's longtime airing of advertisements on the right-leaning Fox News channel. Lindell, the company's CEO, has regularly appeared on right-leaning media outlets to repeat Trump's baseless claim that an unprecedented nationwide conspiracy of voting fraud caused him to lose the 2020 election.
Recently, Lindell said that Trump will reassume his role as president in August. Lindell said this would occur either through Supreme Court rulings or "two other bonus pathways" involving vote audits in states that Trump lost in 2020. One such audit is currently underway in Maricopa County, Arizona.
Lindell said that once the Supreme Court considers his evidence of voter fraud, the justices will unanimously rule 9-0 in favor of allowing Trump to become president once again.
However, constitutional law doesn't support Lindell's prediction, according to Business Insider. The August deadline also falls during the court's three-month recess, the publication noted, calling Lindell's claim a "demonstrably false conspiracy theory."
Lindell claims that voting machines helped rig the election have compelled Dominion Voting Systems to sue him in a $1.3 billion defamation lawsuit. Lindell countersued the company for $1.6 billion, claiming it violated his Constitutional rights to free speech.
Late last week, Lindell announced a "deep investigation" of Georgia Governor Brian Kemp and Arizona Governor Doug Ducey. He blamed the Republican governors for his ejection from a Republican Governors Association (RGA) conference earlier in the week.
Before the RGA conference, Lindell said Kemp and Ducey might "be a little compromised," adding, "Maybe they're tied into the, I don't know, the corruption, the deep state, maybe China?"
Trump lost the election by over seven million popular votes and 74 electoral votes. Trump's own attorney general and federal head of election security both said there is no evidence that fraud affected the election's outcome. Trump has also claimed that election fraud only occurred in the states that he lost.