Ashley the Siamese cat is happily back home after a nearly week-long adventure that took her to a different country.
Daniel Worsley, Ashley's owner, shared the story to a local Facebook group, Pippa's Army, devoted to finding lost pets in the area of Havering and Thurrock in England. What might be strange about Worsley posting there is that he and Ashley are from Glan Conwy in North Wales.
Worsley says that on April 15, Ashley—normally an indoor cat who had never been outside—jumped out a bathroom window left open by a housecleaner. He said his family "had the whole village out looking for her........we had every shed and outhouse checked ..........no sign."
"We were totally devastated and starting to think , that's it we'll never see her again," Worsley wrote.
Six days later, though, he got a call from Karen Keeves of Tilbury, an English town near London—about 280 miles away from Glan Conwy. It turns out fellow Tilbury resident, Carol Monk, found Ashley in her garage, according to the BBC. Though that's not actually quite true—Monk's dog Bobby was the true detective, as she only discovered Ashley when Bobby kept scratching at the garage door "very insistent there was something in our garage," Monk told the BBC.
Monk contacted Pippa's Army, and was put in touch with Keeves. Keeves scanned Ashley for a microchip, which brought up Worsley's information.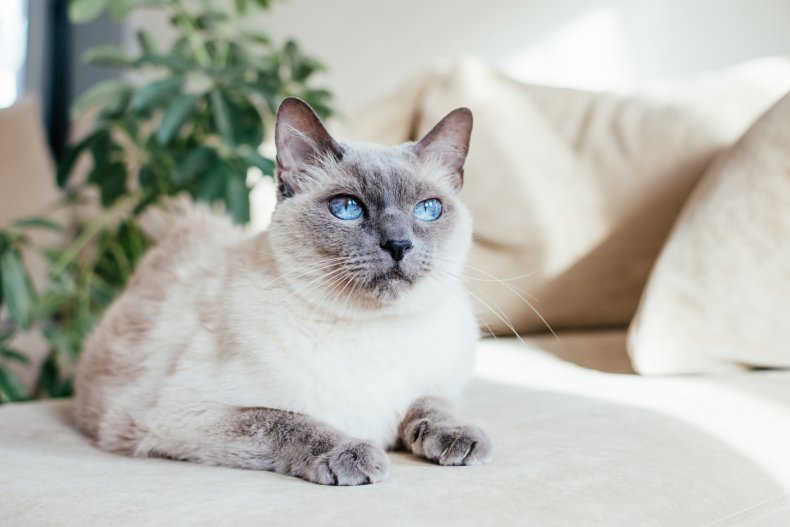 While it's unknown how Ashley made the journey from Wales to England, Worsley told the BBC his best guess was that she "got into somebody's vehicle and hitchhiked to Essex."
In her email to Worsley, cited in the Facebook post, Keeves noticed that Ashley had some "bumps and scraps" that were healing, and her theory was that Ashley "may have hidden herself in a car engine."
Though they are a very dangerous place, many cats are drawn to car engines due to their warmth, according to Embrace Pet Insurance. This is more common in the winter, and Embrace urges car owners to bang on the hood or beep the horn to scare any potential stowaways off of the engine. Starting an engine while a cat is still inside can cause severe injury, if not outright kill the cat.
Cats have a funny way of turning up miles away from their owners. Angie, a creamsicle-colored kitty went missing in 2010, but was found 11 years later—and she was found a six-hour drive away from where she went missing. Angie was happy to be back home, with her owner saying that Angie won't leave her side.
An English cat from Norfolk had a similar tale to Angie. Rose, a black cat, ran away in 2008 after her brother, who had been adopted with her, passed away. Rose was found 13 years later—though she had been taken in by a shelter in Norfolk, so she didn't have nearly as long a journey.
One thing Ashley, Angie and Rose all have in common is that they were microchipped. A pet can be injected, nearly painlessly, with a small chip that includes their owner's information. Microchips have led to many, many lost animals being reunited with their families, no matter how long it takes, or, as Worsley found, no matter how far away a pet finds themselves from home.
Newsweek reached out to Worsley for comment.