Russia Begins Military Drills Near Syria, Where It Says U.S. Strikes Are Coming Soon
Russia has launched naval drills in the Mediterranean Sea, where U.S. warships await what Moscow has said will be a chemical attack in nearby Syria, followed by a new series of missile strikes.
Following what Moscow claimed Monday was a U.S. military buildup in the Middle East, Russia sent its largest-ever naval contingent to the waters near Syria. On Wednesday, Russian Northern Fleet spokesman Captain 1st Rank Vadim Serga said that Slava-class cruiser Marshal Ustinov and a grouping of other vessels, including Udaloy-class anti-submarine destroyer Severomorsk, had practiced warding off a militant attack by taking out simulated small sea targets with grenade launchers and high-caliber machine guns as part of the country's Mediterranean Task Force.
"The personnel on watch for anti-submarine and anti-sabotage defense of the cruiser Marshal Ustinov and the large anti-submarine warfare ship Severomorsk fired grenade launchers to prevent an attack by a group of a notional enemy's underwater sabotage forces and weapons on the warships and vessels," Serga said, according to the state-run Tass Russian News Agency.
The exercises came as the Russian Defense Ministry and Foreign Ministry claimed in recent days that the U.S. and its allies were conspiring with militants opposed to Syrian President Bashar al-Assad, an ally of Russia and Iran, to stage a "false flag" chemical attack intended to serve as a pretext for a new round of Western strikes against Syria.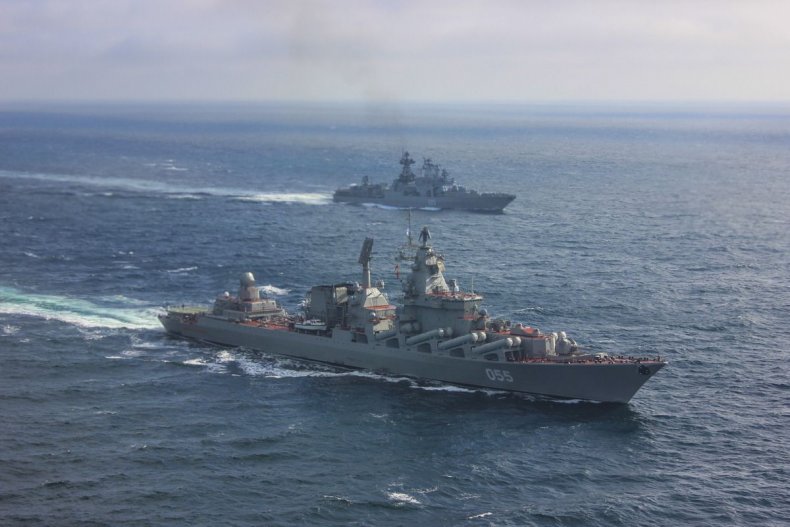 While the U.S. has largely abandoned efforts to oust Assad via support for an insurgency that grew increasingly Islamist in the wake of a 2011 West-backed uprising, President Donald Trump has ordered strikes against the Syrian government on two occasions in response to alleged chemical weapons attacks. The U.S. has accused Syria of using internationally restricted poison gas in operations that have killed opposition fighters and civilians, but Assad's Russian and Iranian allies have joined him in dismissing the claims, often blaming local and international foes for framing the Syrian leader as a tactic to draw Western military support.
Last week, National Security Adviser John Bolton claimed that the Syrian military may be preparing for another chemical attack ahead of an operation to reclaim the final, insurgent-held province of Idlib. He warned of a "strong response," and Bloomberg reported that Bolton later discussed the issue with Russian officials in direct talks. When asked about the latest developments, Defense Secretary James Mattis told reporters Tuesday that "you have seen our administration act twice on the use of chemical weapons" and that "I will assure you that Department of State has been in recent active communication with Russia to enlist them in preventing this."
"Any Russian and/or Syrian regime offense on Idlib and any kind of escalation in that area, we would hold them responsible and we would hold them accountable for that, most especially, for the use of chemical weapons. The United States has taken a very strong stance in the past when chemical weapons have been used. You all know that very well," State Department spokesperson Heather Nauert told journalists in a separate press conference Tuesday.
"We have engaged the Russian Government and also the military at the most senior level. Ambassador Bolton has spoken to his Russian counterparts. The Chairman of the Joint Chiefs of Staff, Chairman Dunford, has as well spoken with his Russian counterparts to make it very clear that the United States Government and its partners would respond to any verified chemical weapons use in Idlib, or elsewhere in Syria for that matter, in a swift and appropriate manner," she added. "So we would encourage Russia to make this point very clear to Damascus that that will not be tolerated."
That same day, Russian U.N. envoy Vasily Nebenzya told the Security Council that Syria's armed forces did not possess any chemical weapons and had no reason to use them if they did. The diplomat told his counterpart from the U.K., which Russia has accused of supplying chemical weapons to Syrian jihadis, "We want to also warn you that we are absolutely aware of your unsavory plans. We strongly suggest that you refrain from them. Carrying out these plans will further deliver a strike against a peaceful resolution in Syria," according to U.S.-funded Radio Free Europe/Radio Liberty, which also reported that London strongly denied Moscow's claims.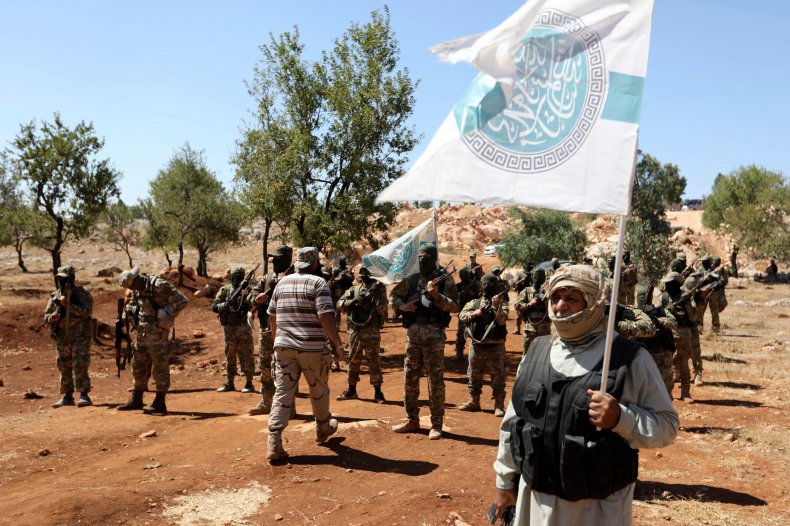 In a statement sent to Newsweek, the Pentagon spokesperson called Russian reports of a U.S. military buildup in the Eastern Mediterranean "false," but said, "we are prepared to respond should the President direct such an action." The spokesperson added: "We remain concerned over reports of a potential military offensive by the Syrian regime against civilians and civilian infrastructure in Idlib, which would result in devastating humanitarian consequences."
The U.S. and Russia are both involved in the battle against the Islamic State militant group (ISIS), but they support rival missions to end the seven-year conflict in Syria. Washington backs the Syrian Democratic Forces, a mostly Kurdish faction that also includes Arabs and other communities, while Moscow—as well as Tehran—supports the Syrian military and its local allies. The Syrian Democratic Forces' political wing has previously suggested it may support the Syrian military in taking on Idlib, where jihadi groups such as Hayat Tahrir al-Sham were considered a mutual enemy, but these claims have been downplayed as negotiations continued between the two factions.
Following a meeting with Saudi Foreign Minister Adel al-Jubeir, Russian Foreign Minister Sergey Lavrov said Wednesday, "I hope our Western partners will not give in to (rebel) provocations and will not obstruct an anti-terror operation" in an apparent reference to the planned assault on Idlib, according to the Agence France-Presse. Russia has previously threatened to retaliate with force against U.S. strikes if it felt its servicemen in Syria were in harm's way.
The U.S.-led NATO Western military alliance confirmed the heightened presence of Russian warships in a statement sent to Israeli newspaper Haaretz, which quoted a spokesperson as saying "it is important that all actors in the region exercise restraint and refrain from worsening an already disastrous humanitarian situation in Syria."