Russia Facing 'Difficult Choice' As Troop Numbers Dwindle: U.K.
Russia is facing a "difficult choice" about whether to carry out a further mobilization of its forces as the country continues to lose troops in its invasion of Ukraine, according to the U.K. Ministry of Defense (MOD).
The defense ministry issued its latest intelligence update on the war in Ukraine on Twitter on Saturday morning and reported that most of Russia's reservists had already been called up.
Russia launched its invasion of Ukraine almost one year ago—on February 24, 2022—in what President Vladimir Putin called a "special military operation" and later carried out a partial mobilization, recruiting 300,000 men.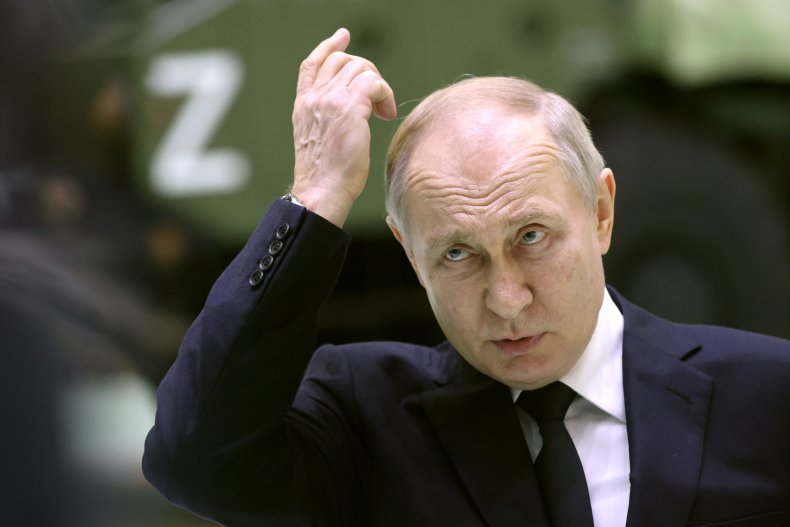 The MOD noted that Yevgeny Prigozhin, head of the Wagner Group, a private mercenary organization that fights alongside Russian forces in Ukraine, had said on February 9 that "Wagner had halted its prisoner recruitment scheme."
"Data from the Russian Federal Penal Service had already suggested a drop-off in the rate of prisoner recruitment since December 2022," the ministry went on. "News of the harsh realities of Wagner service in Ukraine has probably filtered through to inmates and reduced the number of volunteers."
The defense ministry said that a "key factor in the termination of the scheme is likely increasingly direct rivalry between the Russian Ministry of Defense and Wagner."
"The regular Russian military has likely now also deployed the vast majority of the reservists called up under 'partial mobilization,'" the ministry said.
"The Russian leadership faces the difficult choice of either continuing to deplete its forces, scale back objectives, or conduct a further form of mobilization," the update concluded.
That decision will ultimately be taken by Putin.
Politico reported last week that there are concerns about a further mobilization among Russian civilians, while partial mobilization that began in September 2022 was met with some protests across the country.
In October, the partial mobilization was ended after 300,000 new recruits were added to Russia's forces.
Russian Defense Minister Sergei Shoigu said the recruitment drive was complete and told Putin in a televised conversation: "No further measures are planned."
However, Putin's decree ordering partial mobilization remains in force and that has fueled concerns that more Russians may be called up. At the same time, Russia is expected to launch an offensive as the first anniversary of the war approaches.
NATO Secretary General Jens Stoltenberg said in January that Russia plans to mobilize more than 200,000 troops in a large offensive, but a senior Ukrainian military intelligence official told the Kyiv Post in an interview published on Friday that Russia did not have the necessary forces for a major offensive.
Andriy Chernyak, a representative of the Main Intelligence Directorate of the Ukrainian Defense Ministry, told the newspaper that "according to our information, Russian command does not have enough resources for large-scale offensive actions."
Nonetheless, Ukrainian Defense Minister Oleksiy Reznikov said last weekend that Russia would likely use the symbolism of the one-year anniversary to launch another major attack.
Newsweek has reached out to the Russian defense ministry for comment.