Russian Climber Uses Mt. Everest Achievement to Protest War With Ukraine
A Russian mountain climber protested President Vladimir Putin's war against Ukraine by unfurling the Ukrainian flag after reaching the summit of Mount Everest.
Images capturing the dramatic moment were shared to the Instagram account of Russian mountaineer and blogger Katya Lipka on Friday. In accompanying text, Lipka said that the feat was achieved on May 24—the three-month anniversary of the Russian invasion. An image of Lipka with the flag at the summit was also shared to Twitter by former Ukrainian ambassador to Austria Olexander Scherba, who wrote that she had "conquered Mount Everest" and unfurled the flag in protest of "Putin's war."
Lipka wrote on Instagram that she was pondering her desire for "the war to end" and for Russia to stop "killing people" in Ukraine as she gripped the flag with fingers numb from the cold. She said that her accomplishment was "not easy," noting that she reached the summit "on a lame leg" and "without preparation and without acclimatization," something that she would not advise others to attempt.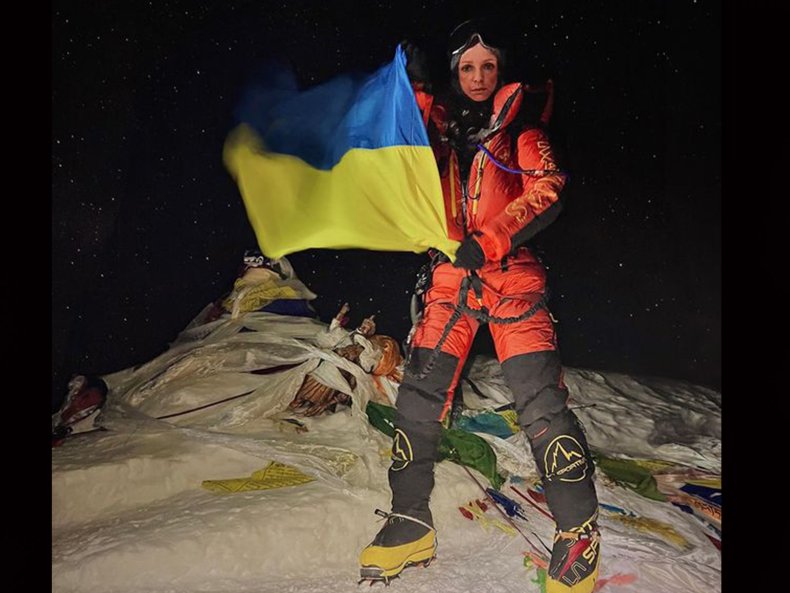 Lipka also answered critics who suggested that her photos were "fake" because she is pictured during the night. Lipka explained that the final ascent, which took six and a half hours, was expected to reach the summit at 5 a.m. but turned out "much faster" than expected and resulted in her arriving before sunrise.
She also rejected criticism that the "$70,000" she must have spent to conquer Everest would have been better spent on helping refugees. Lipka said that she had been "human to people" and received certain essentials such as a permit and oxygen "at cost, plus tip" as a result.
"It would be better to help refugees - of course," said Lipka. "Why can't you do two things at the same time?"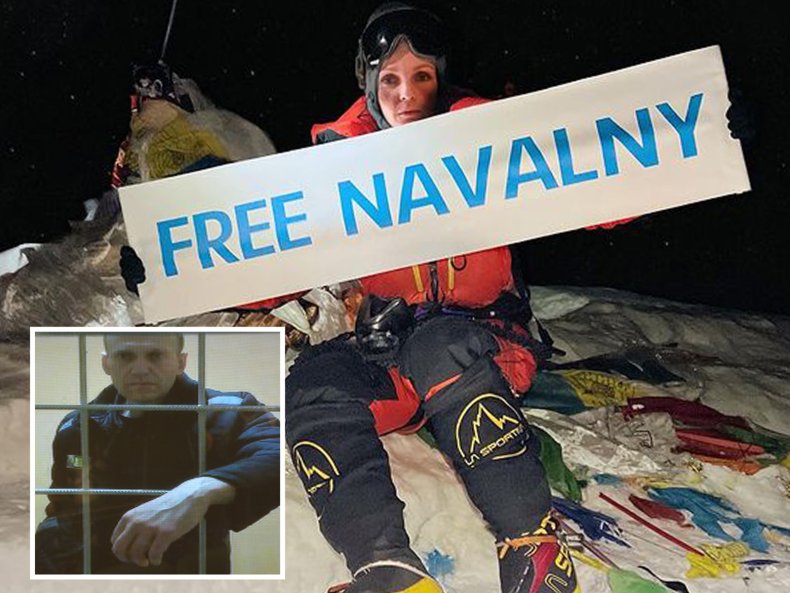 In an additional Instagram post on Saturday, Lipka wished a happy birthday to imprisoned Russian anti-corruption activist and Putin critic Alexei Navalny while sharing a photo of herself at the Everest summit holding a sign reading "Free Navalny."
Lipka is far from the only Russian speaking out against the war. More than 100 days after Putin's "special military operation" in Ukraine began, there are indications that support for the war in Russia is diminishing, including the resignation of multiple Russian officials.
Despite protesters being met with harsh treatment from the Russian government, resistance to the war has continued. Last month, Russians tuning into TV coverage of "Victory Day" celebrations were shown an anti-war message after airwaves were hacked, while a video shared to social media showed a large crowd breaking into an anti-war chant during a recent concert by the Russian band Kis-Kis in St. Petersburg.
Mount Everest is reported to have an average of five climber deaths per year, according to the global news agency AFP. The Nepalese government recently laid out new rules for those attempting to reach the summit, including requiring more training and experience.
Newsweek reached out to Lipka for comment.