Samantha Markle Asks Meghan Markle to Admit 'King Charles Is Not a Racist'
Meghan Markle has been asked to admit that "King Charles is not a racist" and nor was Queen Elizabeth II in a libel lawsuit filed by her half-sister, court filings seen by Newsweek show.
The duchess of Sussex's team has refused all Samantha Markle's requests for evidence as it attempts to get the case thrown out by the U.S. District Court, in Tampa, Florida.
Samantha's lawyers have accused Meghan of stonewalling and asked the judge to instruct the royal to answer their questions.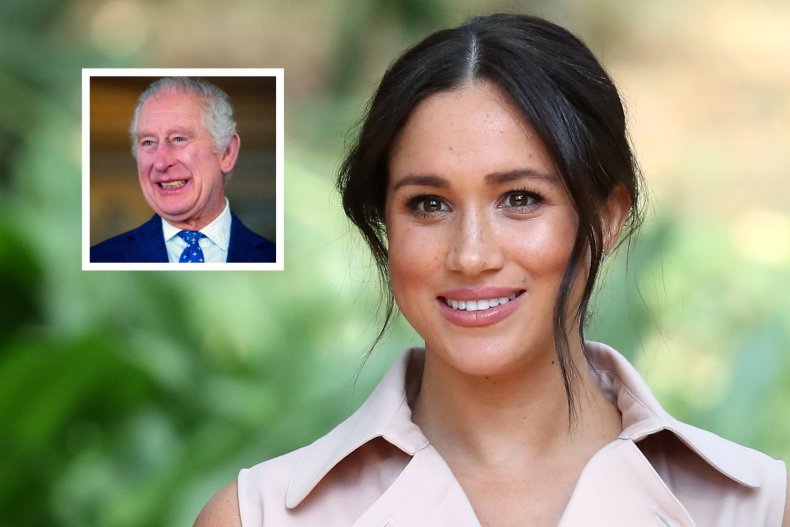 Among their requests, Samantha's lawyers have asked for an "admission" that "King Charles is not a racist" and "Queen Elizabeth was not a racist."
The case revolves around Meghan's account to Oprah Winfrey in March 2021 that she "grew up as an only child," which Samantha argues is false and libellous. Meghan's team argues her statement was "opinion" and "also substantially true."
However, numerous questions within Samantha's discovery request extend to more general areas where she seeks to undermine the account Meghan has given of her life.
This suggests that, if the case makes it to court, Meghan can assume that she will be at risk of a full-scale assault on her credibility.
Meghan told Winfrey during her CBS tell-all that an unnamed royal family member expressed concern about how dark her and Prince Harry's baby might be before Archie was born.
She said: "So we have in tandem the conversation of, 'He won't be given security, he's not going to be given a title,' and also concerns and conversations about how dark his skin might be when he's born."
The couple exonerated the queen immediately by telling Oprah shortly after filming that neither Elizabeth nor Prince Philip had made the comment.
A guessing game then ensued over the identity of what the media termed the "royal racist."
Harry has since said the couple did not intend to accuse any royal of racism. He suggested they were instead talking about "unconscious bias," during an interview with Anderson Cooper, in January, 2022, to promote the prince's book Spare.
In the days after the chat with Winfrey, Charles was asked about the interview and did not reply during a visit to Jesus House church, in northwest London, but praised "black majority churches."
Prince William came out days later to say when asked by a journalist during a school visit: "We're very much not a racist family."
Meanwhile, a Buckingham Palace statement, released on behalf of the queen two days after broadcast, read: "The whole family is saddened to learn the full extent of how challenging the last few years have been for Harry and Meghan.
"The issues raised, particularly that of race, are concerning. While some recollections may vary, they are taken very seriously and will be addressed by the family privately.
"Harry, Meghan and Archie will always be much-loved family members," the statement added.