Samuel Alito Takes Aim at Prince Harry for Critical U.N. Speech
Supreme Court Justice Samuel Alito took aim at Prince Harry during a speech at the Religious Liberty Summit in Rome last week, mocking recent comments made by the prince about U.S. politics.
Alito, who authored the leaked conservative majority's draft opinion before the official overturning of the Supreme Court's Roe v. Wade decision on abortion rights, spoke out against foreign leaders' criticisms of the ruling on July 21, taking particular aim at Harry.
The prince was criticized by right-wing political commentators following his speech delivered at the United Nations marking Nelson Mandela International Day in July. During the remarks he likened the "rolling back of constitutional rights" in the U.S. to the COVID pandemic and war in Ukraine, as global assaults on "democracy and freedom."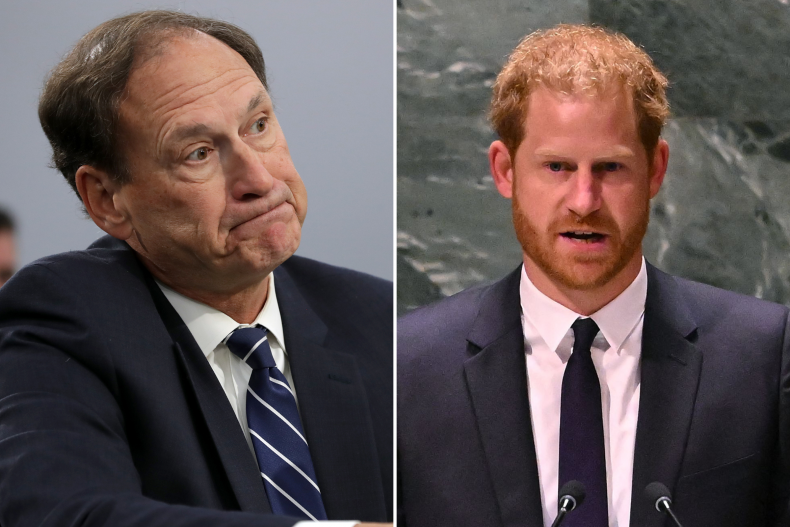 The speech closely followed the Supreme Court's overturning of Roe v. Wade leading many, including commentator Meghan McCain, to believe that the prince was making an overt reference to this decision.
Harry's opinion on the Roe v. Wade decision, which has since seen a number of U.S. states implement abortion bans, was revealed in a conversation published by Vogue between his wife, Meghan Markle, and prominent feminist Gloria Steinem. Meghan described Harry's reaction to the news as "guttural."
Alito's commentary on Harry was revealed in video footage from his previously unannounced speech in Rome published by Notre Dame Law School on Thursday.
"I had the honor this term of writing I think the only supreme court decision in the history of that institution that has been lambasted by a whole string of foreign leaders who felt perfectly fine commenting on American law," he remarked.
"One of these was former-Prime Minister Boris Johnson, but he paid the price." This was a reference to Johnson's recent resignation following criticism of his leadership from members of his own government. Johnson remains in office until a new Conservative leader is appointed in the fall.
Moving on to Harry, Alito continued: "But what really wounded me—what really wounded me—was when the Duke of Sussex addressed the United Nations and seemed to compare the decision whose name may not be spoken with the Russian attack on Ukraine."
At the mention of Harry, Alito received laughter from the crowd which was followed by audible disapproval of the royal's commentary on the U.S. and Ukraine.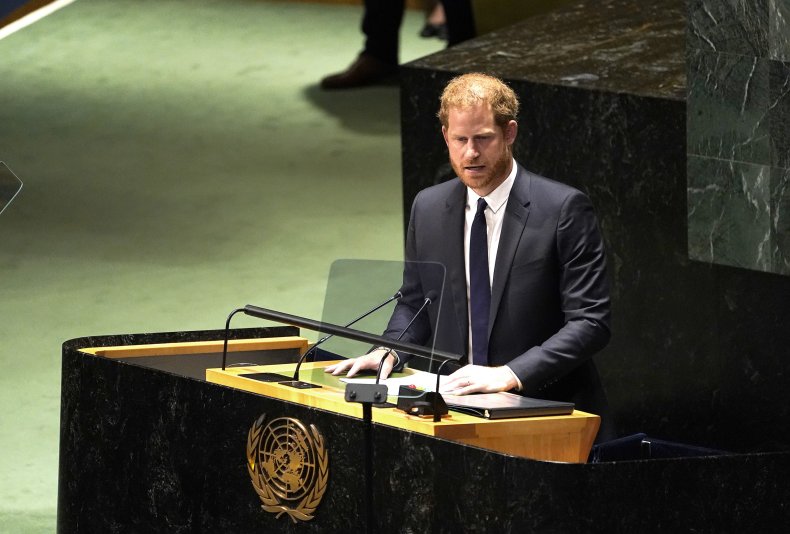 The Supreme Court justice's comments have divided opinion online, with many disapproving of the use of his platform to take a political stance.
Democratic Representative Alexandria Ocasio-Cortez took to Twitter to comment: "Remember: it was Alito's opinion that leaked," referring to the conservative majority's draft opinion which was leaked before the official overruling of Roe v. Wade.
"That fact paired with his politicized remarks below should be alarming to anyone. The Supreme Court is in a legitimacy crisis. Chief Justice Roberts has a responsibility to share the progress & results of SCOTUS' leak investigation."
Political author Jonathan Alter also said on Twitter: "This guy is drunk on his own power. He got exactly as many votes as...Prince Harry."
Harry was invited to present a keynote speech at the United Nations on July 18 to honor Nelson Mandela's life and legacy, having had associations with the former South African leader and his foundation.
The prince's comments on the U.S. were used as part of a wider point regarding the global political climate.
He said: "I understand. This has been a painful year in a painful decade. We're living through a pandemic that continues to ravage communities in every corner of the globe.
"Climate change wreaking havoc on our planet, with the most vulnerable suffering most of all. The few, weaponizing lies and disinformation at the expense of the many. And from the horrific war in Ukraine to the rolling back of constitutional rights here in the United States, we are witnessing a global assault on democracy and freedom—the cause of Mandela's life."
Newsweek approached representatives for Prince Harry and Justice Alito for comment.