Seattle Police Declare Riot After Fire, Vandalism During Demonstrations
A Saturday afternoon protest has been declared a riot after fires and vandalism in the Capitol Hill area, including a possible explosion at the East Precinct, according to the Seattle Police Department (SPD).
SPD declared the demonstration officially a riot via a tweet at 4:25 p.m. local time, citing a fire set to a portable trailer at the King County juvenile detention facility, which is under construction. In addition, police say there have been a number of broken windows at local businesses and a King County court facility.
Police also report explosives being thrown or fired at officers, and possible explosive damage done to the walls at the East Precinct. The East Precinct was formerly the center of the Capitol Hill Organized Protest (CHOP).
Protesters chanted "No new youth jail!" after breaching the fence at the detention facility, according to The Seattle Times.
SPD Chief Carmen Best said Saturday in a public statement that officers would be carrying pepper spray and blast balls to the protest. The statement came after a federal judge issued a temporary order that halted legislation passed by the City Council banning the SPD from using tear gas and pepper spray.
The SPD used flash-bang grenades to disperse protesters at the East Precinct, according to The Seattle Times. Journalists Omari Salisbury and Garrett Moore reported on Twitter that the SPD had also been firing on media. Salisbury, who is livestreaming the demonstration on Facebook for Converge Media, said he was hit with a flash-bang. Moore reported being pepper-sprayed by the SPD.
"The media is taking the worst," Salisbury said on the stream as police fired a flash-bang into the crowd. "My left ear is ringing; a flash-bang exploded, it hit one of our producers in the face, and exploded right in my ear," Salisbury continued. Shortly after, the stream showed police pepper-spray Salisbury and his producer, identified only as John, as Salisbury told the officers he was with the media.
"My whole body burns right now," Salisbury said.
The SPD has reported on Twitter that the crowd has launched mortars and thrown rocks and explosives at officers in the area. A telephone pole is on fire near the East Precinct, the SPD said. Sixteen people have been arrested on charges of assault on officers, obstruction and failure to disperse, and at least three officers have been injured, the SPD's Twitter reports. One officer has been hospitalized with a leg injury, and two other officers have been treated and returned to duty, according to the SPD.
SPD directed Newsweek to its Twitter feed when asked for further information.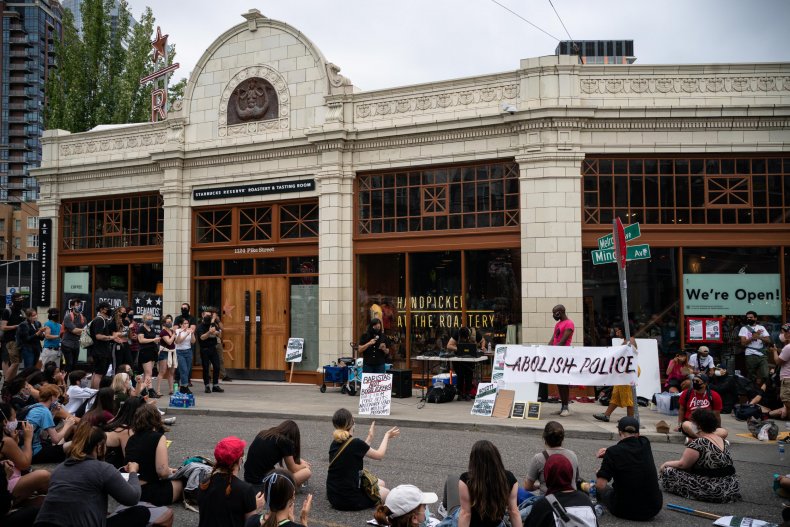 Seattle Mayor Jenny Durkan said on Friday evening that federal law enforcement officers were prepared to enter Seattle to protect federal buildings, however, she did not know how many federal officers were coming. Federal agents have been deployed to several U.S. cities as part of Operation Legend, including to Portland, Oregon.
"DHS [Department of Homeland Security] now says they have a limited number of agents in the area on standby to protect federal buildings," Durkan tweeted on Thursday. She said that on early Thursday, DHS Acting Secretary Chad Wolf told her there were no plans to send agents to her city.
"I don't want to say I was lied to," Durkan said during a Friday press conference, "but I think there was maybe semantics that weren't forthcoming."
She also threatened to sue Thursday night if federal officers intervened in the protests.
"Should federal forces intervene like they have in Portland, we are prepared to pursue every legal recourse," Durkan said. "A federal judge in Portland has entered an order limiting the actions of federal forces there. We are prepared to seek the same relief if necessary."
However, on Friday, a judge denied a request for a temporary restraining order against federal agents in Portland, filed by Oregon Attorney General Ellen Rosenblum. Given that decision, it is unknown whether or not a similar suit filed by Durkan would succeed.