Second Stimulus Check Delay Weaponized by Democrats in Georgia Runoffs
Democrats Raphael Warnock and Jon Ossoff have weaponized the delay in stimulus check payments against incumbent Republican Senators Kelly Loeffler and David Perdue as they look to oust the pair in the Georgia runoffs.
Polling has shown the Republicans with slight leads, with the race thus far having seen harsh words traded by all involved as they angle for an advantage.
With lawmakers continuing to wrangle over a further COVID-19 relief package, Warnock and Ossoff have taken aim at the two sitting senators—tying them to the continued delay over a further round of stimulus checks being distributed.
"It's been 265 days since Congress passed the first round of stimulus checks," Warnock tweeted Thursday.
"Kelly Loeffler has let families struggle without any more relief for 265 days."
Loeffler responded to this on Twitter, shifting blame for the delay to House Speaker Nancy Pelosi (D-CA).
"You misspelled @SpeakerPelosi," she wrote.
Referring to small business loan programs in the pandemic, she added: "But @ me next time you want to talk about how our efforts helped 174k Georgia small businesses and saved 1.5 million jobs."
Her messaged referenced the Payment Protection Program, which was in the CARES Act.
In further comments shared to Newsweek, Warnock said it was "unacceptable that for seven months Senator Loeffler has opposed giving Georgians the support they need to get through this pandemic."
"Getting relief out the door as quickly as possible is critical and it is essential that something is passed," he added. On what is needed, Warnock referenced federal unemployment relief, support for small businesses, and relief for state and local governments. Warnock also mentioned rental assistance and an extension of the eviction moratorium.
Ossoff previously shared a similar message aimed at his opponent on the point of stimulus.
"David Perdue has opposed direct economic relief to working people throughout this entire pandemic," he tweeted.
In a video, he shared clips of speeches he has given on the campaign trail criticizing Perdue on this point.
"He's holding up another round of stimulus for the people now because he doesn't care about ordinary people," he said.
The topic joins the pair's previous attack lines in the race, in which they have branded Loeffler and Perdue corrupt. Meanwhile, the Republicans have persistently countered by attempting to label the pair as radical and framing themselves as a firewall to such politics.
While Warnock and Ossoff have looked to bring the point of stimulus into the debate, President-elect Joe Biden also recently raised the issue when expressing support for the pair.
Biden insisted that from day one in office he would look to launch a COVID-19 relief package, but spoke of needing the pair to win in order to do so.
"I need Raphael Warnock and Jon Ossoff in the United States Senate to get this done," Biden said, in an ad released Thursday.
"There are folks in Congress threatening to do everything in their power to block our efforts."
Victory for the Democrats in the runoffs would split the Senate 50/50, with 50 Republicans and 48 Democrats, who have two independents who caucus with them.
Tiebreaker votes would then go down to the vice president in such a situation.
Early voting has begun for the runoffs, with the main election day scheduled for January 5.
Newsweek has contacted Warnock, Ossoff, Loeffler and Perdue's campaigns for comment.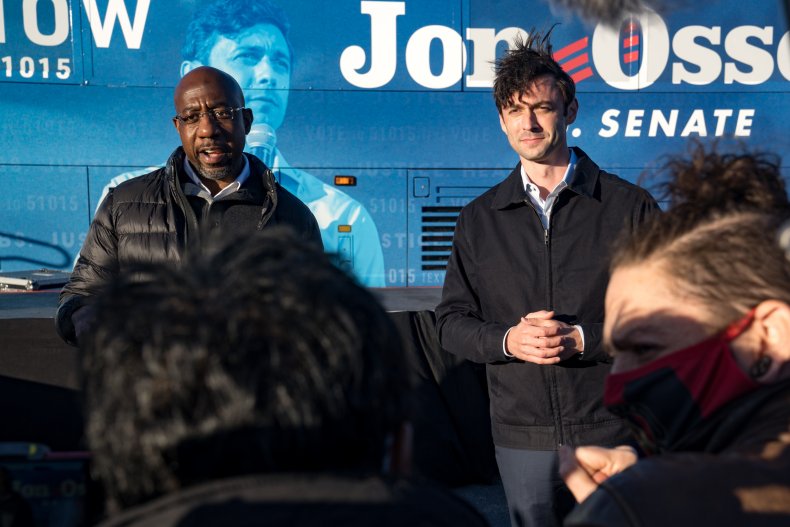 Update 12/18/2020: This page was updated with comment from Loeffler. This page was also updated with further comments from Warnock.