A video clip of Selena Gomez's animated reaction to SZA triumphing over Chris Brown at Tuesday's MTV Video Music Awards has gone viral on social media.
Gomez, 31, was among a number of stars in attendance at the event, which was held at the Prudential Center in Newark, New Jersey. As one of the nominees on the night, Gomez was afforded prominent seating at the ceremony.
As a result of her placing, Gomez's reaction to the mere mention of Brown's name was caught on camera when nominees in the Best R&B category were read out. Brown featured on the nominated track "How Does It Feel" by Chlöe.
When Brown's name was mentioned by the announcer, Gomez, who was seated in the audience next to singer and rapper Rema, was seen scrunching her nose.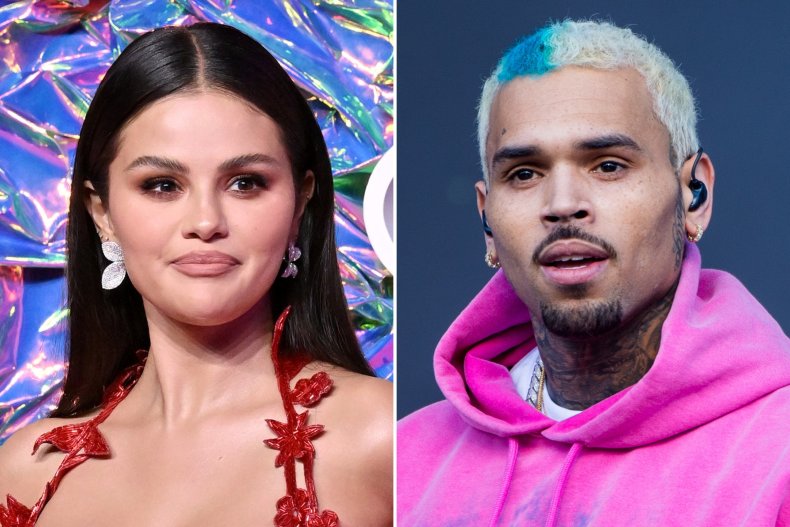 Brown, 34, has been the subject of contentious debate between fans and detractors over the years, not least because of the numerous accusations of violence involving women he has been associated with, including an altercation with then-girlfriend Rihanna, 35, back in 2009.
Gomez's expression soon changed when it was revealed that SZA, whose given name is Solána Imani Rowe, had emerged victorious in the category with her track "Shirt." Gomez was seen raising both hands in the air and mouthing "yes."
While applauding the win, the Only Murders in the Building star was then seen looking curiously around the venue as she asked of SZA, "Where is she?"
As it was announced that SZA was not present to accept the award, Gomez was visibly disappointed as she pulled a sad expression.
Footage of the moment was shared on MuchMusic's TikTok account, where it has been viewed more than 800,000 times.
Newsweek has contacted representatives of Gomez via email for comment.
Gomez, who received three VMA nominations for "Calm Down," her track with Rema, scooped an award in the Best Afrobeats category.
Meanwhile, Brown continues to divide opinion several years after his assault of former girlfriend Rihanna, who is now in a relationship with rapper A$AP Rocky, 34.
Following Brown's February 2009 altercation with Rihanna, a photo showing her with severe bruising led to a public outcry and criminal charges for Brown, who subsequently pled guilty to assault, completing his probation in March 2015.
Recalling the incident in an interview with Oprah Winfrey in 2012, Rihanna said: "It was a weird, confusing space to be in because, as angry as I was, as angry and hurt and betrayed, I just felt like, he made that mistake because he needed help and who's gonna help him? Nobody's gonna say he needs help. Everybody's gonna say he's a monster."
In June 2017, Brown's ex-girlfriend Karrueche Tran, 35, got a five-year restraining order against him over accusations that he was aggressive towards her and demanded the return of money and jewels he gave her during their relationship.
Brown was arrested in January 2019 after a woman accused him of raping her in the Mandarin Oriental Hotel in Paris. However, he was released with no charges filed against him. Brown said the incident didn't happen, posting to Instagram, "This B**** Lyin."
In 2018, a woman identified in court documents as "Cassandra" was granted a restraining order against Brown after she accused him of hitting and stalking her.
A woman launched a $20 million lawsuit against Brown in January 2022, alleging that the singer had drugged and raped her on Sean "Diddy" Combs' yacht in Miami, Florida, back in December 2020.
However, the unnamed woman was later dropped by her legal representation in March 2022, after police officers uncovered text messages between her and Brown that complicated the case, according to Rolling Stone.
Hitting out at the allegations leveled against him, at the time the text messages were unveiled, Brown shared Radar Online's report on his Instagram Stories, writing: "No more dragging me through the mud. Me and my team are taking legal action on this situation. You don't play with people's lives like that."