Why Fans Are Mad Chloe Bailey Is Working With Chris Brown: The Allegations
Chloe Bailey's announcement that she has collaborated with Chris Brown on the upcoming single "How Does It Feel" has incensed fans online.
On Thursday, Bailey, 24, took to Twitter to break the news and share the cover art for the track, which showed her standing with her forehead pressed against Brown's, while the "With You" hitmaker, 33, has his hands on her waist.
The image, which shows the musicians clad in black ensembles, was captioned: "2ND PIECE. HOW DOES IT FEEL @chrisbrown. 2/24."
Singer and actress Bailey's post ignited a flood of outraged comments from Twitter users, many of whom condemned the singer for working with Brown.
Brown has been the subject of contentious debate between fans and detractors over the years, not least because of the numerous accusations of violence involving women he has been associated with, including an altercation with then-girlfriend Rihanna, 34, back in 2009.
"We're failing Black women in music if they feel like they have to collaborate with a known abuser in order to chart," tweeted Philadelphia Magazine editor-at-large Ernest Owens.
"Chloe Bailey making a song with Chris Brown in 2023, it's like she's afraid of success," commented another.
Pointing out a number of other artists that Bailey could have collaborated with, another asked: "@ChloeBailey was Giveon not available? Anderson Paak? Khalid? Bruno Mars? Daniel Caesar? Or literally anyone else?"
With Bailey and her sister, Halle Bailey, being signed to Beyoncé's record label, Parkwood Entertainment, another detractor enquired: "Did Beyoncé approve this..."
A host of other die-hard Brown fans defended the collaboration, pointing to the almost decade and a half that has passed since his assault of Rihanna as justification for moving on.
"The man literally took accountability for his actions and y'all still hanging on to it. Mean while you in relationships with abusers but want people to accept him cuz you do get real," one user wrote.
While another added: "Everyone is now attacking Chloe for working with Chris as if he isnt thee Chris Brown. He has an abusive past but literally those he's hurt have moved on and he's [publicly] atoned for his mess."
However, others explained that Brown's controversies did not end with his assault of former girlfriend Rihanna, who is now in a relationship with rapper A$AP Rocky.
Following Brown's February 2009 altercation with Rihanna, a photo showing her with severe bruising led to a public outcry and criminal charges for Brown, who subsequently pled guilty to assault, completing his probation in March 2015.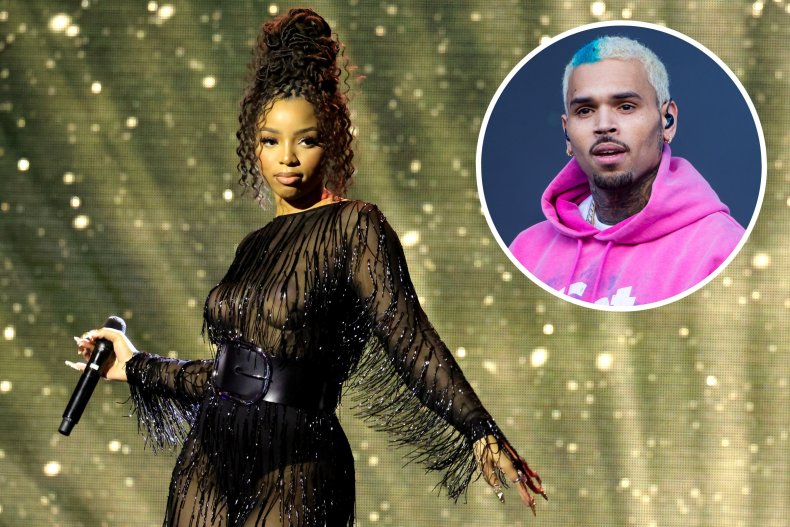 Recalling the incident in an interview with Oprah Winfrey in 2012, Rihanna said: "It was a weird, confusing space to be in because, as angry as I was, as angry and hurt and betrayed, I just felt like, he made that mistake because he needed help and who's gonna help him? Nobody's gonna say he needs help. Everybody's gonna say he's a monster."
In June 2017, Brown's ex-girlfriend Karrueche Tran, 34, got a five-year restraining order against him over accusations that he was aggressive towards her and demanded the return of money and jewels he gave her during their relationship.
Brown was arrested in January 2019 after a woman accused him of raping her in the Mandarin Oriental Hotel in Paris. However, he was released with no charges filed against him. Brown said the incident didn't happen, posting to Instagram, "This B**** Lyin."
In 2018, a woman identified in court documents as "Cassandra" was granted a restraining order against Brown after she accused him of hitting and stalking her.
A woman launched a $20 million lawsuit against Brown in January 2022, alleging that the singer had drugged and raped her on Sean "Diddy" Combs' yacht in Miami, Florida, back in December 2020.
However, the unnamed woman was later dropped by her legal representation in March 2022, after police officers uncovered text messages between herself and Brown that complicated the case, according to Rolling Stone.
Hitting out at the allegations leveled against him, at the time the text messages were unveiled, Brown shared Radar Online's report on his Instagram Stories, writing: "No more dragging me through the mud. Me and my team are taking legal action on this situation. You don't play with people's lives like that."