John Cornyn Warns Taiwan Is 'First Domino' in China's Quest for Global Dominance
The People's Republic of China would not stop after capturing Taiwan and might be emboldened to seize disputed territories from neighboring countries, Senator John Cornyn (R-TX) warned on Tuesday.
"If China is able to capture Taiwan, there's no reason to believe that the Chinese Communist Party would stop there. China also has territorial claims against the Philippines, Japan, Vietnam and India," Cornyn said on the Senate floor.
"We shouldn't view Taiwan as the CCP's ultimate goal but as the first domino in a quest to reach regional and global dominance," he added. "If Taiwan falls, it will not be the end, but rather a beginning."
The senator was part of a 12-person congressional delegation that made a low-profile visit to Taipei last week as part of trips to Indo-Pacific allies India and the Philippines. In a statement, Cornyn's office named the other lawmakers—all Republicans—as Senators Mike Crapo of Idaho, Mike Lee of Utah and Tommy Tuberville of Alabama, as well as Reps Tony Gonzales and Jake Ellzey, both from Texas.
Taiwan's Foreign Ministry confirmed on Monday that the diplomatic visit took place between November 9 and 11, and included meetings with President Tsai Ing-wen and her national security adviser Wellington Koo, as well as virtual talks with Foreign Minister Joseph Wu. There were also separate sessions with Deputy Foreign Minister Tseng Hou-jen and Defense Minister Chiu Kuo-cheng.
Wu, who was blacklisted by Beijing just days before the delegation's arrival, described Taiwan as "democracy's outpost, standing watch against authoritarianism," Cornyn said in the Senate.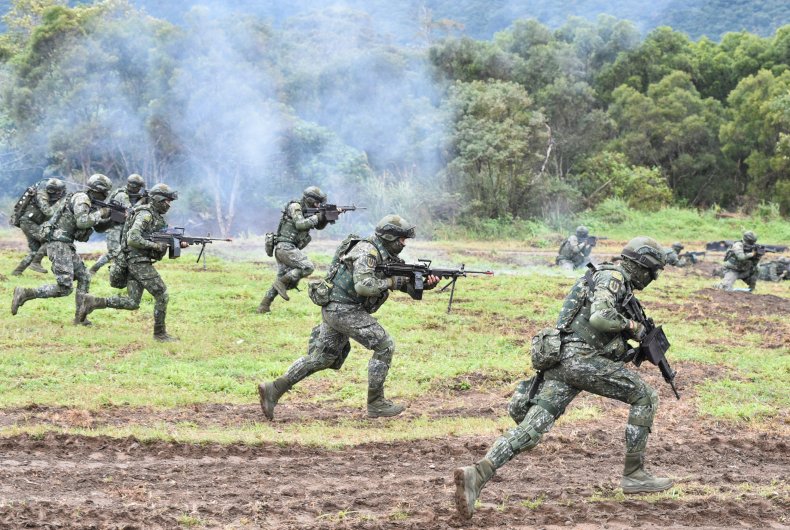 The senator also used Tuesday's Senate session to express support for the National Defense Authorization Act for 2022—passed by the House in September—which includes a number of articles that would bolster Taiwan's self-defense capability and would bring the U.S.-Taiwan security partnership closer than it has ever been. Among the proposals are the exchange of defense liaisons between Washington and Taipei in order to improve "interoperability" between the two militaries.
Cornyn and Senator Tammy Duckworth (D-IL) are also co-sponsors of the Taiwan Partnership Act, which seeks to forge a working relationship between the National Guard and the island's reserves.
The delegation's tour of Southeast Asia also included a visit to the U.S. Indo-Pacific Command headquarters in Hawaii. Cornyn, quoting USINDOPACOM Commander Admiral John Aquilino, said: "It's not a question of if China invades Taiwan, but when."
Referencing a possible invasion timeline articulated by Aquilino's predecessor, Admiral Philip Davidson, Cornyn said China could attack Taiwan by 2027.
Like Aquilino, he said it would be in the United States' own interests to prevent conflict across the Taiwan Strait.
"Taiwan might be safe for six years, but we can't operate on that assumption," the senator said. "We need to work with Taiwan and our friends and allies in the region to raise the cost, such that the PRC decides it's not worth its time and effort."
"I believe we have a legal and moral obligation to stand with Taiwan and deter China from invading. And we also have our own national security at stake," Cornyn said. "There must be a strategy to dissuade China from an attempt to seize Taiwan. There's no question that time is of the essence."
When the House passed the defense act in September, Chinese Defense Ministry spokesperson Wu Qian accused "unscrupulous politicians" in Congress of "exaggerating the so-called 'China threat' without cause."
Wu added that the bill's attempts to strengthen U.S.-Taiwan security ties were "playing with fire."