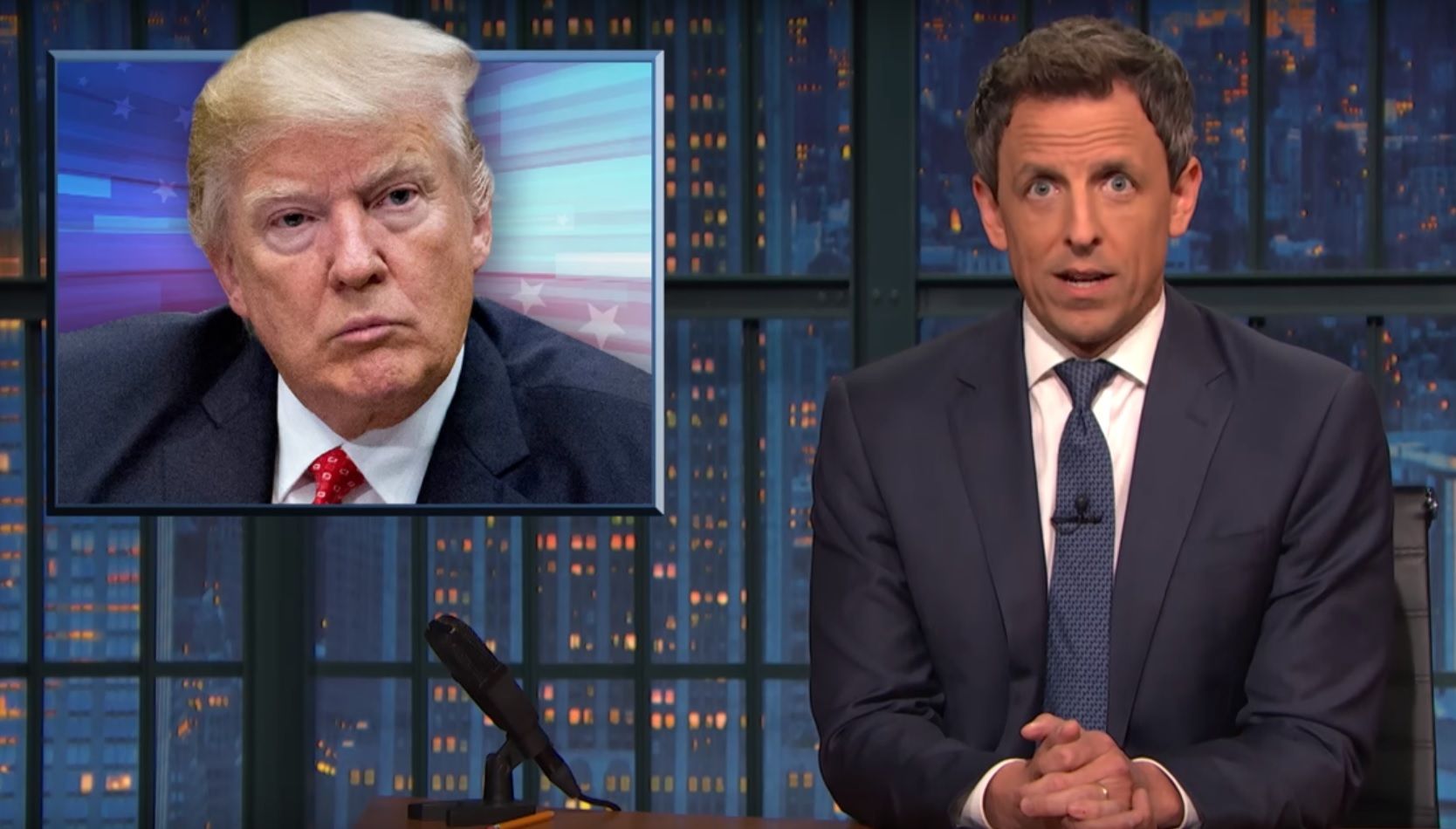 The last week in the White House has been so tumultuous that it's getting a little hard to keep track of Trump news. Thankfully, Tuesday night's episode of NBC's Late Night with Seth Meyers had a pretty succinct recap of recent events.
"Just in the past week, we've learned that [President Trump] fired the FBI director to obstruct an investigation into his own campaign, threatened that FBI director with secret tapes, gave highly classified information to the Russians, and tried to interfere to shut down an FBI investigation into his former national security adviser," said comedian Seth Meyers.
Meyers's conclusion is that, "We need Republicans to stand up and do something, because right now we've got a president who is deeply unfit for the office."
The late-night talk show host then used Trump's own words against him. "This scandal is like…what's the best way to describe it...?" said Meyers before cutting to footage of Trump, on the campaign trail in September 2016, saying: "This is like Watergate—only it's worse."
Trump, at the time, was talking about his presidential rival Hillary Clinton's email scandal, but Meyers pointed out that much of what the then-Republican candidate said at his various rallies could be applicable to him now.
The comedian reminded viewers of Trump's verbose attacks on Clinton's competency to be president, in the wake of reports he shared classified information with Russian foreign minister Sergei Lavrov and the Russian ambassador to the U.S. Sergei Kislyak in a meeting at the White House last week, and a new report Tuesday that he pressured ousted FBI director James Comey to drop an investigation into his former national security adviser Michael Flynn.
Meyers said that the latest upheaval in the White House must be "awkward for Trump...especially since he seemed to take the handling of classified information so seriously during the presidential campaign."
Here are just a few of the remarks Trump made, that Meyers so thoughtfully recovered:
"Hillary's email scandal, that put our classified information into the hands of our enemies, disqualifies her from the presidency." (September 19, 2016)
"We can't have someone in the Oval Office that doesn't understand who doesn't understand the meaning of the word 'confidential' or 'classified.'" (September 6, 2016)
"I don't think it's safe to have Hillary Clinton be briefed on national security, because the word will get out. I know at some point they're going to want to brief me, but I'm not a talker about this stuff." (July 27, 2016)
Not a talker, you say? Meyers lambasted Trump, who, he says, has "proven himself repeatedly to be temperamentally unfit for handling issues as serious as national security."