Seven Surprising Details Revealed About Donald Trump From 'Confidence Man'
Former President Donald Trump appeared "genuinely outraged" at the death of George Floyd two years ago, according to a new book by New York Times senior political reporter Maggie Haberman.
Confidence Man: The Making of Donald Trump and the Breaking of America provides new information about the former president and his time in office, including some surprising claims.
Trump has strongly criticized the book and called Haberman a "maggot." He's also said she "is a bad writer with very bad sources." Meanwhile, Haberman has stood by her reporting.
Here are seven surprising details from Confidence Man, which is out on Tuesday.
1. Trump Seemed 'Outraged' at George Floyd's Death
Haberman reports that the former president "appeared genuinely outraged" over the May 2020 death of George Floyd that sparked nationwide protests over police brutality. Former Minneapolis police officer Derek Chauvin was convicted of unintentional second-degree murder and other offenses in April 2021.
"When the video was broadcast on cable news channels, Trump told his
aides that what had happened was horrible," Haberman writes, adding that Trump told then-U.S. Attorney General Bill Barr "to do everything he could to bring justice in the case."
2. Trump Said Gay People 'Love Me'
The former president reportedly told hedge fund manager Paul Singer that gay people loved him. Singer visited the Oval Office in 2017 and Trump reportedly asked him if he was gay. Singer replied that he wasn't but his son was.
Haberman writes that then-Vice President Mike Pence, who was present, began to leave and Trump gestured toward him.
"You're not like those guys, that kind of conservative?" Trump reportedly asked Singer, adding, "The gays, they love me."
He also said that a line in his convention speech about protecting LGBTQ individuals from violence had won the most applause.
3. Trump Was 'Anxious' Without Melania
Former first lady Melania Trump did not move to Washington, D.C. immediately after her husband was inaugurated in January 2017. Her absence made Trump "particularly anxious," according to Haberman.
"Chronically afraid of being alone, Trump often seemed to friends to be concerned about Melania's reactions to events," the book claims, as Haberman also notes that Melania Trump re-negotiated her pre-nuptial agreement after the 2016 election.
4. Trump Believed Cuomo Would Replace Biden
Trump lost the 2020 presidential election to Joe Biden. But according to Haberman's book, the former president reportedly came to believe that then-New York Governor Andrew Cuomo could be the Democratic nominee instead of Biden, who was the party's presumptive candidate.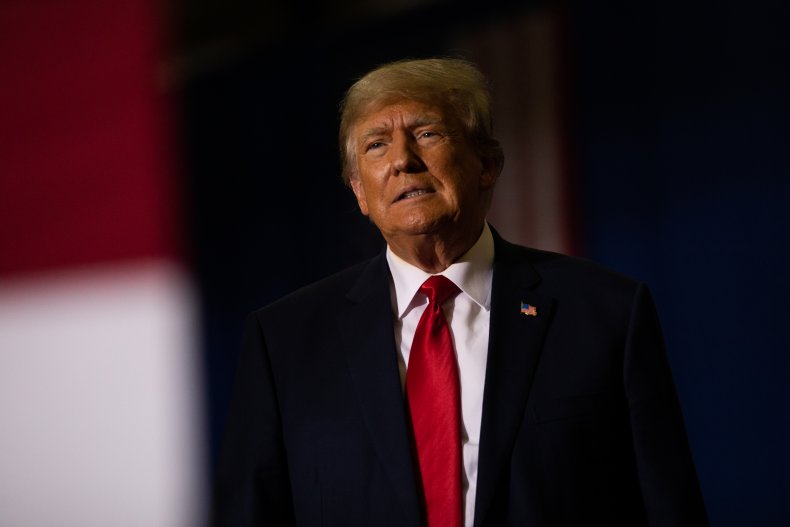 Haberman writes that Fox News host Sean Hannity discussed the matter with Trump and the two men "treated the scenario of Biden being replaced as a certainty. Trump was so convinced that Biden would be dumped from the ticket that he made aides delay advertising spending attacking him."
Trump spoke to Cuomo about the matter, but the Democrat told him he had no intention of running. Cuomo resigned as New York's governor last year following allegations of sexual harassment.
5. Trump and Black Judges
In one section of her book, Haberman talks about the relationship between Trump's father, Fred Trump, and Black people, saying that the former president "spoke favorably about Black people who succeeded in entertainment or sports."
Haberman reports that Trump would refer to comments by attorney Roy Cohn, considered to be one of Trump's mentors, who "had advised him to hope for a Black judge, with the implication being that they could be manipulated."
Trump's associates "recalled Trump musing about having Black judges preside over his cases," but Haberman also notes the former president has said that claim is false.
6. 'Women' Were Trump's Biggest Campaign Concern
The former president reportedly believed that women would be his biggest problem if he ran for the White House in 2016, per Confidence Man.
Haberman writes that Trump's former political adviser, Sam Nunberg, asked him in the real estate mogul's Trump Tower office "what his biggest worry was about running."
Trump reportedly replied: "The women" and pointed up toward his penthouse and said, "I'll get in trouble upstairs."
The former president has been accused of improper behavior, including sexual assault and harassment, by a number of women and has always denied any wrongdoing.
7. U.K. Leader Thought Trump Had Phobia of Stairs
In 2017, then-U.K. Prime Minister Theresa May traveled to Washington, D.C. and met Trump. The meeting made headlines in part because Trump and May were pictured holding hands.
Haberman writes that "Trump grabbed May's right hand with his left, appearing to need it to steady himself. As they arrived at the bottom of the short staircase, he tapped the underside of their clasped hands with his other hand."
She cites the fact that Trump's preference for dress shoes with leather soles makes it more difficult for him to walk down slopes but adds that May "came away with the impression that he had a separate phobia about steps."
Newsweek has asked Trump's office for comment.