Should Prisoners Get Stimulus Checks? Their Innocent Families Suffer If Not
Prisoners being excluded from stimulus check payments under Senate GOP proposals could leave families struggling to assist their incarcerated loved ones financially.
The outline for stimulus checks put forward was largely similar to those in the CARES Act—with eligible recipients to be given up to $1,200 each directly to assist amid the COVID-19 crisis.
However, revisions to eligibility have been added that see prisoners excluded in this round. The Internal Revenue Service (IRS) previously tried to stop the funds from reaching inmates, asking state officials to help retrieve payments made.
Speaking to Newsweek, Wanda Bertram of the Prison Policy Initiative, which advocates for criminal justice reform, said people in prison "are very much still part of the economy" due to purchases made inside.
She suggested payments for things such as phone calls, snacks and soap can often be supported by their families—who may be suffering financially already at this time.
"We don't think about it very much, but people in prison are very much still part of the economy: They buy phone calls, snacks, soap, and other necessities from private vendors on a daily basis, and it really adds up," she said.
"And the money they get to buy those things typically comes from their families, who are feeling a lot of financial pressure right now. There are hundreds of thousands, if not millions, of families right now who don't know how they're going to support themselves while also supporting their incarcerated loved ones.
"The fact that legislators are excluding incarcerated people now, despite not doing so in the CARES Act, makes it clear that this is a deliberate choice to neglect some of the families who need assistance the most."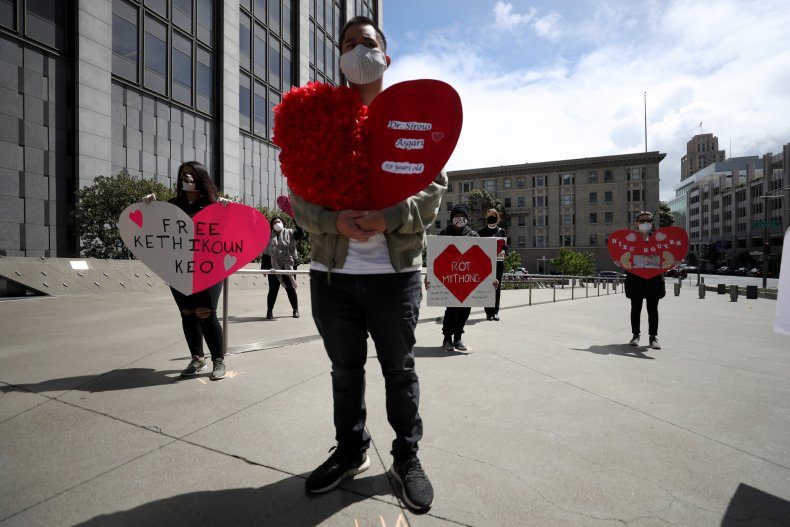 Bertram added: "Excluding people in prison from receiving stimulus payments shows how little Senate Republicans really care about the wellbeing of working-class people during this time of extreme hardship."
Kara Gotsch, director of strategic initiatives for The Sentencing Project, which advocates reform to push for a "fair and effective U.S. criminal justice system," told Newsweek people who are incarcerated have already "disproportionately suffered during this public health crisis."
Thousands of inmates have been infected with coronavirus amid outbreaks in prisons.
"Access to stimulus money would provide opportunities to purchase essentials like soap and cleaning supplies for their living quarters," she said, before also outlining that their families may be struggling and find it difficult to help pay for them," Gotsch said.
"These items are not luxuries but essential to stopping the spread of COVID-19 behind bars at a time when incarcerated people are largely locked down, unable to work and their own families are often struggling and unable to provide financial assistance."
Text in the proposal, released by Senate Finance Committee Chair Chuck Grassley (R-IA), said no payment will be made to "any individual in prison at the time Treasury processes the rebate."
It adds: "Furthermore, any individual in prison for all of 2020 is ineligible to claim the rebate as a 2020 tax credit."
Newsweek has contacted Grassley and Senate Majority Leader Mitch McConnell (R-KY) for comment.
These details come as part of "clarifications on the eligibility of decedents and prisoners" and also "apply retroactively to the CARES Act rebate payments."
The changes in regards to deceased people come after the IRS in the last round of payments sent $1.4 billion in stimulus payments to people who had passed away, according to a Government Accountability Office review.
The details of stimulus checks come as the Senate GOP looks to outline its plans for a further relief package amid the coronavirus pandemic.
Republican leadership is looking to outline alternative measures to those proposed by Democrats in the HEROES Act.
However, they have faced criticism from within their own ranks, with GOP senators questioning the measures.
House Speaker Nancy Pelosi (D-CA) has also raised issues with the party leadership's stance, while particular issue has been taken by Democrats over the measures outlined in regards to unemployment.