Laura Pergolizzi, better known by her stage name LP, is not new to the music business. But after seven aborted record deals and writing a string of hits for other artists like Rihanna and the Backstreet Boys, she is finally gaining mainstream recognition for her own music.
LP's song "Lost on You" expresses the pained realization that her relationship is going nowhere and she has devoted years of her life to a doomed romance. In 2016, the searing ballad struck the right notes with heartbroken lovers across Europe as it topped music charts in France, Poland, Greece, Serbia, Switzerland and Turkey. The accompanying music video has also racked an impressive 92 million streams on YouTube across the globe. Now, LP is launching the track in her native U.S. and the U.K., where she hopes it will have similar success.
"I was with an English woman for five or six years," the singer tells Newsweek of the song's origins. "I did a show at Carnegie Hall [in New York], a Paul Simon tribute show, and I delved into his material. I wanted a deep song about love that was more adult. You know when you have your first adult relationship when the pain and your shortcomings and deepest fears come out. That's the kind of song I wanted to write."
The tortured grit in LP's voice on "Lost on You" is reminiscent of the gravelly Johnny Cash. "There's a visceral aspect to this song that hits on several levels," she explains. "I was fascinated by the idea of changing the chemistry of someone's body in three minutes. You could listen to a song and it changes everything."
When she wrote the track, "my personal and professional life were in this awful place," says the singer. "Everything looks okay on the outside—you're still together and you're still on the label, but they're not gonna push your record and that person is sort of in love with you but maybe feeling things for other people. I felt very unsettled, and misunderstood, and lonely." LP pauses for a moment. "She took the piss and I allowed her to."
Related: Zara Larsson on her new album, hiding from Beyoncé and fighting male oppression
LP doesn't seem like a pushover, so her admission is surprising. In the time we spend together in a conference room in central London, she wears her sexuality and her beliefs as comfortably as she wears the large tattoo of a sail boat emblazoned on her chest, visible through a black shirt that is unbuttoned to ensure it is displayed. It is part of her identity, and that is something she has been fearlessly forging since her teenage years.
"I look on the outside how I feel on the inside," says LP. "I definitely had to fight for my [identity]. People were like, 'What the fuck are you supposed to be?' back in the day. I'm supposed to be nothing you've seen, or nothing you can control."
LP grew up in Long Island, New York, in an Italian-American household. She was raised Roman-Catholic. Between the ages of 15 and 18, after her mother died and she grew distant from her father, she began to realize she was gay. "I always felt like somebody was inside that had to come out," she says.
But the singer is not trying to be a role model for the gay community. "I'm not looking for anybody to be like me. I don't give a fuck. I just want to feel free. If someone feels inspired by it, then fine. I like diversity. I'd like there to be all levels of gay and straight, all different variations of gender, all colors, all creeds. I'm into seeing that."
There's an irony in LP, an Italian-American whose ancestors migrated to New York from Italy, who is also a lesbian and a feminist, reaching success as a solo artist now. She defines a counterculture to the political rhetoric of U.S. President Donald Trump whose government has attacked women's reproductive rights and ordered a ban on immigration to American shores.
"We have reality TV to thank for this motherfucker," says LP. "If reality TV didn't exist, this cocksucker wouldn't have known how to get to where he's gotten. He's a smart fucking opportunist who figured out how to manipulate a crowd."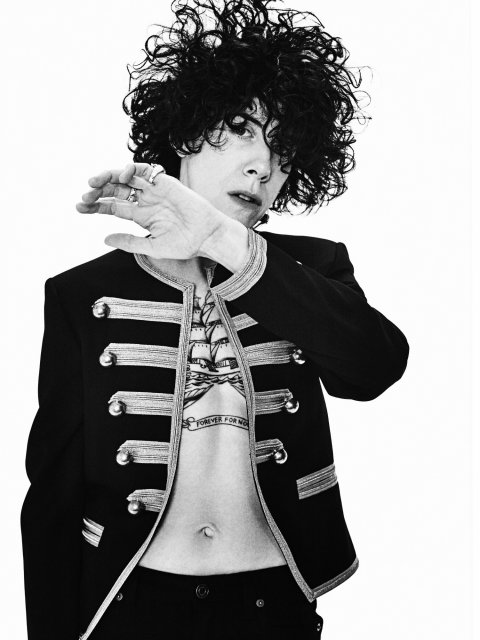 "I think it's so interesting, the personalities that want to confine and separate us. Who thinks they can tell you what to do with your body, with your mind?" the singer says. "Planned Parenthood and all this stuff. How dare you? If men had to carry babies, there'd be no question how to end that life. They'd end that life in two seconds."
Related: John Legend on Donald Trump, celebrity politics and 'La La Land' white savior backlash
LP is passionately pro-choice, and she believes people should be able to choose their gender, but she adds she is not a "radical feminist," despite what people might perceive. "Oddly, I believe in the subtlety of forward movement.
"We have to take broad strokes as well—but when we go too insane, like, 'You've got to accept this now,' we sometimes blow our load and our message gets marginalized to the fringe because it's too radical.
"I think one of the people that's done the most for the gay movement is Ellen DeGeneres. There are people in middle America that say, 'I hate those faggots. Wait a minute, Ellen's on…' She's wheeled her lifestyle into the fabric of the country and the world. She's done so much just by being herself."
Now, it's LP's turn to do the same.