Spike Lee Turns Empire State Building Orange to Recognize Gun Violence Victims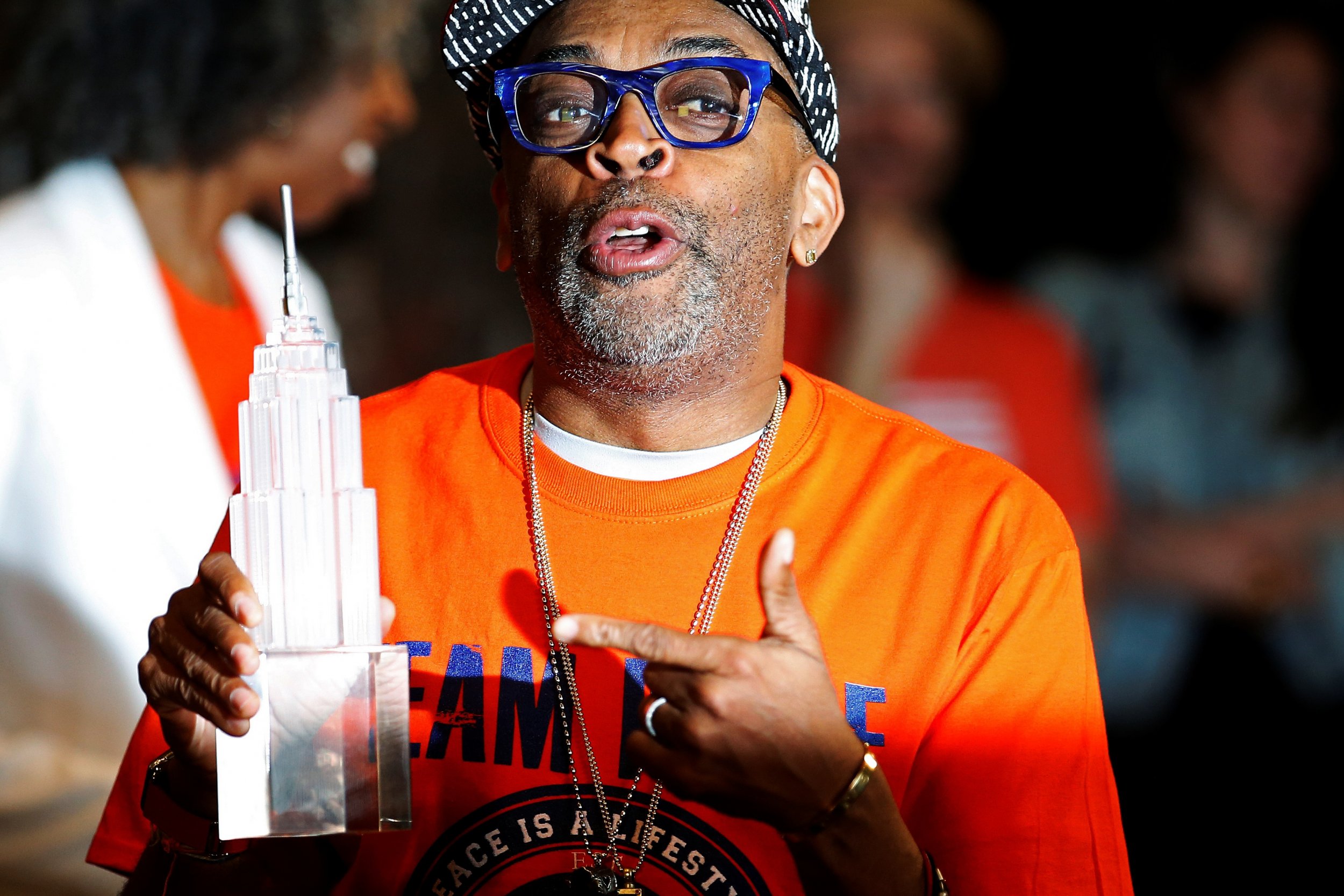 Midtown Manhattan's Empire State Building will shine orange Wednesday night to honor the dozens of gun violence survivors and victims killed each day.
Spike Lee, an Emmy Award-winning director who grew up in the Brooklyn borough of New York City, ceremoniously flipped the switch on Wednesday morning to light the building's spire orange in preparation for National Gun Violence Awareness Day on June 2. At night, the iconic building will be illuminated with the bright color to kick off this year's Wear Orange Campaign, in remembrance of gun violence victims.
"This is a very important moment in American history, and people standing up all across this great country and saying, 'Enough is enough,'" said Lee at a press conference. He is a member of the Everytown Creative Council, a group of celebrities who advocate for greater gun control and safety measures. "We're going to keep getting the word out, make it a bigger movement day by day," he added.
Thursday will mark the second annual National Gun Violence Awareness Day, when supporters wear orange in a symbolic and collective call to end violence. Friends and classmates of Hadiya Pendleton, a 15-year-old Chicago honor student who was killed by gunfire a week after she performed at President Barack Obama's second inauguration, in January 2013, inspired the campaign. They chose to honor her 18th birthday—June 2—last year by donning orange because the color represents the uniform hunters wear to protect themselves and others in the woods.
"What better way to honor Hadiya than to pull Americans together and say what Hadiya's death really stands for is hope," John Feinblatt, president of Everytown for Gun Safety, tells Newsweek. "It's hope that we can live in a country where gun safety is a cherished value." Feinblatt joined Lee in the lighting ceremony,
Only a few hours after the ceremonial lighting Wednesday, at least two people were killed in a shooting on the campus of the University of California, Los Angeles. On an average day, 91 Americans are killed by guns, according to Everytown, which spearheads the Wear Orange Campaign.
Activists chose the Empire State Building to launch this year's event because it is often called "the world's most famous office building." From its base to antenna, it soars 1,454 feet above midtown. On Thursday, more than 500 corporations, elected officials and iconic landmarks—state capitals, the TD Garden in Boston, the Crain Communications Building in Chicago, the Pepsi Center in Denver and Niagara Falls in New York, to name just a few—will participate by appearing orange for a day. Lee, Kim Kardashian West, Timothy Simons and Sarah Silverman are among the celebrities who will don the color, and Motown Records, Teen Vogue and Refinery29 are among the participating companies that will change the color of their icons or slogans.
"For the Empire State Building to kick off by turning the spire orange is a powerful way of saying this is an American movement," Feinblatt says. "This isn't really about politics, this isn't really about policy. What the Empire State Building is essentially expressing is that we want to honor the people who have been killed by gun violence and we want to bring Americans together."
Obama, the New York Mets, MTV, actress Julianne Moore and entrepreneur Russell Simmons joined the movement last year. The days and weeks following June 2, 2015, were marked by several high-profile mass shootings around the country, including one inside a church in Charleston, South Carolina; at Naval Reserve facilities in Chattanooga, Tennessee; and inside a movie theater in Lafayette, Louisiana.
The Empire State Building will officially turn orange at sunset, which will occur at 8:21 p.m. Eastern time Wednesday. Its tower lights often change color to recognize various holidays and organizations throughout the year.
"Can you imagine a better curtain raiser?" Feinblatt asks. "This is an American movement, and what's more American than the Empire State Building and the skyline of New York City?"