Jose Mourinho vs Pep Guardiola: The History Of A Bitter Rivalry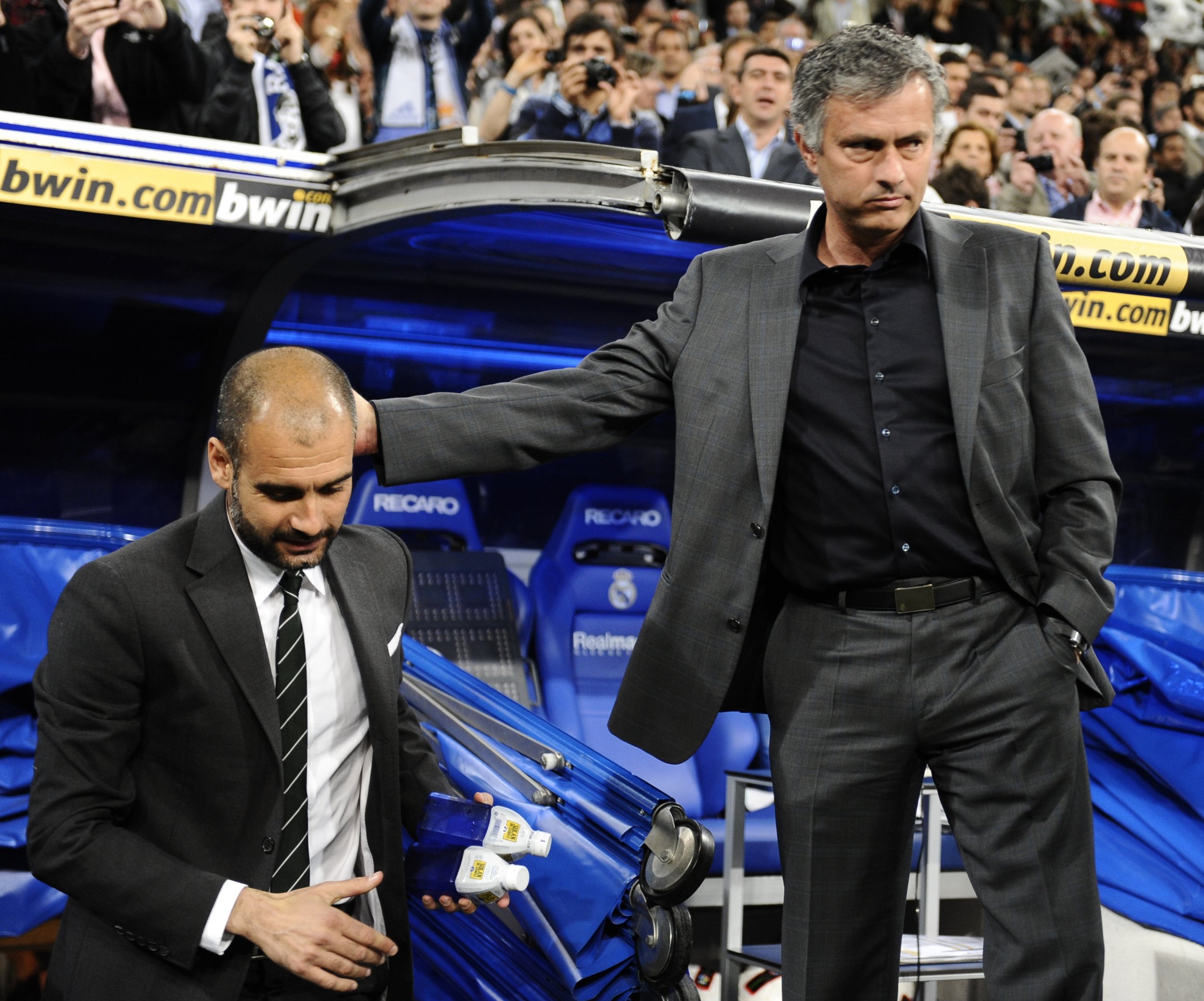 When the blue and red of Manchester meet in the Premier League, the competition is unrivalled. City's rise over the last half-a-dozen years has made this match more than just a bitter neighborhood derby as the stakes grow ever greater.
But this year has an added spice. Throw in two men whose story stem from an almost sibling-like conflict, beginning two decades ago in Catalonia, and you're about to become witnesses to the makings of a Premier League classic.
Pep Guardiola, named as Manuel Pellegrini's successor at Manchester City in February, is viewed as the embodiment of mesmeric footballing style, having created the most aesthetically pleasing Barcelona side of the modern era. Four months later, and Jose Mourinho lands in the same city.
After his acrimonious departure from Stamford Bridge in December —the second time he was sacked by Chelsea— Mourinho was given the task of realigning Manchester United within English football's elite.
On Saturday, the two managers will meet on the touchline for the first time in the English Premier League. Newsweek looks at the history behind what has made this such a highly-anticipated match-up:
Barca Beginning
"Friendship… Well, no, not quite friendship, but a working relationship." This was how Guardiola looked back on his time with Mourinho when they first met at Barcelona in 1996.
Mourinho had arrived as a coaching assistant to Sir Bobby Robson, whom he had worked for at Sporting Lisbon and Porto, helping translate for the Englishman. Guardiola, meanwhile, was growing into the most senior member of the Barcelona squad, named captain under Robson's successor Louis van Gaal.
"We did talk about things when we both had doubts, and we would exchange ideas, but I don't remember it as something which defined our relationship," Guardiola recalled in 2011. "He was Mr Robson's assistant and I was a player."
Mourinho's time at Barcelona was always clouded by the nickname that is synonymous with this period of his career. 'The Translator' was how he was remembered, a title that undermined his coaching quality and responsibility.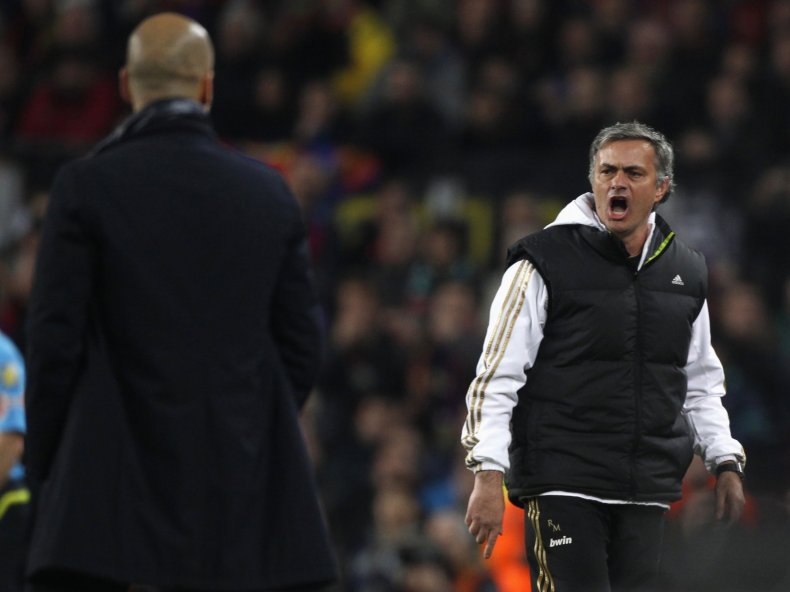 European Powerhouses
The Champions League was to be the stage for their first meeting as managers. Guardiola building Barcelona; Mourinho rebuilding at Inter Milan, having been sacked by Chelsea.
A tepid group stage meeting was followed by a raging semi-final in which the true tone of this rivalry was set. Javier Zanetti executed his orders to quash the influence of Lionel Messi, and goals from Wesley Sneijder, Maicon and Diego Milito saw Mourinho's side take a 3-1 lead back to the Camp Nou.
Just eight days later, despite seeing Thiago Motta sent off in the first-half, Mourinho's tactics stifled Barcelona. A late goal from Gerard Pique for the home side would not be sufficient.
The cup holders were out. Guardiola was out. And Mourinho was on the pitch. The impassioned Portuguese sprinted across the turf in celebration at the final whistle, seeing Barcelona goalkeeper Victor Valdes try to evict him, and the sprinklers quickly turned on to rain on his parade.
"This is the best loss of my life," was how Mourinho described it. "It is a shame I couldn't play. I would have been awful on the pitch but I would have shed blood as my players did."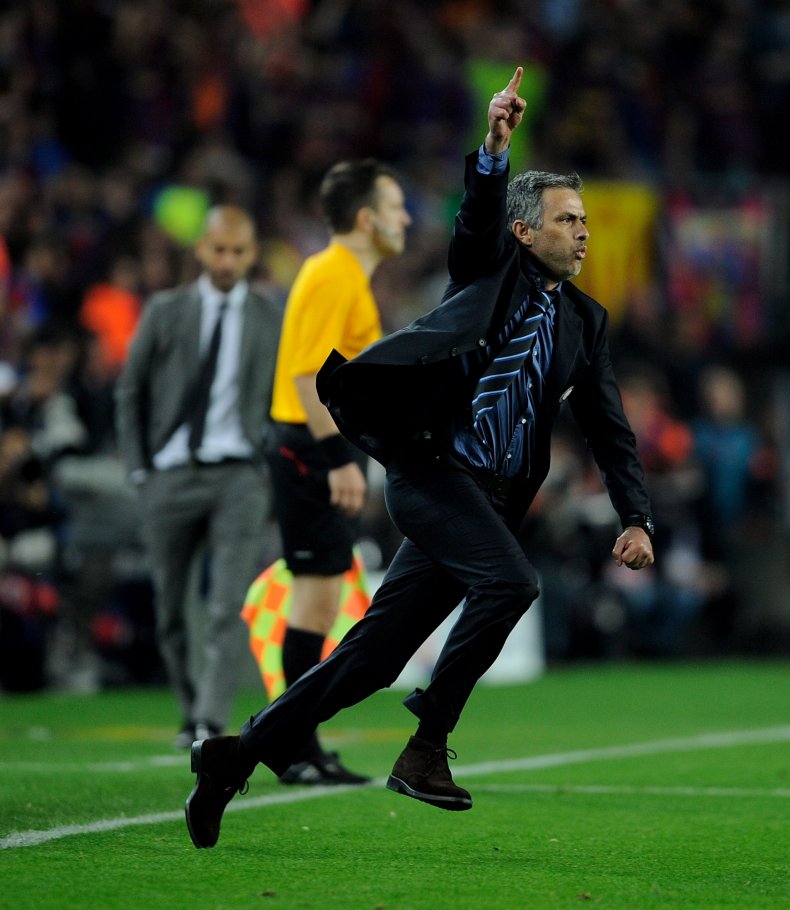 Battle Of La Liga
Although their time in the same league spanned just two seasons, the pair pit their wits against each other on 11 occasions. The beautiful game was transformed into an ugly off-field battle.
Having delivered the Champions League title for Inter after knocking Guardiola's Barca out the competition, this quality was a huge attraction for the hierarchy at the Bernabeu. Mourinho was the mastermind capable of toppling Guardiola's dominance in Spain.
But it was far from an easy task, as their first El Clasico encounter showed. Mourinho, on the end of a 5-0 thumping, insisted his team hadn't "played to their potential" while Guardiola beamed with pride, saying: "The world has seen us play the way we like to play."
Their relationship bubbled over when the two teams met each other four times in 18 days in three competitions. A La Liga draw was followed by Real lifting the Copa del Rey, before a toxic two-legged Champions League semi-final.
A war of words began over a disputed decision from the domestic final, with Guardiola's infamous outburst. "Tomorrow at 8.45pm, we will face each other on the pitch. Off the pitch he's won," Guardiola said. "He's been winning off the pitch all season. Let them give him a Champions League for it so he can enjoy it and take it home. In the press room he is 'el puto jefe' (the fucking boss) and the one who knows more than everyone else."
Guardiola, so the story goes, returned to a standing ovation from his players. And they responded on the pitch as well with a 2-0 victory at the Bernabeu, the home of Real Madrid. Mourinho would not be on the sidelines for the 1-1 return fixture, however, which saw Barcelona advance to the final, after launching an attack on Guardiola and UEFA.
"One day, I would like Josep Guardiola to win this competition properly," the Portuguese said sarcastically. "If I tell UEFA what I really think and feel, my career would end now. Instead I will just ask a question to which I hope one day to get a response: Why? Why Ovrebo? Why Busacca? Why De Bleeckere? Why Stark [the official who presided over Chelsea's exit from the Champions League the previous season]?
"Why? Because every semi-final the same things happen. We are talking about an absolutely fantastic football team, so why do they need that? Why? Why does a team as good as they are need something [extra] that is so obvious that everyone sees it?"
The following season brought an end to the rivalry as Guardiola chose to take a sabbatical, but not before the darkest moment was produced in the first of six Clasicos that season. A strong challenge from Real left-back Marcelo lead to a scuffle between the two benches, when Mourinho poked Tito Vilanova, Guardiola's assistant, in the eye.
Guardiola's exit, it has been said, was down to the exhausting nature of competing against Mourinho. A parting tribute from the Portuguese? Hardly. "It's his life, but for me it's unthinkable to take a sabbatical. He is younger than me, but I'm not tired," Mourinho said tongue-in-cheek.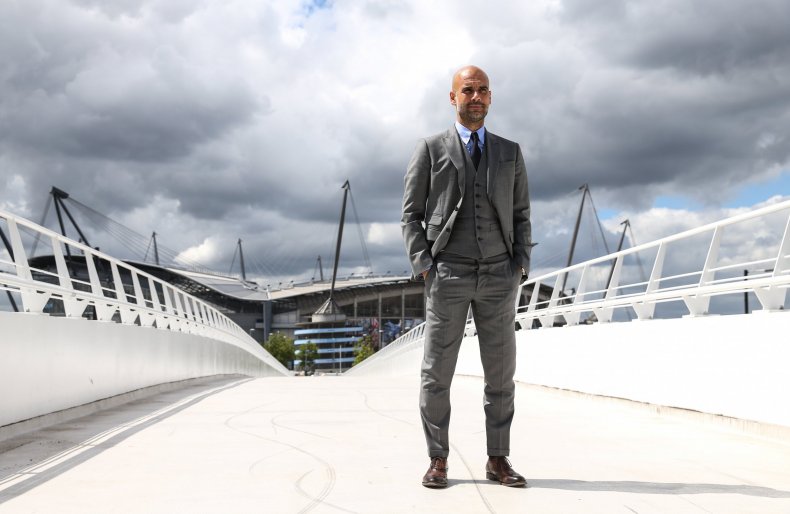 A Chance Encounter
Prior to Saturday's derby, Mourinho and Guardiola's paths have crossed just once since 2011. It came three years ago, in Prague, when both managers had new beginnings: Guardiola at Bayern Munich; Mourinho reunited with Chelsea.
It came in the Super Cup, with Guardiola's team winning on penalties. The bitterness in the rivalry between the two managers was still evident when Mourinho was questioned about his poor record against the Spaniard.
"Your statistics are wrong and very wrong," he argued. "Go there and see what happened with Inter in the Champions League semi-final. I won the Spanish cup final in Valencia, I won the Super Cup in Spain. I was champion in Spain." Mourinho was wrong, but he couldn't let go.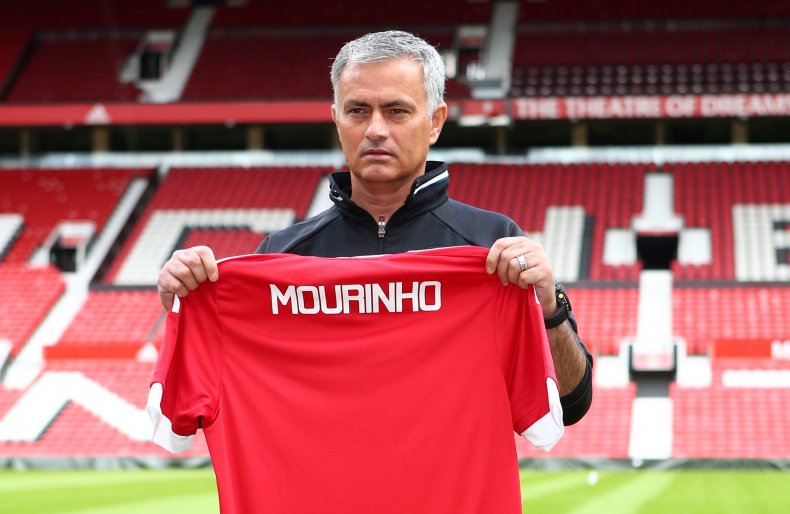 The New Dawn
A teasing pre-season derby between the two Manchester clubs looked to set up a first encounter. But heavy rainfall in China saw the match cancelled in what became a disastrous trip for both clubs.
The days that preceded that fixture, however, gave an insight to what to expect on Saturday, as Mourinho said he would be shaking hands with Guardiola.
"Why shouldn't we?" he asked. "We work together in Barcelona for three years.
"We were opponents in other clubs, but we are just professionals and we have normal relations." The feeling was echoed by Guardiola, who referred to the pair as "polite guys."
The reunion has begun with courtesy but these two men will not be uniting the blue and red of Manchester any time soon.