Spotify Removes Handful of Alex Jones's Podcasts for Breaching 'Hate Content' Rules
Spotify has removed several episodes of Alex Jones's controversial podcast for violating its "hate content" policy, but dozens more are still available on the streaming service.
The company was heavily criticized after it was found to have made The Alex Jones Show available on its platform soon after the right-wing conspiracy theorist's personal page was temporarily suspended from Facebook and YouTube banned him from broadcasting live and removed four of his videos for violating the site's community guidelines.
Spotify has now taken down an unspecified number of episodes for violating its terms, although it is unclear what episodes have been removed or what for.
"We take reports of hate content seriously and review any podcast episode or song that is flagged by our community," a spokesperson confirmed to Newsweek. "Spotify can confirm it has removed specific episodes of The Alex Jones Show podcast for violating our hate content policy."
New broadcasts of the Alex Jones Show are still being uploaded daily onto Spotify. The current selection of podcasts available date back as far as June 2017.
Responding to the decision on his podcast, Jones said it was "what I expect."
"I was born in censorship. I was born being suppressed," he added.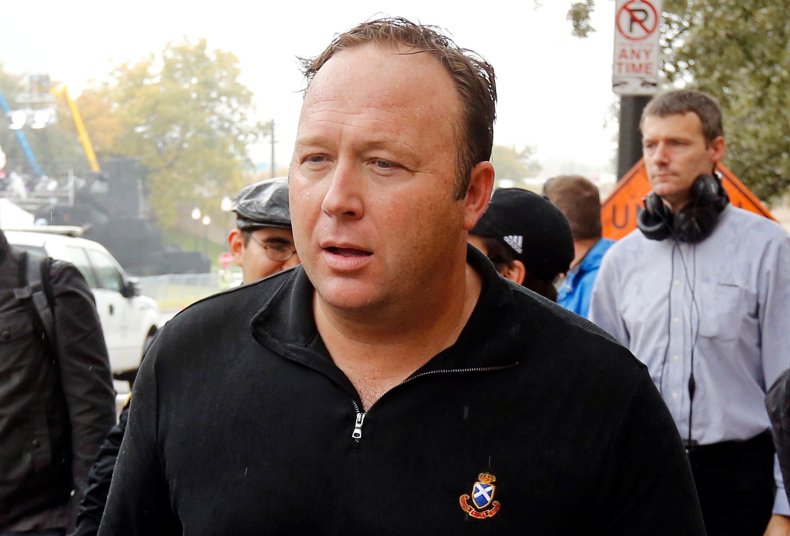 Jones is currently being sued for defamation by families of some of the children killed in the Sandy Hook school shooting after Jones repeatedly spread hoaxes about the 2012 massacre.
Jones claimed on his Infowars show that some of the families of the 20 children killed in Newtown, Connecticut were crisis actors. He now admits the shooting did occur but says his claims were free speech and is seeking to have the lawsuits dismissed.
Earlier this year, Spotify removed XXXTentacion and R Kelly's music from their editorial and algorithmic playlists after deciding the artists breached their Hate Content & Hateful Conduct Policy.
XXXTentacion, who was murdered in June aged 20, was facing charges of aggravated battery of a pregnant woman at the time and R Kelly has frequently being accused of sexual misconduct throughout his career.
The move was met with outcry, with artists including Kendrick Lamar threatening to pull their music from the platform before Spotify eventually reversed the decision.
"Spotify recently shared a new policy around hate content and conduct," the company said. "And while we believe our intentions were good, the language was too vague, we created confusion and concern, and didn't spend enough time getting input from our own team and key partners before sharing new guidelines."