Stacey Abrams, the Democratic candidate in this year's Georgia gubernatorial race, announced on Thursday that she would push for a pay raise for the base salaries of law enforcement officers if she wins the election.
Abrams made the announcement on Twitter, where she also included a page on her website that detailed her policy plan. Her comments came after her opponent in November's election, the incumbent Republican Governor Brian Kemp, released an ad that claimed Abrams supports the "defund the police" movement. Abrams has said she has never advocated for defunding law enforcement.
Kemp and Abrams are facing off in a rematch race after he narrowly defeated her in the 2018 election for Georgia governor. Abrams became the Democratic nominee last month after she ran unopposed in the party's primary, while Kemp won a lopsided victory over former U.S. Senator David Perdue, who was endorsed by former President Donald Trump. The current Real Clear Politics polling average shows that Kemp leads Abrams by about 5.2 percent. The governor is backed by an average of 49.6 percent of Georgia's voters, compared with about 44.4 percent who support Abrams.
Kemp's recent campaign ad references an interview from June of 2020 that Abrams gave to CNN after a Black man named Rayshard Brooks was fatally shot by police in Atlanta. (The shooting came during the height of the George Floyd protests, which broke out across the nation after Floyd was killed by a police officer in Minneapolis.) During the interview, Abrams indicated she supported reallocating some law enforcement funds but stopped short of saying she backed defunding the police, saying such talk was a "media narrative that seeks to make overly simplistic decisions."
"Law enforcement are often paid less than a living wage, and that is wrong," Abrams tweeted on Thursday morning. "We must raise pay for officers and address violent crime as we work to build community trust and foster law enforcement accountability."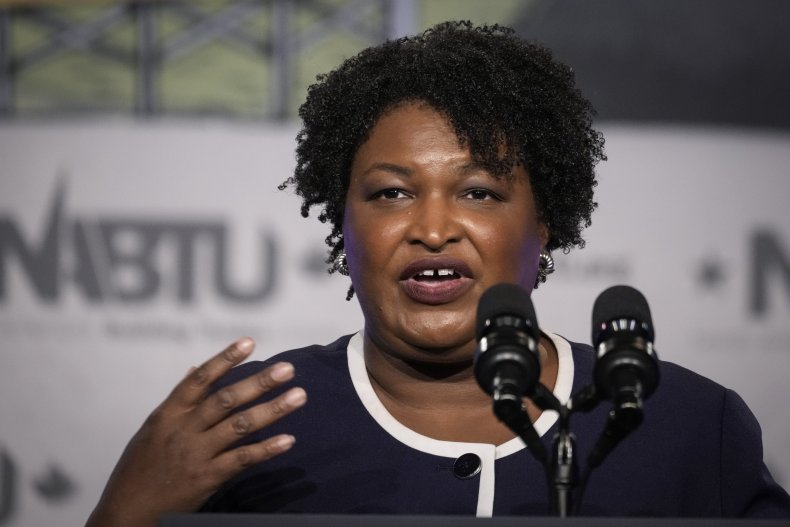 Abrams' policy plan shows she would raise the base pay for Georgia state troopers, adult and juvenile correctional officers and community supervision officers to $50,000 per year and provide grants to localities to support the increased salaries. Elsewhere, the plan would "fortify training standards" and require accountability for unlawful violence and misconduct.
"Law enforcement in urban, suburban and rural areas across Georgia struggle with staffing shortages that put communities at risk. Higher officer pay will lead to better officer recruitment, better officer retention, better community interactions and a safer Georgia," Abrams tweeted.
Abrams added that "[m]ost officers strive to do their best, but those who commit misconduct must be held accountable. In particular, the killing of young Black men who posed no threat cannot be ignored."
Earlier this month, Fox News reported that the Marguerite Casey Foundation, a grant-making foundation on which Abrams serves as a board member, had provided funds to organizations that backed groups dedicated to ending police violence.
When contacted for comment, Tate Mitchell, Kemp's press secretary, referred Newsweek to a Thursday statement from his campaign that called on Abrams to resign from the governing board of the Marguerite Casey Foundation.
Mitchell said in the statement about the Marguerite Casey Foundation that "Stacey Abrams and her campaign staff are doing everything in their power to erase her history of supporting and advocating for anti-police initiatives that put our men and women in law enforcement at severe risk."
On Wednesday, Kemp shared his new ad on Twitter that alleged Abrams supports defunding the police.
In an Axios story published Thursday, Abrams stated: "I do not, and have never said, and have never supported defunding the police."
Newsweek reached out to Abrams for comment.