Lara Trump, daughter-in-law of former President Donald Trump, is keeping open the possibility of running for a North Carolina senate seat in 2022.
On Wednesday night, she told Americans to "stay tuned" for her decision. Her comments came about a week and a half after Republican South Carolina Senator Lindsey Graham voiced support for her candidacy, calling her the "future" of the GOP
Lara Trump made her comments on Fox News' Hannity, after host Sean Hannity asked whether she would run for the seat.
After Hannity noted that Lara Trump's name is often mentioned as a possible 2022 candidate, he then said that top Republican leaders in the state were reaching out to support her possible candidacy. "Is it something you'd leave open for now, without asking a question, just leave the idea open in your mind?" he asked.
"Oh, absolutely," Lara Trump responded. "Look, I've taken it very seriously and I have no decision to announce live here on Sean Hannity tonight. But I will tell you, stay tuned, because it is certainly something that I would be honored to do. So, I am keeping it open. Absolutely."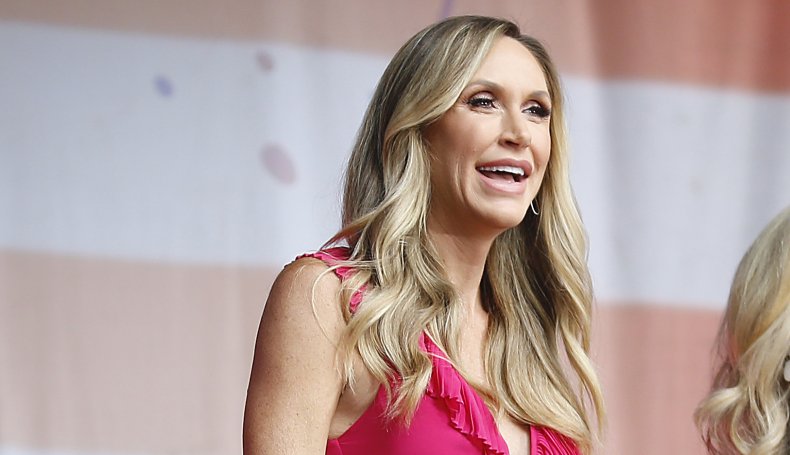 Graham is one of the Republicans supporting Lara Trump's possible candidacy. In a February 14 Fox News interview, Graham said if she runs, "I certainly will be behind her because she represents the future of the Republican Party."
"My dear friend (current Republican North Carolina Senator) Richard Burr, who I like and have been friends to a long time, just made Lara Trump almost the certain nominee for the Senate seat in North Carolina to replace him if she runs," he added.
Hannity also asked Lara Trump about the possibility of running for the seat when she appeared on his show on December 9, 2020.
At the time, a BUSR/UNLV Lee Business School poll showed Lara Trump as the preferred candidate amongst other possible 2022 Republican North Carolina senate candidates. The poll showed her with 24 percent of support from state voters. The state's former Republican Governor Pat McCrory only got 23 percent. Another 39 percent of respondents said they were undecided on who they would support.
"I'm so flattered, I'm so humbled," Lara Trump said on Hannity's show at the time. "I'm honored to represent that state. We'll see. I'm open to anything."
During the rest of Lara Trump's appearance on Hannity Wednesday night, she discussed Donald Trump's upcoming speech at the Conservative Political Action Conference (CPAC). CPAC describes itself as "the largest and most influential gathering of conservatives in the world."
This year's CPAC conference will feature seven talks on "protecting elections" as Donald Trump, the event's top speaker, continues to baselessly claim that he won the 2020 presidential election.
Lara Trump said she expected the ex-president's CPAC speech to criticize Democratic President Joe Biden's foreign policy towards Iran, China and his rejoining of the U.S. to the Paris climate agreement. She also expects Donald Trump to criticize Biden's plan to provide an eight-year path to citizenship for the estimated 11 million undocumented immigrants currently living in the United States.
CPAC will also have several sessions about being "canceled." The conference's theme this year is "American Uncanceled."
The CPAC conference recently canceled one of its own scheduled speakers, an online commenter and cultural critic named Young Pharaoh. The conference canceled his appearance over his past comments pushing anti-Semitism and conspiracy theories.
Newsweek contacted the Trump Organization for comment.