Stephen Colbert Likens Defending Trump over Capitol Riot to Excusing Charles Manson for Mass Murder
Stephen Colbert has likened defending Donald Trump over the Capitol riots to excusing Charles Manson for his murders.
The former president has been impeached for inciting violence after a mob of his supporters stormed the Capitol building on January 6.
Five people died, including a police officer, during the siege that took place after Trump addressed crowds that had gathered for a Stop the Steal rally.
While Trump stands accused of inciting the violence, many public figures have defended him, with some saying he only spoke to the crowd and did not march with the mob to the Capitol.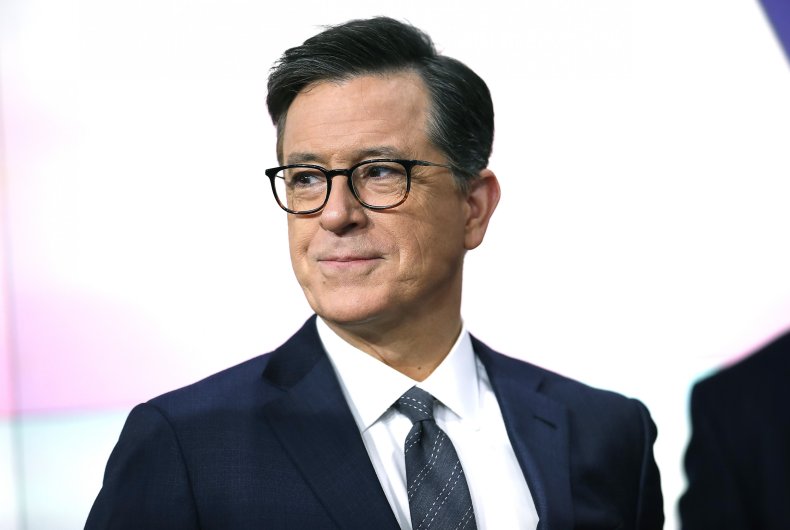 During the Late Show with Stephen Colbert on Monday, the host went on a comic tirade against Republican lawmakers who claim this is a reason not to convict Trump in his Senate trial.
Colbert said: "To get a conviction, the House is going to have to convince 17 Republican senators that the former president incited the riot. And even though they were all hustled about in secret tunnels to stop them being murdered by the president's own blood-thirsty fascist squad of goons, they're on the fence."
Colbert named Iowa Sen. Joni Ernst as one of those who had refused to point the finger at Trump. "She was in the Capitol when it was attacked but doesn't blame the former president, saying, 'He exhibited poor leadership.' I think we can all agree with that."
He continued to mock Ernst's argument that Trump was innocent, saying: "It was these people that came into the Capitol. They did it knowingly, so they bear the responsibility. Yes. That's his defense. He didn't actually go with his cult members to commit murder, so he's not guilty.
"I'm sorry, that's actually Charles Manson's defense. But I'm sure Charlie would fit in with those rioters. He's got the team tattoo," he said.
Cult leader Charles Manson, who got a swastika tattooed on his face in prison, is one of the most notorious killers in American history, infamous for the murder of actress Sharon Tate and four others in August 1969.
Four of his followers—or "Family" members—broke into a Bel Air mansion where Tate and her husband, director Roman Polanski, were living. They murdered everyone inside: Tate, who was eight-and-a-half months pregnant; celebrity stylist Jay Sebring; screenwriter Wojciech Frykowski; Folger coffee heiress Abigail Folger and 18-year-old Steven Parent, who was visiting the property's caretaker
Manson directed his followers Tex Watson, Linda Kasabian, Patricia Krenwinkel and Susan Atkins to commit the murders.
The home of Tate and Polanski, who was filming in Europe at the time, was previously owned by music producer Terry Melcher. Manson was convinced Melcher had cost him a record contract. According to Watson, he told his followers to go "to that house where Melcher used to live... [and] totally destroy everyone in [it], as gruesome as you can."