Previous COVID-19 relief measures have seen Americans receive direct payments of up to $1,200 per person to aid them through the economic uncertainty caused by the coronavirus pandemic.
With millions of those granted by the CARES Act already paid out, questions are being raised over the prospect of a second round.
Passed by the House of Representatives, the Democrat's $3 trillion HEROES Act includes details for further payments, though the legislation has stalled in the Senate, and might have been vetoed by President Donald Trump even if it had been passed by Congress.
Polling has indicated Americans would like to see another set of stimulus checks paid out, while Google searches for details around such a measure have increased in recent days, with the following questions some of the most frequent queries.
Will There Be a Second Stimulus Check for Americans?
The chance of a further coronavirus relief bill looks increasingly likely, with high-profile GOP figures indicating it is a only matter of when one will come.
Federal Reserve Chair Jerome Powell has said further fiscal measures will be needed to ward off long-term economic damage, while Treasury Steve Mnuchin also said he believes there is a "strong likelihood" of another bill.
Senate Majority Leader Mitch McConnell has said there is a "high likelihood" another coronavirus relief bill will come.
"We're not quite ready to intelligently lay down the next step, but it's not too far off," he told Fox News's The Story with Martha MacCallum.
However, the specifics of a second stimulus check have not been addressed.
Republicans want to weigh up the impact of previous measures, such as those outlined in the CARES Act, to see how effective they have been, to guide future provisions, meaning the prospect of a second stimulus check could be based upon an assessment of the first batch.
A recent poll from OnePoll showed 82 percent of 2,000 Americans asked felt that another round of such direct payments was necessary.
Did the Second Stimulus Check Get Approved?
The HEROES Act, proposed by House Democrats led by Speaker Nancy Pelosi, includes measures for a second round of payments and has been passed by the House.
However, its stalled in the Senate, with a recess putting off any further discussions of it there until June at the earliest, while Republicans have said it has no chance of passing. The GOP has criticized the act as being politicized and a means for Democrats to push through "their socialism."
The size of the bill, more than 1,800 pages, and extent of the measures, alongside the $3 trillion cost, have also been questioned.
This leaves the HEROES Act in limbo, with the vote, which would have determined the approval of a second set of stimulus checks, left waiting.
When Will the Senate Vote on a Second Stimulus Check?
The earliest the Senate will be able to discuss such a measure is June, with a recess in place until June 1.
It looks like GOP senators are aiming for negotiations to begin upon their return, which could tee up a vote on measures.
This would appear likely to be held towards the end of June, before the July Fourth recess.
"I think it's inevitable before the Fourth of July," Senator Roger Wicker (R-Miss.) said. "I just think it'll be needed with the economy."
Have All the Stimulus Checks Been Sent Out?
The majority of stimulus payments have been made to those who qualify for them.
In a news release on May 18, the Treasury said more than 140 million Economic Impact Payments had been made, worth around $239 billion collectively.
In that announcement it said the Treasury and Internal Revenue Service (IRS) were looking this week to begin to nearly 4 million Economic Impact Payments (EIPs) by prepaid debit card instead of by paper check.
Around 150 million such payments are expected overall.
When Do Stimulus Checks Arrive?
Payments made so far have largely been made by direct payments to accounts, to those who registered before May 13 to receive their pay that way.
While some checks have already been delivered, these are coming at a slower rate due to the quantities.
The IRS has said while it is sending checks at a quicker rate, some recipients could expect them to arrive from late May into June.
From May 1 checks were sent out to those earning $20,000 and less.
These were followed by checks for those earning less than $30,000 on May 7 and the weekly send of checks, depending on household income, will continue until June 26.
It is then that those in the final bracket earning $100,000 or less are set to be sent theirs.
Some Social Security beneficiaries and SSI recipients, who might have otherwise been issued a paper check, could receive their relief money through an Economic Impact Payment Card, which functions like a prepaid debit card.
How Do I Track My Stimulus Check?
Those awaiting a payment who usually file tax returns can track the status with Get My Payment, a tool from the IRS.
This allows people to get their payment status and see their payment type.
While those who do not file tax returns, including those whose income is less than $12,200 or a married couple filing jointly with an income less than $22,400, can use the IRS' separate tool under Non-filers: Enter Payment Info Here on the IRS website.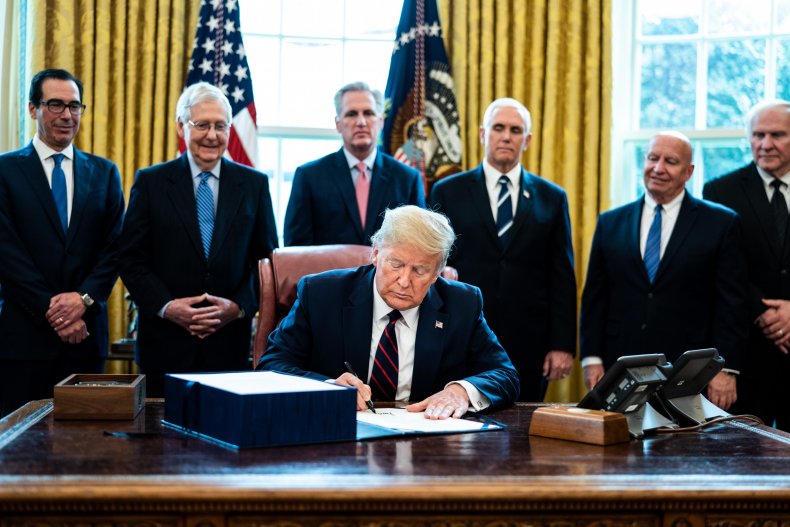 People must have a Social Security Number in order to receive payments.
Newsweek has contacted the Treasury for details of how many stimulus payments are left to be paid.
Questions over stimulus payments come as COVID-19 figures continue to rise across the U.S., with more than 1.5 million confirmed cases across the nation.
The graphic below, from Statista, shows the worst-hit states.