Surging Bitcoin Boosts Profits in Jack Dorsey's Square
Jack Dorsey, co-founder and CEO of Twitter and electronic payments firm Square, makes good Yankee dollars on Bitcoin.
Surging demand for the cryptocurrency drove Square's first quarter profit to 41 cents a share, exceeding Wall Street's consensus estimate of 16 cents by about 156%.
Square's Cash App allows customers to purchase the cryptocurrency.
The company's Bitcoin revenue rose 1,047% and at $3.5 billion represented about 69% of the company's first quarter receipts.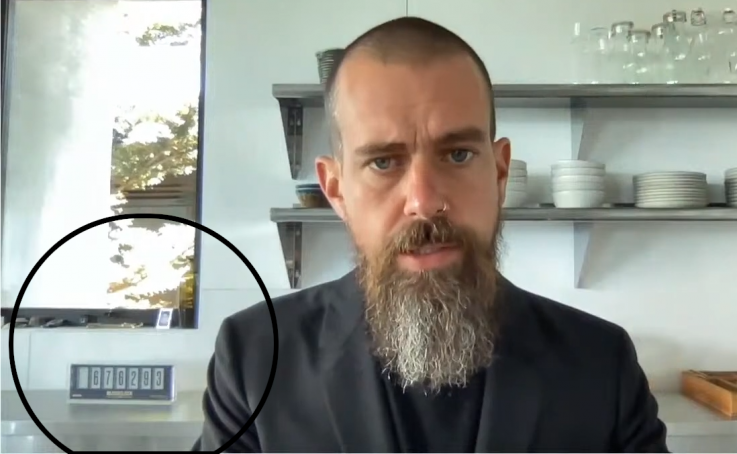 Dorsey speaking at the Energy and Commerce Committee hearing on Thursday, with the Blockclock seen on the lower left.
Energy and Commerce Committee / YouTube
"We see Bitcoin as the Internet's potential to have a native currency," Dorsey said during a conference call with Wall Street analysts to discuss the company's first quarter earnings.
"So our focus, first and foremost, is on enabling— and this is going to be a long-term focus—on enabling Bitcoin to be the net currency," he said. "It removes a bunch of friction for our business, and we believe fully that it creates more opportunities for economic empowerment around the world. And you should see more activity from us over the year towards this goal. So we do think that Bitcoin is the important one to focus on, and it's what we are focused on."
Square invested $50 million Bitcoin in October 2020, and purchased an additional $170 million worth of the cryptocurrency in February.
As of March 31, the company said it had lost $20 million on its Bitcoin bet, but pegged the value of its investment at $472 million based on price at the time.
Total first quarter revenue rose to $5.06 billion compared with $3.36 billion expected by analysts and is up about 266% from a year ago.
Cash App generated $495 million in gross profit, a 171% increase from the same period a year ago. But Bitcoin profit totaled $75 million, or about 2% of revenue.
Square may face stiff competition from Venmo, which now enables customers to transfer Bitcoin at no charge.
Square said it expects gross profit for Cash App to increase by about 130% year-over-year.
The company said its system enables merchants to accept card payments. It also provides reporting and analytics and next-day settlements. The company's system helps sellers manage inventory workers and financing.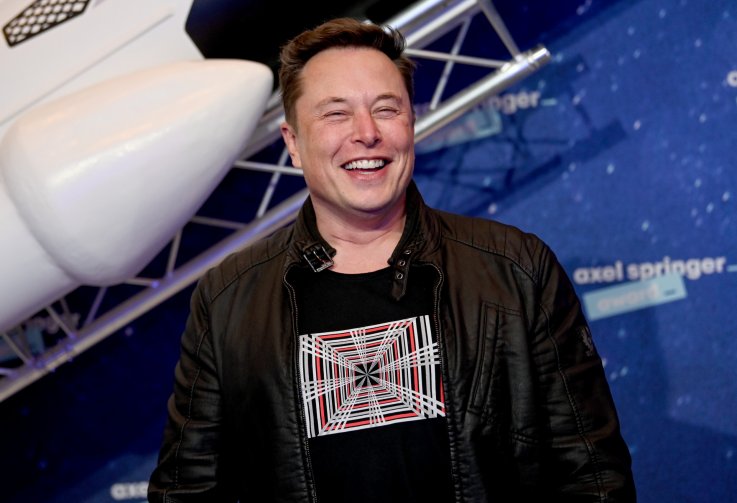 SpaceX owner and Tesla CEO Elon Musk poses on the red carpet of the Axel Springer Award 2020 on December 1, 2020 in Berlin, Germany.
Britta Pedersen-Pool/Getty Images
Tesla, Elon Musk's electric car company, boosted Bitcoin's price after he announced earlier this year a $1.5 billion investment in the cryptocurrency and said it would be accepted as payment for its products.
"To put this in perspective, Tesla is on a trajectory to make more from its Bitcoin investments than profits from selling its EV cars in all of 2020," Daniel Ives, an analyst at Wedbush Securities in Los Angeles, said in a research note.
"While the Bitcoin investment is a sideshow for Tesla, it's clearly been a good initial investment and a trend we expect could have a ripple impact for other public companies over the next 12 to 18 months," Ives said.
Musk's investment focused public attention on Bitcoin and its price rose.
About 25 publicly traded companies have invested a total of $4 billion in Bitcoin, and most have at least doubled their initial outlay, Lennard Neo, head of research at Stack Funds in Singapore, said in a research report.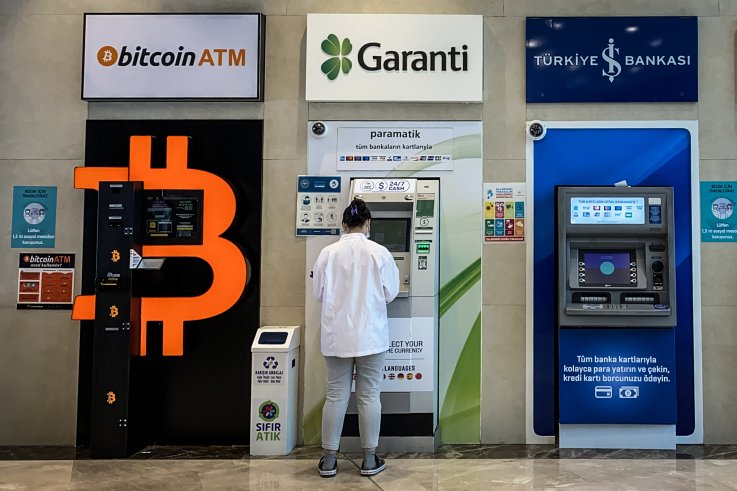 The founder of Thodex, a cryptocurrency exchange in Turkey, has been accused of fleeing the country with billions of dollars in investors assets. Here, a woman uses a bank ATM next to a Bitcoin ATM machine at a shopping mall on April 16, 2021 in Istanbul, Turkey.
Chris McGrath/Getty Images
Some investors see Bitcoin as an inflation hedge—especially in view of massive government spending that may threaten the dollar's status as the world's reserve currency.
There appears to be a split developing between Bitcoin, the world's most popular cryptocurrency, and Ethereum, the runner up.
Many major companies and Wall Street investors see Bitcoin as a bet on future price appreciation and therefore buy-and-hold the cryptocurrency.
This tactic, many analysts believe, marks Bitcoin's emergence as a distinct asset class.
In a research report, the Federal Reserve Bank of St. Louis said Ethereum has greater potential than Bitcoin to alter digital commerce.
In mid-day trading Friday, Bitcoin changed hands at$57,981.29, up 1.66% in the last 24 hours and 96.87% this year. The all-time high is $64,829.14. The market cap is $108 trillion, CoinDesk reported.
File this under Profound Questions That Don't Need To Be Asked: Will Elon Musk's appearance on Saturday Night Live this weekend give another boost to Dogecoin, the cryptocurrency that has yet to top a buck in value?
Market Pulse
The U.S. financial system is strong, businesses and families can manage existing debt, but the COVID-19 pandemic still poses significant risk—especially if investors become overly cautious, the Federal Reserve said.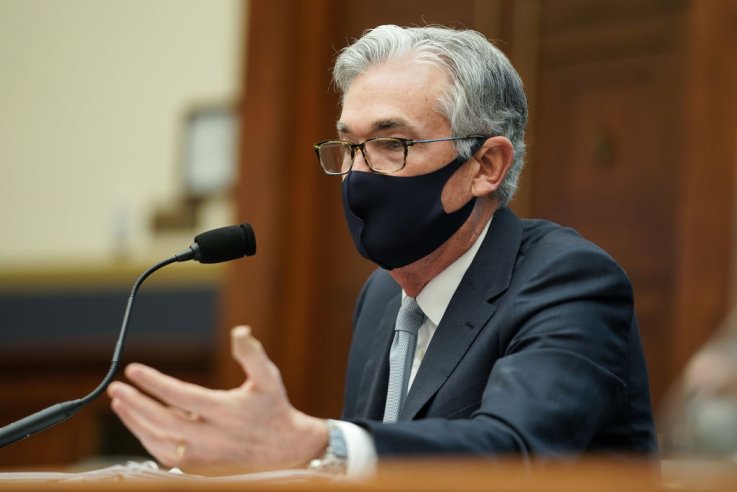 Federal Reserve Chairman Jerome Powell responds to a question during a House Financial Services Committee hearing on December 2, 2020.
Greg Nash-Pool/AFP via Getty Images
The Fed has held interest rates close to zero since March 2020. This makes it cheaper for businesses and individuals to borrow and make credit purchases. Consumer spending represents about two-thirds of the U.S. economy.
In addition, the Fed each month purchases U.S. Treasury and mortgage-backed securities valued at about $120 billion as part of the effort to keep interest rates low and encourage investors to put money into stocks and corporate debt.
"Long-term Treasury yields have risen over the past few months but remain low by historical standards," the Fed's semi-annual Financial Stability Report said.
"High asset prices in part reflect the continued low level of Treasury yields. However, valuations for some assets are elevated relative to historical norms even when using measures that account for Treasury yields. In this setting, asset prices may be vulnerable to significant declines should risk appetite fall."
The Federal Reserve, the nation's central bank, is charged with maintaining full employment and stable prices through monetary policy. Promoting financial stability is a key part of its task.
Business debt was flat in the second half of 2020, but remained high relative to the nation's gross domestic product, or the value of all goods and services produced in a year.
However, higher earnings, low interest rates and continued government support have boosted the ability of businesses to make debt payments.
Household debt remained moderate relative to income. Delinquencies on consumer debt and mortgages fell early in the pandemic and remain below pre-pandemic levels.
But some businesses and families struggle.
"Households have received significant government support—including from forbearance and fiscal programs," the report said. "Even so, some businesses and households remain under considerable strain."
The nation's banks maintain "sizable holdings of high-quality liquid assets" and are well capitalized.
"However, the market turmoil at the onset of the pandemic highlighted structural vulnerabilities that persist at some types of money market funds as well as bond and bank loan mutual funds," the Fed warned.
The coronavirus could create additional economic turmoil.
"Despite substantial progress with vaccinations, perceived risks associated with the course of the pandemic and its effects on the U.S. and foreign economies remain relatively high," the Federal Reserve warned.
"A worsening of the global pandemic could stress the financial system in emerging markets and some European countries. Further, if global interest rates were to rise abruptly, some emerging market economies could experience additional fiscal strains. These risks, if realized, could . . . pose additional risks to the U.S. financial system."
The Dow Jones Industrial Average, a gauge of 30 major stocks, closed above 34,000 for the first time in April and remains at record levels.