Susan Collins Signals Manchin-Schumer Deal Could Thwart Gay Marriage Bill
Republican Senator Susan Collins says negotiations to codify federal protections for same-sex marriage could now be imperiled after Senate Democrats abruptly announced a deal on sweeping tax and domestic spending legislation.
Collins told HuffPost Thursday she faces an uphill battle to convince Republicans to sign on to the gay marriage bill after Democrats a day earlier revived a sweeping spending package that was previously abandoned. A key moderate in the evenly divided Senate, the remarks from Collins signal that congressional Democrats face a delicate balancing act to pass both bills before the impending midterm elections.
"I just think the timing could not have been worse and it came totally out of the blue," the Maine Republican told the news outlet.
Senator Mitch McConnell, the Senate's top Republican, previously threatened to block the CHIPS Act, a bipartisan bill to reduce U.S. reliance on foreign-made semiconductors, unless Democrats agreed to drop the domestic spending package.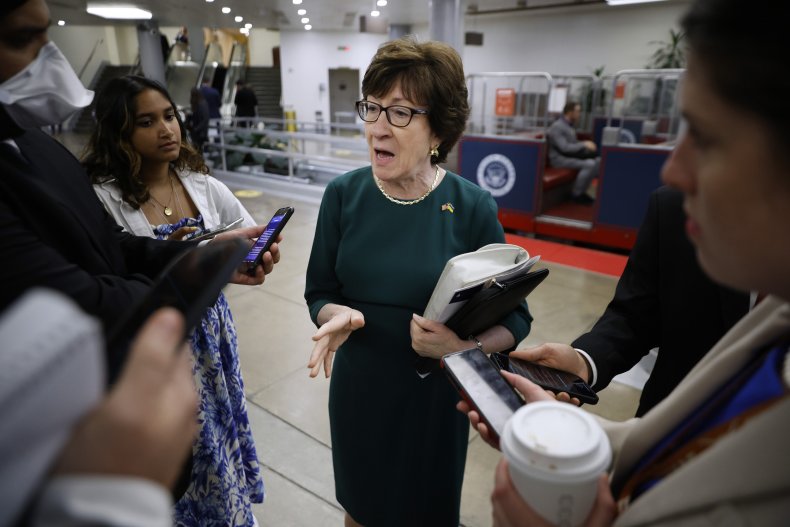 A day after the Senate passed the CHIPS Act, Democratic Senator Joe Manchin of West Virginia and Senate Majority Leader Chuck Schumer of New York stunned Washington by announcing they had agreed on the framework on the domestic spending bill that includes money for climate change, health care and measures intended to reduce inflation and the federal deficit.
The legislation, dubbed the Inflation Reduction Act of 2022, still faces uncertainty over potential disagreements among Democrats over its tax provisions.
But Republicans reacted angrily to Manchin's change of heart after he balked at a more expansive version of the bill. Senate Democrats intend to use an infrequently used budget procedure, called reconciliation, to sidestep the filibuster and pass the spending bill through the split chamber on a party-line vote.
Collins told HuffPost that the way Manchin and Schumer kept their negotiations off to the side until the CHIPS Act passed undermines efforts to find bipartisan agreements in the Senate. Now, she said, it's less likely enough Senate Republicans will support the gay marriage bill to overcome the chamber's 60-vote threshold to advance legislation.
"After we just had worked together successfully on gun safety legislation, on the CHIPS bill, it was a very unfortunate move that destroys the many bipartisan efforts that are under way," she said.
The House last week passed the Respect for Marriage Act with 47 Republicans voting in favor of it. The bill enshrines same-sex marriage protections into federal law and was introduced out of concerns that the conservative-majority Supreme Court will target those safeguards.
Proponents of the bill have held out hopes that 10 Senate Republicans will back protections for same-sex marriage, which has been increasingly accepted by the public.
But the bill already faces difficult prospects in the Senate. Recently, Republican Senator Marco Rubio of Florida dismissed the need for the bill, calling it a "stupid waste of time."
Newsweek has reached out to Schumer's office for comment.