Syria's Assad Boards Russian Jet, Visits Injured Soldiers Amid U.S. Military Threats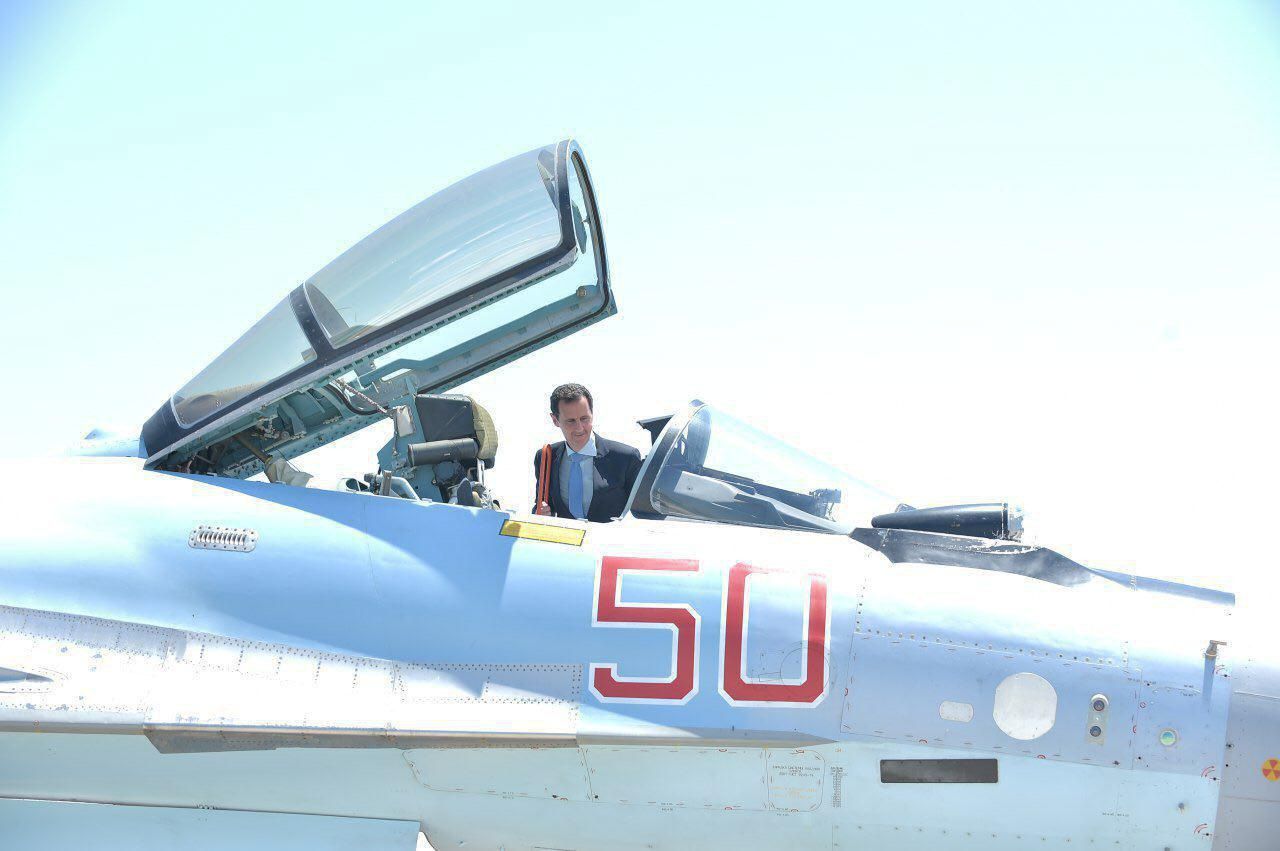 Syrian President Bashar al-Assad rarely makes public appearances outside Damascus, but he has been seen frequently in recent days, including visiting wounded soldiers and a major Russian-leased military base in Syria, as Moscow defended him against U.S. accusations that he and his armed forces were planning to launch a chemical weapons attack.
Assad was seen Tuesday climbing into what observers described as a Russian-made Sukhoi Su-35 fighter jet at Syria's Hmeymim air base near the western seaboard city of Latakia. The Syrian leader was also photographed inspecting a BMPT-2 armored personnel carrier, unofficially nicknamed the Terminator, and an airborne fighting infantry vehicle, among other Russian weaponry stationed at the crucial military installation. Throughout the visit, Assad was accompanied by Russian Defense Ministry Chief of Staff General Valery Gerasimov and a number of other Russian military officers, according to the state-run Syrian Arab News Agency.
Related: White House Syria chemical weapons warning catches U.S. military off guard: reports
"It's with great happiness and pride that I visit Hmeymim base and meet with fighters and pilots coming from Russia to contribute with the army in defending truth and justice and the rights of peoples," Assad said, according to a post on his office's official Twitter account.
"Russia provided arms and ammunition to support Syria against terrorism, but more importantly, it provided blood too, and that's the most precious thing a human can give his fellow human," he added.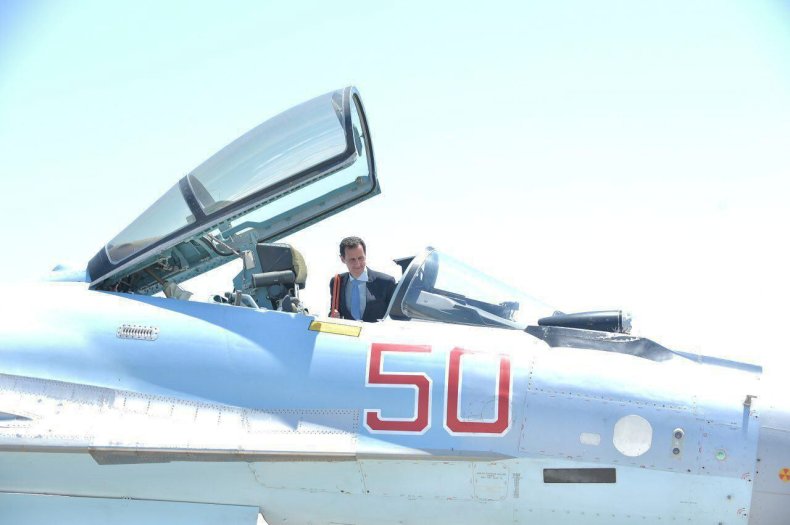 Syrian military affairs analyst Wael Al Hussaini said Tuesday that the tour indicated that Russia's movement of top-of-the-line military equipment to Syria meant "rehabilitation of [the Syrian Arab Airforce] is around the corner." Meanwhile, Cedric Mas of the French anti-radicalization think tank Action Resilience Institute regarded the event as "regime propaganda," an attempt to show that the country is more under control than it really is.
The visit comes shortly after President Donald Trump's administration issued a direct threat to Assad's government, claiming that the White House had evidence Assad was preparing to conduct a chemical weapons attack and that he would pay a "heavy price" if he did. Trump previously accused Assad of launching a sarin gas attack on civilians in the northwestern Syrian governorate of Idlib, which is a stronghold of militants and jihadists attempting to overthrow the Syrian government. Assad and his Russian ally, President Vladimir Putin, strongly denied those claims, but Trump responded with a naval cruise missile strike on a Syrian military base. The attack was met with outrage by Damascus and Moscow, the latter of which has also issued a statement dismissing the White House's latest threats against the Syrian government.
"I am not aware of any information about a threat that chemical weapons can be used," Kremlin spokesman Dmitry Peskov said during a conference call with reporters, according to Reuters.
"Certainly, we consider such threats to the legitimate leadership of the Syrian Arab Republic unacceptable," he added.
Two factions, one headed by a U.S.-led coalition and the other with Assad allies Russia and Iran, are deeply involved in the fight against the Islamic State militant group (ISIS) in Syria. The U.S. sponsors a majority-Kurd alliance of Arabs and ethnic minorities called the Syrian Democratic Forces. These forces are currently storming the de facto capital of ISIS's self-proclaimed caliphate, Raqqa, in northern Syria. In Raqqa's western countryside, however, the Syrian army and its allies have made major gains and, after clashes alongside defense lines shared by the Syrian military and the Syrian Democratic Forces, the U.S. shot down a Syrian fighter jet that the U.S.'s local partners considered a threat.
The incident caused Russia to put its surface-to-air missile systems on alert for further incursions by the U.S. military, whose presence in the country the Syrian government considers illegal. It was the latest in a series of airstrikes in past weeks conducted by the U.S. against pro-Syrian government forces operating in the country's southeast, where the U.S. unilaterally declared a "deconfliction zone" that is off-limits to pro-Assad forces. Lightning advances made by the Syrian military and its allies nationwide against insurgents and jihadists have threatened the U.S.'s stake in the conflict and have led Trump to become increasingly vocal about his opposition to Iran's growing role in the country, especially as Iran-backed forces in Syria begin to meet with other Iran-backed militias also fighting ISIS in Iraq on the two countries' mutual border.
Prior to touring Hmeymim on Tuesday, Assad reportedly brought his family to visit wounded soldiers in the province of Hama, which was disputed between rebels and the military before being completely retaken earlier this year. Assad was also seen praying and greeting supporters during Eid al-Fitr in Hama earlier this week.