Taiwan Won't 'Depend on Others' for Defense: Tsai Ing-wen
Taiwanese President Tsai Ing-wen thanked her American counterpart Joe Biden on Thursday and said her country wouldn't "depend on others" for defense—weeks after the U.S. president appeared to reaffirm his intention to intervene in the event of a Chinese attack.
Beijing's Communist government claims Taiwan as its own but has never governed it. The people of the democratic island nation also have shown little interest in a political union with China, which the Chinese leadership could one day compel.
Tsai, who has leaned Taipei firmed into the camp of Western liberal democracies under her watch, said it was "heartening to know" that Taiwan wouldn't have to face potential aggression alone. Her remarks were part of a virtual address for an annual event hosted by the Washington-based Global Taiwan Institute think tank.
"I also want to take this opportunity to thank the Biden administration and members of Congress from both sides of the aisle for upholding the U.S. commitment to Taiwan's security under the Taiwan Relations Act and the Six Assurances," she said, referencing elements of U.S. policy that ensure the peaceful resolution of disputes across the Taiwan Strait.
"But we will not depend on others to come to our own defense," Tsai said. "That is why I want to reiterate that Taiwan is fully committed to protecting our security and maintaining our democratic way of life. We are also working to adapt our defense strategy to the changing threats we face."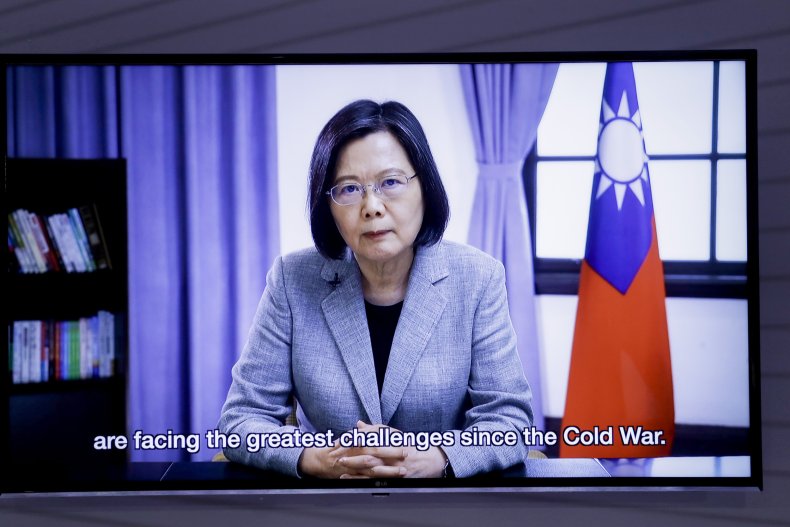 Earlier this week, Tsai's Cabinet presented the government's operating budget for 2023, a proposal that included a record 12.9 percent rise in defense spending to around $18.57 billion.
Biden irked Chinese leaders last month when he told 60 Minutes that U.S. forces, unlike in Ukraine, would intervene in a cross-strait conflict between Beijing and Taipei.
"Yes, if in fact there was an unprecedented attack," he said, breaking with more than 40 years of "strategic ambiguity," a deliberately vague policy that doesn't commit—but also doesn't rule out—American military involvement in a crisis.
Those in Washington who advocate for greater security assistance to Taiwan are many, but not all believe a move away from ambiguity is wise. Some fear such a commitment—especially without the wherewithal to back it up—could accelerate Chinese military action before Taiwanese defenders are ready.
Others are concerned a concrete guarantee could demotivate Taiwan from making urgent reforms to its armed forces. Tsai's remarks would've been directed toward the latter group, while analysts also believe China already assumes American forces will intervene.
"China's persistent military exercises, gray zone operations and incursions with military personnel, weaponry and drones into the areas around Taiwan undermine the status quo across the Taiwan Strait," Tsai said.
"We know from history and current events that threats against any one country or region translate, directly and indirectly, to increasing threats against its neighbors. This is why global solidarity is key to countering authoritarian expansion, safeguarding democracy, and addressing shared challenges," Taiwan's president said.
Taiwan's defense minister, Chiu Kuo-cheng, told a parliamentary committee in Taipei on Wednesday that the country's armed forces had established a "red line" for when it would be deemed appropriate to counterattack against advancing enemy forces. The official suggested it would include Chinese aircraft incursions into Taiwan's 12-nautical mile territorial airspace, which to date has never occurred.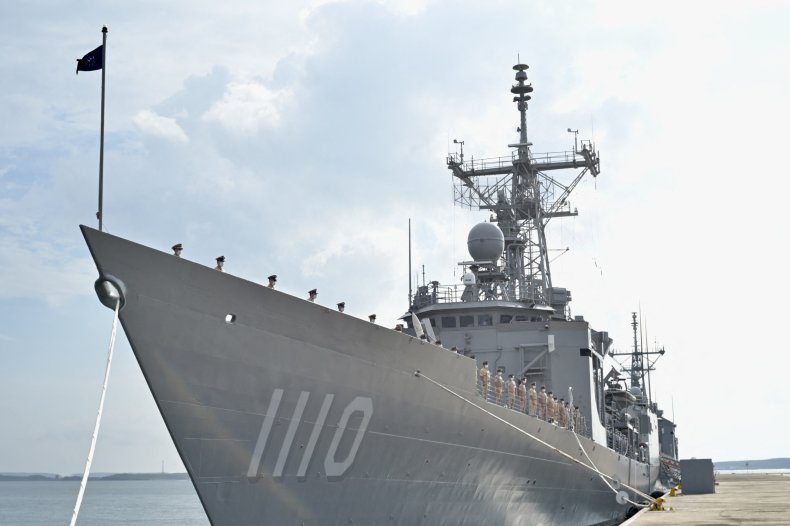 Su Tzu-yun, a defense analyst at the Institute for National Defense and Security Research, Taiwan's top military think tank, told Newsweek that China had created a "quasi-military new normal" in the Taiwan Strait with its frequent military activity.
"It's psychology warfare by way of military pressure, the main purpose of which is to strike a blow to Taiwan's morale," said Su.
"Strategically, China employs gray sea power to simulate a quarantine of Taiwan. Tactically, it engages in platform warfare; that is, relying on platforms such as warplanes and warships to conduct unarmed confrontation," he said.
Su's "quarantine" referenced Chinese military drills around Taiwan in early August, when it declared half a dozen off-limits "closure zones" surrounding major Taiwanese ports—a show of force that demonstrated its ability to cut Taipei off from outside support.
Last week, however, U.S. Navy Admiral Samuel Paparo, commander of the U.S. Pacific Fleet, said allied forces could punch through a blockade of Taiwan if called upon to do so.
"They certainly have got the number of vessels and the capability at sea to execute a blockade. The question that follows is: 'Do the allies have the capability to break that blockade?' And the answer to that is a resounding yes," Paparo said.
In some of the most forward-leaning comments on the subject yet, the admiral concluded: "I assess that the U.S. alone has every capability to break such a blockade."