Most Americans to Save Tax Refund or Use For Bills as Inflation Soars: Poll
As Tax Day arrives in the United States, a new survey found most Americans will use their retfund to boost their savings account or to pay bills as inflation rises to its highest level in more than four decades.
The poll out Monday from CBS News found that 37 percent of Americans expecting a tax refund are going to use it to pay bills or debt. Another 31 percent of U.S. adults expecting money back will save or invest it.
The findings come after the Labor Department reported the consumer price index jumped 8.5 percent in March from a year prior. It was the largest increase since 1981 as global supply chain issues were exacerbated by the Russia-Ukraine war and the coronavirus pandemic.
Price increases were evident across most sectors of the economy as gas prices rose 48 percent in the past 12 months, airline fares jumped 24 percent and grocery prices increased 10 percent, according to U.S. Bureau of Labor Statistics figures released on April 12. Used car and truck prices have increased about 35 percent over the past 12 months.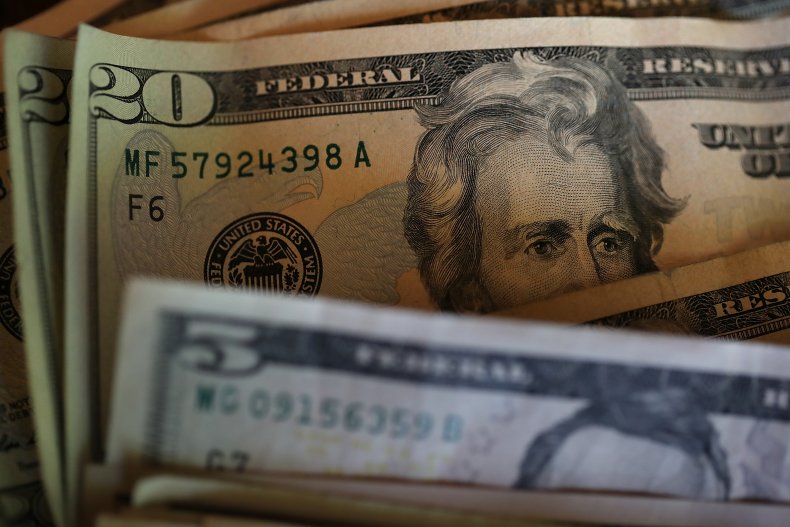 The White House has blamed the rising prices on the conflict in Ukraine, labeling skyrocketing energy prices as "Putin's price hike." According to the American Automobile Association, the national average price for a gallon of regular gasoline was $4.087 on Monday—an increase of about $1.21 from a year ago.
As costs rise, less than 20 percent of Americans said they plan to spend this year's tax return on everyday items. Just 6 percent of respondents said they will use the money on something fun, CBS News added.
President Joe Biden marked Tax Day by pitching his domestic agenda to lower taxes and provide relief for families.
"Under the Congressional Republican Tax Plan, 75 million middle-class families' taxes will increase an average of almost $1,500 a year," Biden wrote on Twitter. "Under my plan, no one making less than $400,000 will have their taxes raised. This Tax Day, the difference couldn't be clearer."
Last month, Biden unveiled a so-called "billionaire tax" proposal targeting the country's wealthiest households. The policy would require households worth more than $100 million to pay a 20 percent minimum tax. The White House said the new tax would rake in roughly $360 billion over the course of a decade.
The CBS News survey found that 45 percent of Americans feel they pay more than their fair share in taxes, while 47 percent said the amount they pay is about right. Conservatives polled were more likely to say they pay more than their fair share in taxes than liberals.
CBS News polled 1,612 U.S. adult residents between March 29 and March 31. The survey had a margin of error of plus or minus 3.1 percentage points.