'This Is Not a Zoo, Sir': Ted Cruz Posts Video From His Attempt to Film Border Facility
Senator Ted Cruz posted a video Saturday of his attempt to film an immigration facility in Donna, Texas, while alleging that President Joe Biden's administration is keeping Americans from seeing what's unfolding at the Southern border. A woman can be heard pushing back against Cruz's filming, saying "this is not a zoo, sir," to which Cruz agreed and said it was a "dangerous place."
"How far is Joe Biden going to stop the American people from seeing inside the Donna CBP facility?" Cruz tweeted on Saturday, before alleging that "Biden sent a political operative from DC to block our cameras and even threatened another senator to obstruct legitimate congressional oversight."
In the video, the Texas Republican claims that a woman who works for the Biden administration was instructed to ask politicians visiting the border to not take any photos inside of immigration facilities.
"You were instructed to ask us to not have any pictures taken here, because the political leadership at DHS [Department of Homeland Security] does not want the American people to know," Cruz says in the video. "You don't want the pictures taken. The rules are arbitrary, and they're designed to keep the American people in the dark."
Meanwhile, the woman in the video can be seen positioning herself in front of Cruz's camera while asking him to "please be respectful" of the immigrants inside the facility where he is recording.
"Please respect the rules, sir, and give the people dignity and respect," the woman says. "Full-heartedly, I ask you, Please respect the people. This is not a zoo, sir. Please don't treat the people as such."
Cruz agreed that the Donna, Texas, facility was not a zoo, but called out Biden's immigration policies in his response.
"You're right," Cruz said. "And this is a dangerous place. And your policies, unfortunately, are trying to hide them. ... I respect them [the children] and I want to fix this situation. And the administration you're working for is responsible for these conditions. And I ask you to respect the people as well. This is not respect."
Cruz's video comes after he and several other lawmakers visited immigration facilities at the southern border this week. On Saturday, Cruz also tweeted a Friday interview with Fox News in which he said conditions at the border are the "worst" he's ever seen and alleged that children are being put in cages.
"We went and toured the Biden cages. You know, for four years we heard Democrats and the media talking about kids in cages under President Trump," he said in the interview. "Joe Biden has built more cages, the cages are bigger, and they're more full."
Cruz also alleged that the Donna facility is now operating at 1,500 percent capacity and that children are packed together and run a high risk of contracting the coronavirus.
"It is inhumane, it is unconscionable, and it is the direct result of the political decisions that Joe Biden has made," Cruz told Fox News.
The senator has been one of the fiercest critics of the Biden administration's handling of immigration at the border.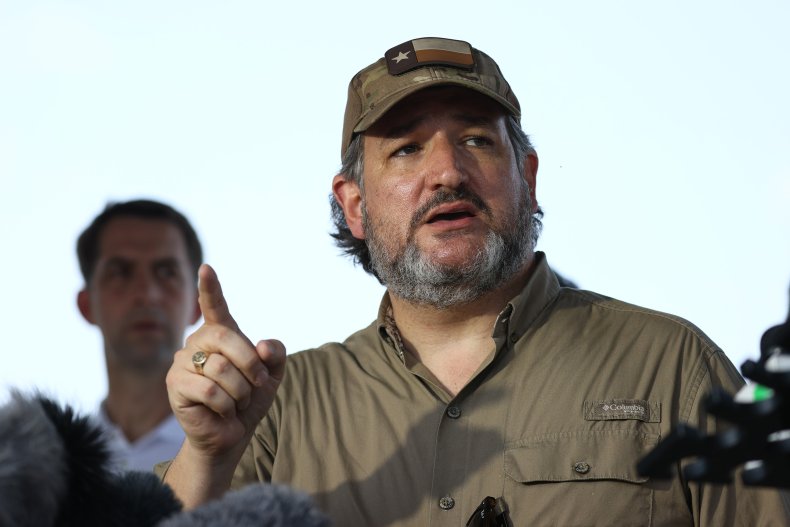 Biden, who vowed to take a more humanitarian approach to immigration by reversing the hard-line policies of Donald Trump, has faced growing GOP criticism amid reports of surging numbers of migrants entering the country.
In total, the country is on track to see the highest number of migrants arriving at the southern border in the past 20 years, with a growing number of unaccompanied children crossing over.
According to figures from U.S. Customs and Border Protection, the number of unaccompanied children crossing the border increased by 63 percent in February over the previous month. The agency reported 9,297 arrivals of unaccompanied minors last month.
Leaked photos and videos have shown that facilities along the border are overcrowded and underprepared to handle the influx of migrants. The Biden administration has also come under fire for failing to allow members of the press to go inside the facilities.
"I will commit to transparency, and as soon as I'm in a position to be able to implement what we're doing right now," Biden told reporters at the White House this week, without providing a timeline for when that could be.
On Thursday, 21 House Republicans led by Representative Chip Roy (R-Texas) wrote a letter accusing Biden of failing to provide transparency at the border.
"Seeing as your Administration refuses to publicly acknowledge the crisis in contradiction to demonstrable facts, denying reporters access can only be seen as a craven effort to keep the public from fully realizing the extent to which this administration's policies have created chaos, lawlessness and human suffering along our southern border," the letter said.
But during a Thursday press briefing, Biden denied charges that his immigration strategy is to blame for the surge and instead insisted that his policies would not allow children to starve at the border.
The president also added that the current surge in border arrivals is not unprecedented. He said that he's seen a 28 percent increase in the children at the border under his administration, compared with 31 percent in 2019 under Trump.
"I'd like to think it's because I'm a nice guy, but it's not. It's because of what's happened every year," the president said, adding that "nothing has changed."
Newsweek contacted Cruz and the White House for additional comment but did not hear back in time for publication.
This story was updated on March 29 with an additional statement from Senator Ted Cruz.
This story has been updated to clarify Cruz's remarks to the woman speaking while he was filming.